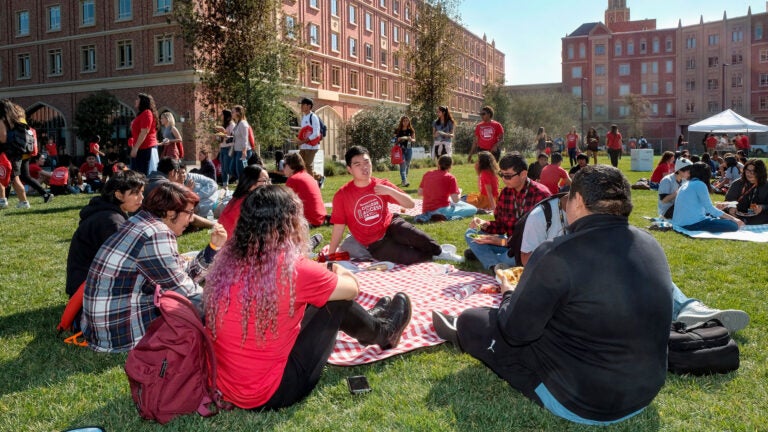 College Access Day gives L.A. high schoolers a chance to ask lots of questions
Their concerns strike a chord with USC Rossier experts who speak to them on the University Park Campus
As high schoolers begin thinking about college, the questions can begin to rack up.
So when local high school students piled into USC's Norris Cinema Theatre on Feb. 9 for the sixth annual College Access Day, their concerns and insecurities struck a chord with the experts who spoke to them.
A joint effort of Residential Education at USC and the USC Rossier School of Education, College Access Day brought in 300 students from 10 local high schools to help them understand college and that there's a place for each of them in higher education.
"There's no telling who you'll be friends with, how hard the classes will be, if teachers will like you," said Nooshin Valizadeh, a lecturer at USC Rossier, after the program. "I had a lot of unknowns that I had to come to terms with."
The same unknowns plagued her now-colleagues, like Darnell Cole, an associate professor of education, who once asked himself whether he'd succeed in a meaningful sense, too.
Shaun R. Harper, director of the USC Race and Equity Center, used to wonder if the historically black universities to which he applied would really be as fun as Hillman College, the fictional school from the TV show A Different World.
Karen Symms Gallagher, dean of USC Rossier, worried about fitting into her school, having been unable to afford college visits and not having access to current students.
And so as Gallagher kicked off College Access Day, she gave a missive to the students who had come to campus from all corners of Los Angeles: "I want to encourage you to approach everyone you hear today and ask them as many questions as you can."
Inquiring minds
College Access Day started in 2013, founded by associate professor John Pascarella and Shenora Plenty EdD '14. The event has steadily grown over the past six years, bringing in ever more attendees — most of them students of color, many of them potential first-generation college-goers, who heard throughout the day from faculty and USC students.
Harper, rattling off the benefits of a college degree, told attendees to dream big, to apply where they wanted to go to school and to not let anyone tell them where they couldn't get admitted.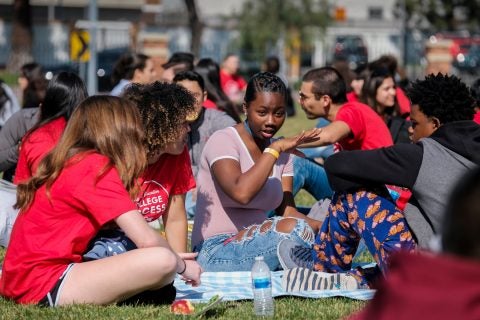 Betzabel Martinez, a master's student at USC Rossier, worked to persuade skeptical students about the value of a diploma: "No one, for the rest of your life, can take away that degree that you invested money in," she said.
At lunch, they engaged in dialogues with volunteer mentors, peppering them with concerns.
"A lot of students have never really thought about college," said Alan Arkatov, holder of the Katzman/Ernst Chair for Educational Entrepreneurship, Technology and Innovation at USC Rossier and one of the volunteers. "This event helped students deal with a reality that up until now had been more abstract."
Whenever a Q&A section started, the hands went up. One, two, four, nine, 18 hands and counting. Even with the afternoon winding down, the questions continued: How do you compare high school and college classes? How do you choose a major? How do you double major and have a life?
And yet, never enough time for all the answers. The students filed out of the auditorium at the end of the day, finding their peers, waiting for their buses. The Banning High School Pilots dawdled under the Norris Theatre overhang. The Centennial High School Apaches gathered around a fountain, taking photos and laughing.
Maybe in a year or two, they will all be back on campus, as Trojans.