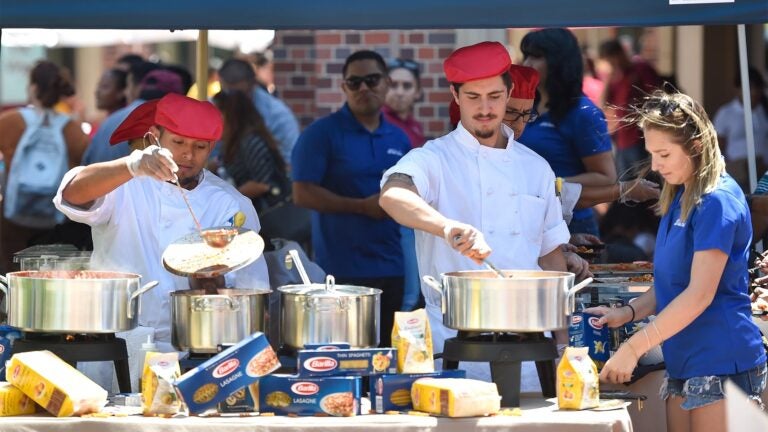 Neighbors get a closer look at USC Village open house — and say 'thanks'
The new development brings much-needed stores and restaurants to the neighborhood, along with hundreds of new jobs
Desiree Duar pushed her friend Levi Kingston in his wheelchair through the grocery aisles at Target.
"I was thinking about maybe a salad, or I might get bread to make some sandwiches or something," Duar said, touching a packaged salad in a display case.
Duar, who grew up in the neighborhood around USC, was checking out the university's latest development, USC Village on Saturday.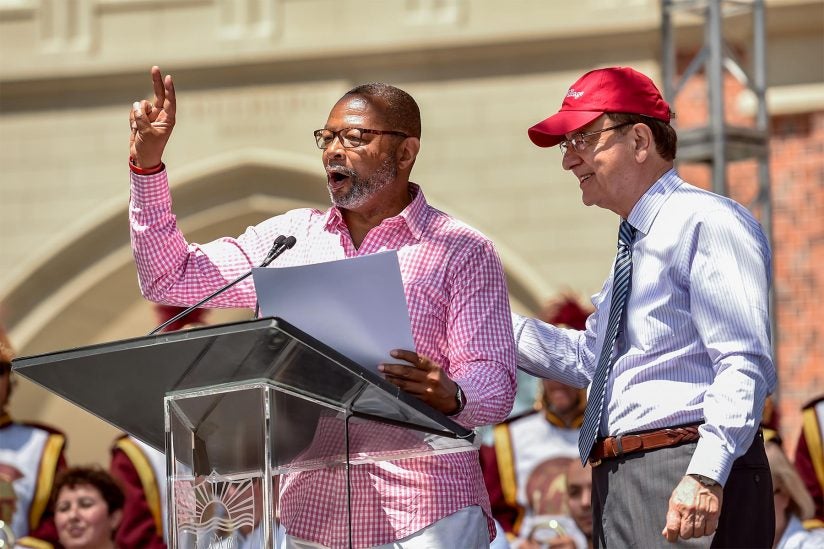 "I'm really excited to see this," she said. "It's long overdue for change."
Hundreds of people from the community were invited to a special open house Saturday to see the $700 million redevelopment of USC Village, at the corner of Hoover Street and Jefferson Boulevard.
It features a Target, a Trader Joe's and a whole slew of restaurants and retailers, 25 in all, including a soon-to-open Wahlburgers and Trejo's Tacos. It also brings a dining hall and eight new residential colleges with 2,500 beds — offering suite-style living with kitchens, shared spaces and outdoor lounges.
'Shared history'
"We are all Trojans here today," USC President C. L. Max Nikias told the crowd. "Today marks a memorable moment in the long shared history between our university and our local community."
Pat Lewis, who lives in the neighborhood and has two kids in USC's Neighborhood Academic Initiative, said the investment shows not just the community but visitors that South Los Angeles is safe and welcoming.
It makes us feel so good that this is built.

Pat Lewis
"I want them to feel a sense of home, a sense of belonging," Lewis said. "It makes us feel so good that this is built."
She was also looking forward to filling up her shopping bags.
"To have Trader Joe's and a Target here is a blessing," she said, adding that the stores complement the area's existing retail mix. "We have Ralph's and Food 4 Less. I can go to Trader Joe's and get healthier stuff."
The project, spanning 15 acres, is not only USC's largest development but also the largest in South L.A.'s history.
L.A. Councilman Curren Price, who represents the 9th district that includes USC, said the benefits of the village would be lasting, including increased economic opportunity and roughly 800 jobs.
"The village is the first major investment to come to South L.A. in a long, long time," Price said. "In fact, it's spawned other transformational developments in the area."
Helping the neighborhood
As part of its commitment to the neighborhood, USC built a $16 million firehouse down the street, gave the city $20 million for affordable housing nearby and will provide a community room for local events and programming. USC Village will also host the media village for the 2028 Los Angeles Olympics.
U.S. Rep. Karen Bass, who represents California's 37th district, pointed out USC's efforts to hire local during construction: 20 percent of the construction team lived within 5 miles of the village.
"If you needed some tools, if you needed a driver's license … USC went the extra mile" so local workers could meet hiring requirements, Bass said.
Locals who came by Saturday got a taste — literally — of what the new spot will offer.
Restaurants, such as Barilla and Honeybird, gave out samples of food. Restaurateur Hannah An personally greeted locals and served up her famous noodle dish.
Another village retailer, Nail Garden, made a makeshift salon for quick manicures — only offering choices in the Trojan hues of cardinal and gold, of course.
"Every time I drive through this way, I'm like 'oh, oh!' " said Arminder Walker, who lives off Crenshaw Boulevard, about the new offerings. She came with her sister Beverly Matthews, whose daughter and husband are both Trojans.
"I think it's wonderful," said Matthews, an educational consultant who also lives off Crenshaw. "It's good they invite the community to be a part of a new phase in USC history, so the neighborhood can feel more a part of USC."