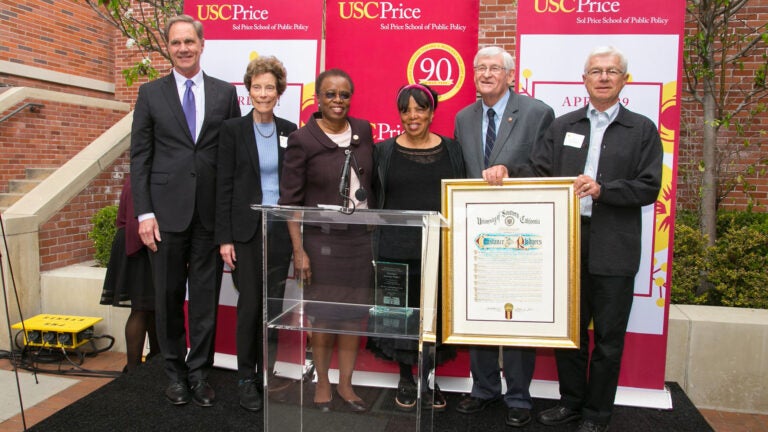 Celebrating more than five decades of Trojan service
USC honors Constance Rodgers, executive assistant to eight deans at the USC Price School, as she retires after 56 years of dedication to the university.
Constance Rodgers remembers hearing about the assassination of President John F. Kennedy via telegram.
She had only recently started her job as a secretary for the International Public Administration Center when she got the phone call from a colleague about important news. She had to run over to Owens Hall from her office on 34th Street to retrieve the message.
The campus was a lot smaller in 1963, she recalled, and a lot more integrated into the neighborhood itself. "And of course, there was no technology," she said. "Typewriters and ditto machines!"
Fast forward to 2019. The campus is much changed, larger and self-contained. Staff work on computers, and news travels instantly via social media. After 56 years at the USC Price School of Public Policy, there was a buzz that Rodgers — executive assistant to the dean — might be ready to move on. But she did not want to make a big deal out of it.
The community, however, wasn't about to let her go quietly.
The Trojan family is a precious concept, and it really only fully gets activated when people like Connie are breathing life into it.

Jane Pisano
"I told her, 'This party will be as much for everyone at USC and the Price School who loves you and wants to celebrate your professional accomplishments as it will be for you,'" said Dean Jack H. Knott. "'So we're having a party with or without you. You might as well be celebrating with us.'"
Rodgers, ever practical, begrudgingly agreed to celebrate her impending retirement three months early, on April 29. Many faculty and staff are on vacation in late July, as Rodgers well knew. It was a good move.
After five decades of Trojan service, the big farewell
More than 300 people packed the courtyard between the USC Price School and Dauterive Hall. "They told me I could invite as many people as I wanted, but they had to cut me off at 300 because the space wouldn't fit many more," said Rodgers.
Of course she invited her family — her two daughters and her granddaughter — but also her extended family and some close friends. And there were many others. Four of the eight deans she'd served were there. There were donors and benefactors, esteemed members of the faculty and policy makers from Los Angeles and beyond who were helped by her in their student days. Her USC Price colleagues and friends from around the greater USC campus were there. The guys from FedEx and her buddies from the daily commute on the 550 bus even made it.
There was also then-interim President Wanda M. Austin. "This is truly someone who is remarkable," said Austin, a USC Trustee who served as interim president from August 2018 through June 30, 2019. "We are very lucky to have had her here as part of the Trojan Family, taking care of many of us. She is the living embodiment of dedication to mission success."
Austin and Knott celebrated Rodgers by officially making her "Dean for the Day" of the USC Price School and declaring April 29 as "Connie Rodgers Day." The dean and former deans in attendance then presented her with a framed proclamation. It was a fitting testament to a woman who was described as the welcoming, caring public face of the USC Price School when awarded the President's Award for Staff Achievement back in 2007.
"I didn't expect that," Rodgers said with a smile.
Back in the day: How Connie Rodgers got her start at USC
Rodgers applied to be a secretary for the International Public Administration Center in 1963. She was in her late 20s, and she and her husband, a Marine-turned-union carpenter, had an apartment in the neighborhood.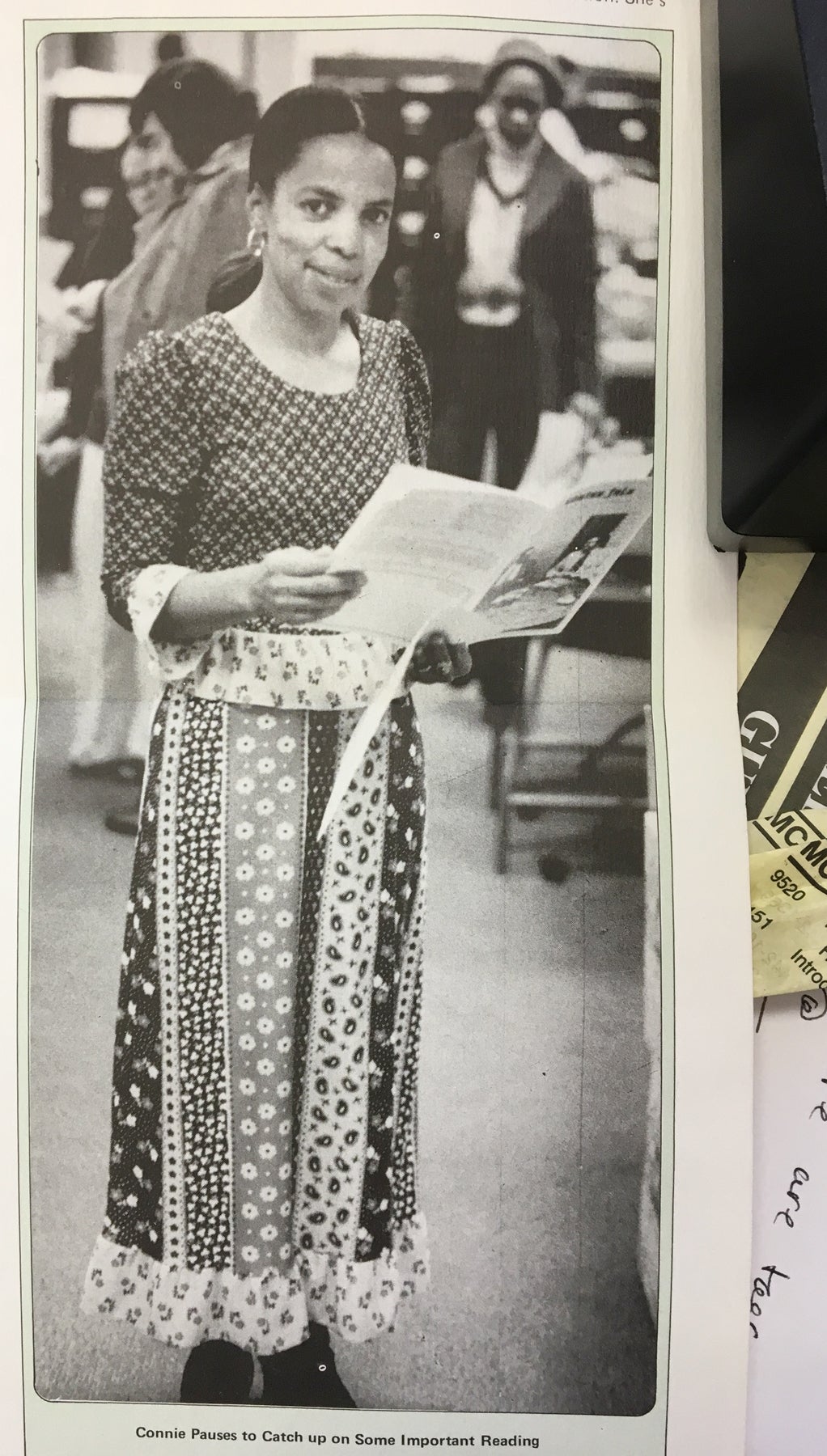 "I got the job because I could type," she said. Also, she could spell the word pneumonia.
"I loved that I could walk from our apartment to my job," she added. "And yes, I felt some pride when I told neighbors where I worked."
Later, she and her husband would buy a house in Carson and she had to take the bus to work. But she didn't complain, instead building up a large network of fellow USC commuters over the years.
She didn't miss a single day of work, either — at least not in the last 25 years, she said.
Hard-working and friendly but firm, Rodgers made herself indispensable over the years.
"Connie basically kept the office running," said Jane Pisano, professor and dean of USC Price from 1991 to 1998. "She's the one who educated all the deans, as far as I could see."
Rodgers, she said, was the keeper of the knowledge. The one who knew which alumni had babies, whose dissertation was published, who had moved on to where. Everyone, it seemed, knew her.
Associate Dean Regina Nordahl recalled seeing a South Korean ambassador arrive on campus in a limousine. She assumed he would be meeting with the dean, but he walked in and asked to see Rodgers.
"She remembered exactly who he was," Nordahl said. "He brought her a beautiful proclamation and thanked her for the time he spent at USC while he was working on his graduate degrees.
"She really is loved by all."
"The Trojan Family is a precious concept," said Pisano. "And it really only fully gets activated when people like Connie are breathing life into it."
For Rodgers, she just feels lucky to have had good health and good employers.
"I never missed a paycheck and had a few laughs," she said.
At the end of the ceremony, USC Price faculty presented Rodgers with a check for a sum that would pay for a long-held dream vacation in Paris, along with a French language phrase book and a suitably jaunty chapeau. Although she doesn't like to fly, she plans to take her granddaughter next summer.
Rodgers will retire on July 31. "I feel very blessed," she said. Refreshingly, there is no hashtag on that sentiment.
---
Julie Tilsner is the senior editor for the USC Marshall School of Business's Office of Communications and Marketing and was not even born when Connie Rodgers began working at USC. She met — and became a fan — of Rodgers on the 550 bus.