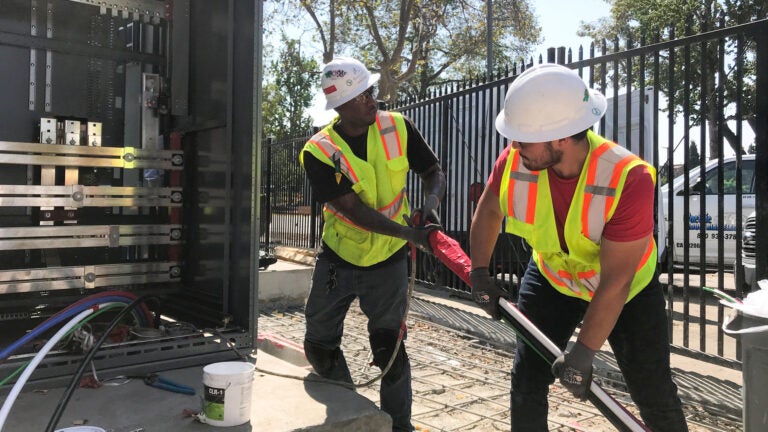 Construction workers benefit from Coliseum renovation
Armed with tools of their new trades, local men and women bring energy and high spirits to long-awaited restoration of the legendary landmark
For almost a century, the Los Angeles Memorial Coliseum has been a crown jewel of South L.A. Now at the halfway point of a $270 million renovation, the legendary landmark is providing hundreds of jobs and has exceeded city and county goals for local worker participation.
To ensure that workers reap the benefits of the renovation, Theodora Oyie served as a coordinator for community groups, unions and job seekers. Oyie is senior manager of community engagement for Hathaway Dinwiddie, the project's managing general contractor.
"We diligently reached out to engage the whole community to participate and to gain the benefits of meaningful careers that pay living wages with benefits," she said.
Out with the old seating
Brittany Brown has helped install some of the 12,300 new seats that have been installed at the Coliseum. She has no trouble being one of few women on the job.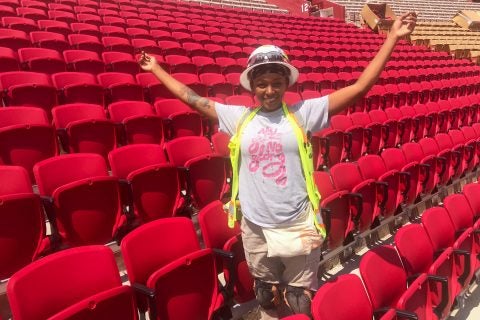 "I'm in the Carpenters union, and I've been doing this for years," Brown said. "I have uncles who do this as well, so they pointed me in the right direction."
A Los Angeles native who lives just a few miles from the stadium, Brown is a working mom with a 5-year-old child. She started at the Coliseum early this summer. Her day starts as early as 6 a.m., and installing a new seat is not as simple as it may seem.
"The chair is already assembled, but we have to drill the holes in the concrete, put on railings and stanchions," she said. "Some of these sections have a thousand chairs, and others have a lot more."
Every seat in the Coliseum is being replaced, leaving about 63,000 to go. Brown plans to stick around for most of the work.
"I like the energy of this old place," Brown said. "I attended sports camp here when I was a kid, so it's cool to come back and work as an adult. I think I'll come to a game next season and maybe sit in one of these new seats."
Wired for success
Huntington Park resident Nathan Strother enjoyed working in a barber shop before he decided to cut loose and make a big change.
"I applied and interviewed, and I've been on the job now about a month and a half," Strother said. "The barber shop was great, but I had no medical, no retirement so I feel good about getting into this. I'm learning a lot of new things."
Strother is a construction wireman and a member of the International Brotherhood of Electrical Workers, local 11. He could be on the Coliseum job for as long as a year.
"My kids go to Catholic school down the street, and I show them this place when we drive by," Strother said. "They're pretty excited about it."
Fast friends from the first day
Aaron Beasley and Jaime Sandoval didn't know each other when they started work at the Coliseum construction site in April, but they had a few things in common. They started the same day. Both are Los Angeles natives who live within a few miles of the site, neither had experience in construction and both came to their jobs via the same path.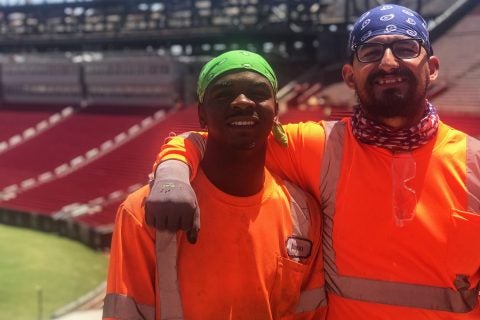 "My uncle told me about the My Brother's Keepers program," Beasley said. "They try to help everyone get good jobs, find opportunities, join a union. They sent us through a boot camp program. It was a lot of hard work, physical labor, picking up wood and that kind of thing. That was a start."
My Brother's Keeper is one of the community programs Hathaway Dinwiddie works with to bring local hires onto the site.
It wasn't long afterward that Beasley got a carpenter's apprentice job with Conco Construction, along with Sandoval, and the two became good friends.
Both men see their union work as a key to the future.
"Before this, I worked at a liquor store and had a job caring for elderly people, but that wasn't something I could see a future in," Sandoval said. "I barely graduated high school, and a year ago I was making minimum wage. Now I have benefits, good wages, a pension — I can't believe it."
"I worked in restaurants, retail and warehouses," said Beasley, an energetic and gregarious fellow. "But now I've got a career. With hard work, punctuality and a good attitude, you can go pretty far."
No ordinary job
Sandoval and Beasley enjoy working at the Coliseum, feeling history all around them.
"We get to see parts of the Coliseum most people don't get to see," Sandoval said. "I think of the legends that have walked down those tunnels. We've been chipping concrete that's almost a hundred years old. There's square rebar. That's old school construction. I mean, this is the Coliseum. If you're an L.A. guy, that means a lot."
"People hear the word 'carpenter' and they think of wood," Beasley said. "But we deal with a lot of different materials. It keeps it interesting, something new all the time. We set forms for concrete, work with foundations and we help get things ready for the steel and iron guys."
They work side by side and often hang out. Not everything about them is the same. Beasley is a Rams fan; Sandoval prefers the Raiders.
"I'll drag him here to a Rams game, at least a preseason game," Beasley said with a laugh.
"Yeah, we're friends unfortunately," Sandoval said in deadpan fashion.
Looking at the past and future
As the Coliseum construction and renovation passes the halfway mark, both men are looking back and forward.
"I look around and see others like myself working here," Beasley said. "I may see 30 people. To me, that's 30 lives changed."
"When we started, it just looked like a big hole in the ground, and I thought, 'They're going to build something here?' Now it blows my mind," Sandoval said. "When it's done, we'll be able to say we helped put a couple nails in that place."