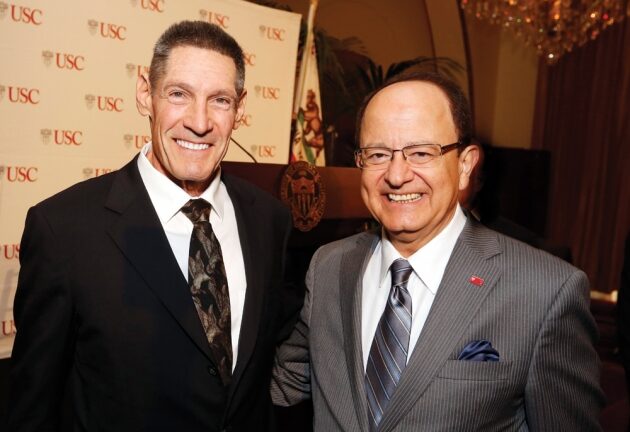 Great Minds Converge on Our Biggest Biomedical Problems
Gary Michelson advances the university's efforts to fast-track detection and treatment of diseases.
On a sunny day in January, scores of Trojans filled Town & Gown to overflowing, as a sense of excitement permeated our campuses. Faculty, staff and students gathered outside, on the patio, eager to hear that morning's news: USC had received a $50 million gift from Dr. Gary K. Michelson, a renowned inventor and retired orthopaedic surgeon. His extraordinarily generous gift will establish the USC Michelson Center for Convergent Bioscience.
Housed in a new building, the center will signal a new era of collaboration between the USC Dornsife College of Letters, Arts and Sciences and the USC Viterbi School of Engineering. The center will stand in the southwest quadrant of our University Park Campus, in close proximity to the majority of our science and engineering buildings. It will fundamentally redefine how research is conducted at the intersection of engineering and the life and biomedical sciences, and help further develop a major biomedical research corridor in Southern California.
Dr. Michelson, who is a resident of Los Angeles, is a new benefactor of the university. In supporting USC, he said he was drawn to our collaborative spirit and our unique ability to bring together experts from diverse fields. He told the Los Angeles Times that this approach "resonates with my life work," and that he wishes to advance "research for humanity's sake, goal oriented, with results manifested in the real world."
Today Dr. Michelson is internationally known as a philanthropist. He has funded medical research, provided textbooks to students and worked to convert municipal animal shelters into no-kill adoption facilities. He spent more than 25 years as a spinal surgeon, and his groundbreaking work has generated more than 955 issued or pending patents worldwide. Over the course of his career, he has improved spinal implant operating procedures and the instruments to perform those procedures, which have helped millions of patients suffering from spine ailments.
Now, in providing his support to create the USC Michelson Center, he advances the university's efforts to turn the biological sciences into a quantitative and predictive science, fast-tracking the detection and cure of diseases. In recent years, we have made significant strides in our understanding of living systems spurred by the genome revolution, coupled with improvements in computing technology. Scientists at the USC Michelson Center will collaborate to translate those advances to the real world and accelerate the invention of life-saving biomedical devices.
The USC Michelson Center will house 20 to 30 principal investigators with laboratories employing hundreds of researchers and students. The facility will include cutting-edge flexible labs, a center for electron microscopy and analysis, a nanofabrication facility and a suite of microscopy imaging technology that can take precise measurements inside cells.
In addition to advancing this pioneering work, Dr. Michelson's gift represents a magnificent milestone in USC's current fundraising initiative, which seeks to raise $6 billion or more in private support from individual donors, foundations and corporations. When we launched the campaign, its fundraising goal was the largest ever announced in higher education. And in just three years, we have seen remarkable progress, reaching the landmark sum of $3 billion. Dr. Michelson's $50 million gift comes as a superb boost to our efforts and advances the university well past the halfway point.
I know the entire Trojan Family joins me in expressing gratitude to Dr. Michelson and his wife, Alya. Dr. Michelson's philanthropic foresight will benefit so many around the world, as the USC Michelson Center flourishes in the coming decades. We will break ground on the center later this year and anticipate its opening within three years.