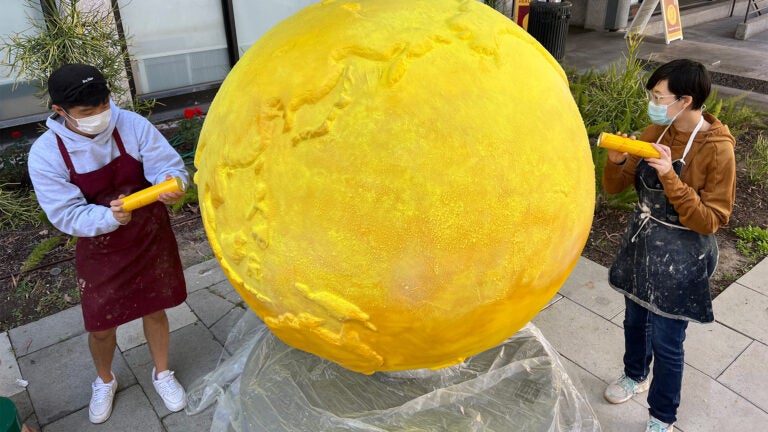 Public art exhibit showcases global worldview of climate change
EARTH WEEK: Students are transforming giant globes to communicate abstract ideas about the climate crisis.
Six giant concrete globes were clustered around a public space just south of the center of campus late last year. Each globe is 5 feet in diameter with a base that weighs over a ton, creating a silent, imposing presence. They have sat colorless for months, waiting for design and environmental science students to transform them.
Now, that transformation is well underway, with a creative endeavor called Cool Globes: Hot Ideas for a Cooler Planet to tell the story of the climate crisis through art. Every Friday afternoon, five students gather in Watt Courtyard near the USC Roski School of Art and Design, surrounding each globe with fabric and ladders, objets d'art and paint.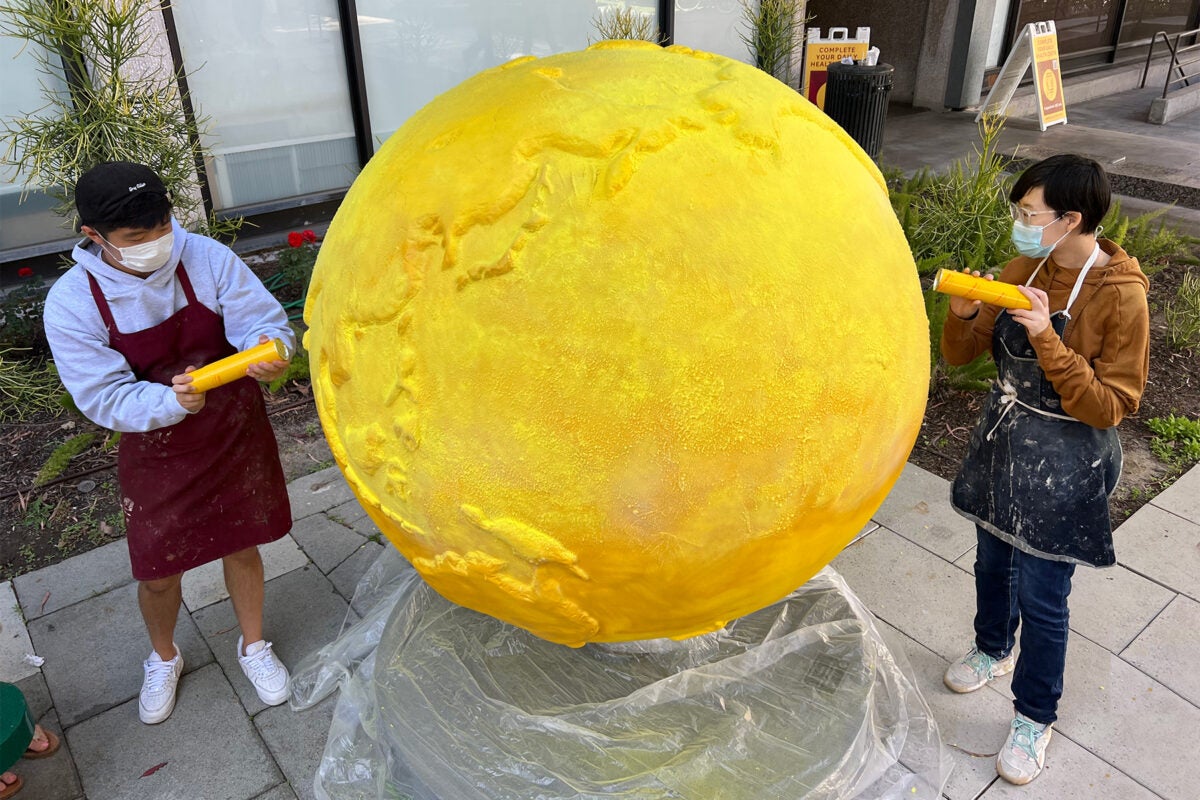 "Painting to reflect environmental issues — it's a really cool intersection between science and art," said Katie Robinson, an environmental studies major. "Our globe looks like a giant piece of pollen. We're trying to give humans the perspective of a bee, to bring awareness to the decline in bee populations, the colony collapse, because of pesticide use and other factors."
Working alongside Ethan Li, a design major, Robinson is covering the globe in an earthy yellow, while another student adds flocking to give it the fuzzy texture of pollen. (Story continues after video)
Around the next globe, about 12 feet away, environmental studies major Gianna Alcala covers another globe with torn pieces of fabric, each representing a body of water or land mass.
"We're looking at where things are made, where they end up," Alcala said. "We've seen how fast fashion has an impact on transportation [and] manufacturing, and we want to bring awareness to that. The materials [we're using] would have been thrown away, so there's an element of sustainable practice here by repurposing it."
Cool Globes: combining art and climate change
Victoria Campbell-Arvai, assistant professor of environmental studies at the USC Dornsife College of Letters, Arts and Sciences, sees climate art as interpretive language.
As humans we have a hard time understanding numbers without an emotional connection. We're numb to numbers.

Victoria Campbell-Arvai, USC Dornsife
assistant professor of environmental studies
"As scientists we do a good job characterizing global environmental issues like climate changes using numbers, figures and graphs, but as humans we have a hard time understanding numbers without an emotional connection. We're numb to numbers," Campbell-Arvai said. "Luckily, we have art and design to infuse numbers and concepts with that emotion that helps us to connect with these issues to want to learn more and hopefully modify our behaviors."
Campbell-Arvai and Brian O'Connell, an assistant professor at USC Roski School of Art and Design, are guiding a process unbound by pedagogy. Neither they nor their students have done anything quite like this before, though Cool Globes is not a new idea.
As a public art initiative, it has been exhibited around the world in various forms since it debuted in 2007. USC's exhibition is expected to premiere in mid-May.
"[The installation] strikes a few feelings," said cognitive science major Sophia Traversi. "It might help you connect with [the Earth] more, it might resonate in different ways than numbers. And that's what we're trying to do in a visual way that's not overwhelming."