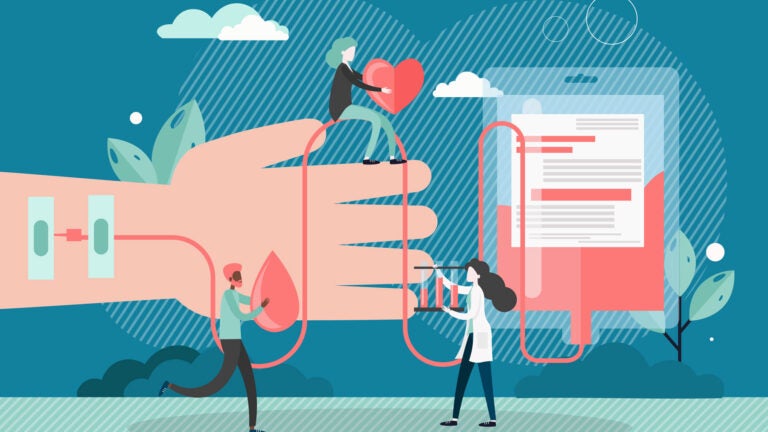 Students who've recovered from COVID-19 give back by donating plasma
Trojans are urging members of the university community who've already been infected with the novel coronavirus to donate plasma.
Sarah Castillo* witnessed firsthand how convalescent plasma — plasma from individuals who have recovered from COVID-19 — can help patients hit hard by the virus.
The USC graduate student was living with her parents, brother and uncle in small-town Illinois in May when her uncle became concerned that he may have contracted the virus.
"He called me while he was waiting for his test results to say he couldn't breathe. He only speaks Spanish, so I'm the one he calls. I told him to call 9-1-1," Castillo recalled. "He couldn't even stand. I had to help him into the ambulance."
The doctors were trying every treatment on him, but Castillo says she saw her uncle deteriorate quickly: "In a very short time, we saw it progress. He became so weak and skinny. It was scary."
By the time they knew it was COVID-19, the entire Castillo family had tested positive for the virus.
It took several days for the hospital to locate plasma in his blood type, which they had to fly in from out of state. Shortly after, they saw him improving. After more than a week in the hospital, he was able to go home.
In times of crisis, we witness the best of humanity as people roll up a sleeve to help those in need.

Ross Herron
So, when Castillo — now in Los Angeles pursuing her master's degree at the USC Price School of Public Policy — received an email asking those who have recovered from COVID-19 to consider plasma donations, she didn't hesitate to act.
The sender of the email, sophomore Jacob Tamkin, began organizing USC students to give plasma when he realized some of his friends and neighbors in an off-campus apartment complex had contracted and recovered from the virus. That meant they had the potentially life-saving antibodies for it.
Tamkin, a communications major, decided to initiate an awareness campaign encouraging plasma donations.
"If you've had [COVID-19] and you want to give back to your community, you can help people who have it and might have much worse symptoms," he said.
Plasma donations may end up helping patients stricken by COVID-19
Though there is currently no approved treatment for COVID-19, the medical community is examining how convalescent plasma can be used to treat patients.
The donation process is much like giving blood, only the blood drawn from your arm is sent through a high-tech machine that collects the plasma and then safely and painlessly returns your red cells and platelets to you.
"In times of crisis, we witness the best of humanity as people roll up a sleeve to help those in need," said Ross Herron, divisional chief medical officer for American Red Cross Blood Services.
It took me only an hour to donate, and it felt so good to potentially save lives.

Sarah Castillo
While there is a "critical need" for all convalescent blood donor types, he noted that some are needed more desperately than others: "As the number of COVID-19 hospitalizations has increased, the Red Cross has begun to distribute record numbers of convalescent plasma products to hospitals across the country, leading to a shortage of AB and B type plasma."
Just a few days after seeing Tamkin's call for donors, Castillo was giving in an L.A. Red Cross center and thinking about her uncle, who is now fully recovered: "I thought about how someone did this exact thing back in May so that my uncle was able to regain his strength and recover."
It's a gift for which she and her family are eternally grateful, and an act Castillo hopes others will consider making, too. "It took me only an hour to donate, and it felt so good to potentially save lives," she said. "The impact it can have on COVID patients and their families is for life."
USC students located across the U.S. can find one of more than 170 donation locations nearest to them at the American Red Cross website.
* Not her real name. We are using a pseudonym to protect her and her family's privacy.