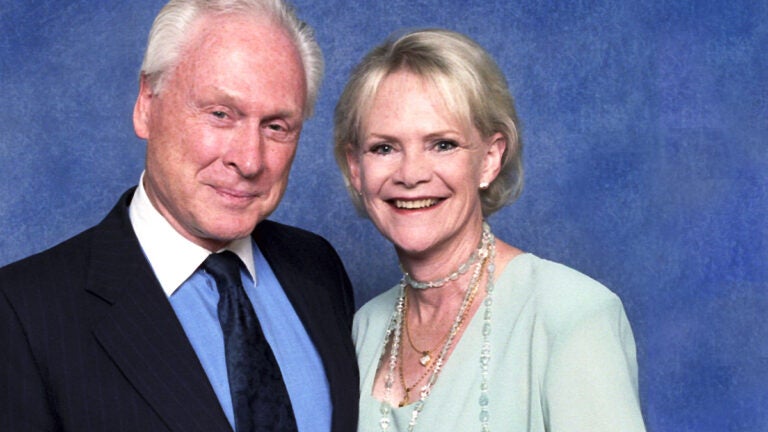 Curries' $10 million gift supports medical research and education
Donation will help endow the Keck School of Medicine of USC and support construction of the USC Michelson Center for Convergent Bioscience
USC Trustee Malcolm Currie and his wife, Barbara, have given $10 million toward the endowment of the Keck School of Medicine of USC and construction of the USC Michelson Center for Convergent Bioscience.
In recognition of their investment in the university's biomedical research and education, a new Health Sciences Campus residence hall that will open in 2016 and the lobby of the USC Michelson Center will be named in honor of the Curries.
An engineering physicist who was chair and CEO of Hughes Aircraft, Malcolm Currie has served as a member of the USC Board of Trustees since 1989 and chaired the board from 1995-2000. He and his wife have been generous supporters of the university, endowing the Malcolm R. Currie Chair in Technology and the Humanities in 2008. The chair, currently held by USC President C. L. Max Nikias, was USC's first endowed faculty position honoring exceptional achievements in both realms.
"The Trojan Family will be forever grateful to Mal and Barbara for their leadership, generosity and commitment to our university," Nikias said. "Their outstanding support of USC's medical research and education has done so much to transform Los Angeles into a vibrant center for biomedical innovations, and has kept the university at the very fore of this growth."
Health and biotechnology
The Malcolm and Barbara Currie Residence Hall will add 450 student beds to the university's Health Sciences Campus. The building, now under construction, will include a day care facility for students with families.
Scheduled for completion in 2017, the USC Michelson Center will be the largest building on campus and aims to be a catalyst for a biomedical research corridor in Los Angeles. The Malcolm and Barbara Currie Lobby within the 190,000-square-foot space will be the gateway to a world-class center where engineers and scientists will work together to advance bioscience and bio-engineering research.
I look forward to USC's continuing major contributions to society from our focus on the convergence of the engineering and medical sciences.

Malcolm Currie
"I feel very privileged to have been part of USC's rise to recognition as one of the world's great research universities and I look forward to USC's continuing major contributions to society from our focus on the convergence of the engineering and medical sciences," Malcolm Currie said.
A defense and aerospace industry leader whose work underpins today's national security systems, Malcolm Currie served in the 1970s as undersecretary of defense for research and engineering and as the U.S. designated national armament director in NATO. His honors include Commandeur in the French Legion of Honor and, recently, he was inducted into the Air Force Hall of Fame as "the godfather of the Global Positioning System."
He is best known for his work at the helm of Hughes Aircraft, a post he held from 1988 to 1993. He is credited with leading its strategic diversification from defense into such areas as commercial satellite communications and private business network products.
After retiring from Hughes in 1993, he founded Currie Technologies, a developer and distributor of electric bikes and scooters. He received the USC Presidential Medallion in 2001.
Rare horses
He and his wife share a love for rare horse breeds. For three decades, the couple has studied horse breeding history and bloodlines and visited farms around the world to import, breed and raise Pure Spanish and Spanish Andalusian horses on their ranch in Agoura Hills.
In demand as an expert and speaker, Barbara Currie is the founder and chair of the Foundation for the Pure Spanish Horse, a nonprofit organization devoted to the breed's protection and promotion.
The Curries' gift supports the Campaign for the University of Southern California, a multi-year effort that seeks to raise $6 billion or more in private philanthropy to advance USC's academic priorities and expand its positive impact on the community and world. Four years after its launch, the campaign has raised more than $4.5 billion.