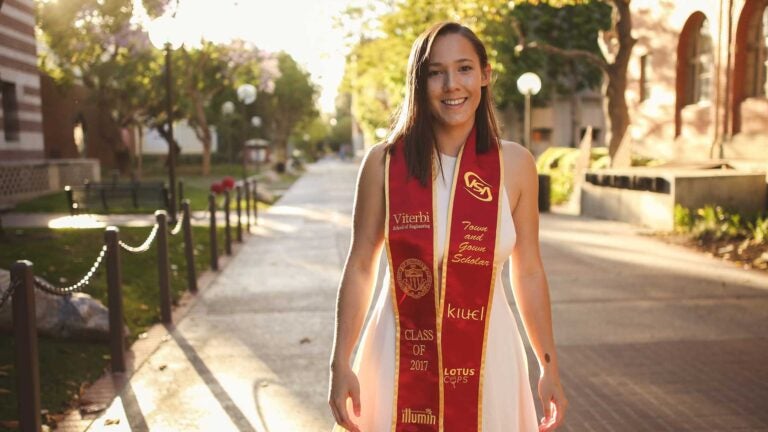 Dad's mysterious past inspires his daughter's future — in engineering and beyond
While trying to figure out her late father's "dangerous secrets," new graduate Betty Stearns discovered a world of endless possibilities
On the morning of June 1, 2012, Betty Stearns '17 awoke to her 17th birthday.
She tiptoed to her father's room to get him out of bed for a birthday breakfast. The engineer and entrepreneur was always traveling to some mysterious, far-off location, but he never missed a birthday, a parent-teacher conference or a tennis match. He was her lone parent: Her mother passed away when Betty was 5.
But as she knocked on his door that morning, no one answered. She opened it to find him lying still, not breathing. Ronald Stearns had died in his sleep from natural causes.
His death would leave an immeasurable loss — and a mystery about his life, and her own, that she would spend the next five years trying to unravel. Her pursuit led Betty to trace her father's footsteps to his alma mater, USC; to the halls of the CIA; and on a lifelong journey into engineering.
Memories
"Dad, why are you pulling over? We're on the PCH! This isn't safe!"
Betty recalled yelling as her father stopped the car and jumped out, camera in hand. A military T-6 trainer aircraft flew across the sky, and her father's eyes lit up.
"Did you fly in those, dad?" she asked.
"If I tell you, I'd have to kill you," he replied, laughing.
It was a phrase she had heard so many times that it had become an inside joke. When asked where in the world he was flying to for yet another two-week business trip, he'd kiss her forehead gently before dashing out the door: "If I tell you, I'd have to kill you."
In his absence, Betty's mind raced. "I drove my nanny up the wall with constant questions which were never answered," she said. "I gave myself the position of 'official investigator.' I investigated my dad's papers on his desk when he was gone and through this, I slowly grew a fascination for aeronautics."
She read articles he cut out and printed for leisure, which Betty thought were part of his secret operation in the Eastern Hemisphere. She devoured Boeing articles, defense speeches and Popular Mechanics magazines. She thumbed through his passport, snapping mental pictures of all the visas from countries she'd read about in her history books.
And at 17, she found herself facing some of life's most critical decisions alone. Her three brothers and sisters from her father's previous marriage were in their 40s and 50s with families of their own.
"I think the show Modern Family stole my family dynamic because I have this older dad with kids much older than me," she said. "We're still not getting royalties from that."
Her older brother, Ron Stearns II, saw her penchant for playing detective and encouraged her to pursue engineering. And now, after her father's death, Betty would follow directly into his footsteps at the USC Viterbi School of Engineering.
Another family
In high school, Betty got a kick out of motivating students who were falling behind. She joined Key Club and set up her school's first after-hours tutoring program, where she helped students whose parents worked late and couldn't afford private tutors. She still keeps in touch with the teachers who helped her run the program.
Wanting to grow in that role, she became a Viterbi Student Ambassador, representing the school by supporting outreach efforts to prospective applicants and newly admitted students. Off campus, she coupled several jobs, including babysitting, with a Town and Gown scholarship to pay her way through college.
On campus, she was a Freshman Academy Coach, the editor of Illumin Magazine and the chair of the Klein Institute for Engineering Life. She even took a summer trip to London through the Viterbi Overseas Program and conducted research in Germany with the Hodge Nanomaterials Lab.
"I loved being constantly surrounded by people who care about solving the world's problems," she said. "I feel I'm part of a family. I know most of the people I'm graduating with."
She culminated her USC experience by launching her own startup with fellow graduate Adam Seifert '17. Last year, the two were finalists in the Min Family Engineering Social Entrepreneurship Challenge.
Things were going well, but something still bothered her. A mystery she hadn't solved yet.
"I dreamed of him telling me these 'deadly secrets,' but even when that dream came to an end, my investigation didn't. I plan to investigate until my life will lead me to places where I will need to replace filled passports, I will understand the secrets of the pilots, and I will share a passion for the T-6 with my father. College will give me the tools to be able to propel my desire to reach my future goals. I plan to one day be the person who honors their country by saying, with a smile, 'If I tell you, I would have to kill you.'"
Mystery comes calling
During her freshman year at USC, she had applied to the CIA, but because of the classified nature of the work, the application process is lengthy. Still, by her junior year, they got in touch.
She flew to Washington, D.C., and underwent a thorough background investigation. She wanted an internship. The agency offered her a job instead.
But attaining what she felt was a life dream gave her pause. Suddenly, she could no longer see herself living a life hidden from her loved ones. She set out to emulate her father's story, but found her own unique story instead. Perhaps, she thought, that was his plan all along.
I'd be a completely different person if I hadn't lost my dad.

Betty Stearns
"I'd be a completely different person if I hadn't lost my dad," she said. "I had to fight for everything and that has made me a lot stronger."
On May 12 at USC, Betty Stearns emulated the steps of that young, daring engineer back in 1966. She climbed the podium to take her engineering diploma, to throw her tassel to the other side, to cross the finish line into a whole uncharted chapter of her life.
Her passport is also getting stamped full of visas. Following her graduation and before she begins work for IBM, she will take the same flight route Ronald Stearns took to Thailand, where on another business trip he met her mother, Ueamporn "Nong" Stearns, then a young flight attendant.
It will be exactly 17 years since she made the journey with her mother before her death from breast cancer. They rode motorcycles, went on food escapades on the streets of Bangkok and got spoiled by her mom's relatives.
"I can't wait to see them again … to show them the person I've become," she said.