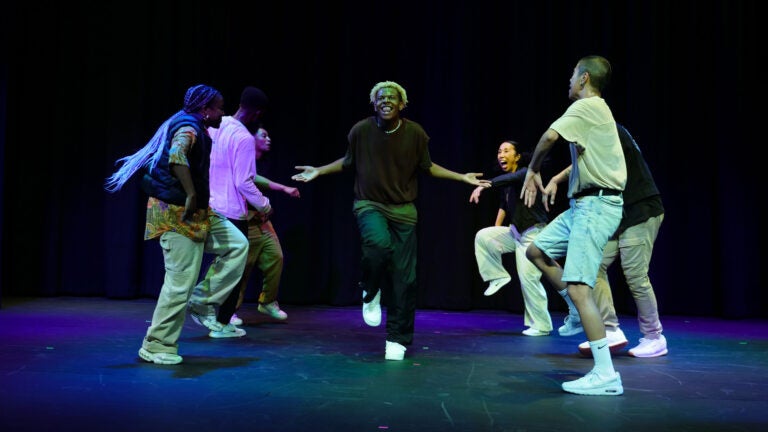 Dance festival sends a kinetic love letter to hip-hop
The "Hip Hop 50" series — presented by the USC Kaufman School of Dance and USC Visions and Voices — will mark hip-hop's 50th anniversary with a three-part celebration that kicks off Wednesday.
Aug. 11, 1973, is widely regarded as a pivotal day in the emergence of hip-hop.
At a back-to-school party in a South Bronx community room, DJ Kool Herc famously used two record turntables to extend the "breaks" (percussive interludes) of soul and funk songs — an innovation that gave rise to hip-hop's musical signature.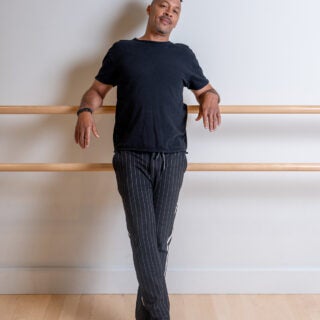 His aim? To make the dance floor erupt with energy.
Dance has been a foundational element of hip-hop since this critical moment. "There's no party without dance first and foremost," said d. Sabela grimes, an associate professor of practice in the USC Kaufman School of Dance.
Far more than just a diversion, hip-hop dance is also a window into understanding the social and cultural forces that created hip-hop and continue to drive it.
But as hip-hop's 50th anniversary is celebrated across the country this year, dance has not often been at the forefront.
"Nationally, there seems to be a tendency to celebrate rap music or hip-hop music a little bit more than other cultural elements," said grimes. He and his fellow hip-hop faculty members "wanted to have a more dance-focused celebration of hip-hop history," he said.
That impulse prompted grimes to curate "Hip Hop 50," a three-part series of free, on-campus events (reservations required) commemorating 50 years of hip-hop dance and exploring its impact as a global phenomenon.
'HIP HOP 50': USC Kaufman and Visions and Voices are planning a series of panels, dance workshops and performances to mark the 50th anniversary of hip-hop. Find details and RSVP on the Visions and Voices website.
The festival of panels, dance workshops and performances — which has installments on Sept. 20, Sept. 30 and Oct. 4 ­— is being presented by USC Kaufman in partnership with USC's arts and humanities initiative, Visions and Voices, and is co-sponsored by the Center for Black Cultural and Student Affairs and La CASA.
"Hip Hop 50" will offer the USC and greater Los Angeles communities a gathering point "to share their love [for hip-hop] and physicalize how deeply they've been impacted by hip-hop," said grimes. "'Don't tell us — show us.' That's the power of what we get a chance to do."
Knowledge reigns supreme
The first "Hip Hop 50" installment on Sept. 20, which will take place at the Glorya Kaufman International Dance Center, is centered on celebrating hip-hop dance scholarship.
DJ Lynnée Denise, a visiting professor at Williams College in Williamstown, Mass., who studies the dynamic interplay between DJs and dancers in hip-hop culture, will present a "musical essay." E. Moncell Durden, a USC Kaufman associate professor of practice, will co-lead a panel discussion on the recently published Oxford Handbook of Hip Hop Dance Studies with the book's two editors, Imani Kai Johnson and Mary Fogarty.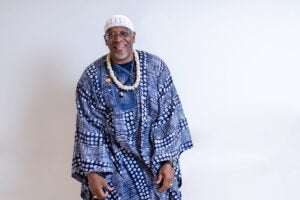 The book — which includes a chapter by Durden and covers everything from movement vocabularies to the influence of hip-hop dance on global culture — is "the most expansive and comprehensive compendium of hip-hop dance studies to date," said Julia Ritter, dean of USC Kaufman.
Ritter explains that there hasn't previously been such a comprehensive anthology because academic dance departments have historically been slow to embrace hip-hop as a scholarly subject.
Dance forms like hip-hop that originate in disenfranchised communities of color "don't find their way into institutions and academies as readily as Eurocentric forms do," Ritter said. "This is what we're trying to push against" by spotlighting hip-hop dance scholarship at the festival, she added.
In addition to exploring hip-hop dance theory, the Sept. 20 event will also include hip-hop dance practice. Active hip-hop dance workshops will be open to all attendees — no prior dance experience required.
A heartfelt homage
The second installment of "Hip Hop 50," which takes place in McCarthy Quad on Sept. 30, will be a dance-focused birthday party for hip-hop that celebrates kinetic innovation. Some of L.A.'s most respected hip-hop dance artists and community dance organizations will perform their own tributes to hip-hop, as will USC Kaufman students.
"We're asking the performers that we invited to come to this party to give us a kinetic love letter to hip-hop," grimes said.
Tiffany Bong is an assistant professor of practice at USC Kaufman whose community-based, cultural education company UniverSOUL Hip Hop will perform at the event. The group's offering will be a snippet from their theatrical show "H.O.P.E.," which debuted in June at the Glorya Kaufman Performing Arts Center at Vista Del Mar.
The show — a mashup of choreographed and freestyle house, hip-hop, krump, locking and breaking, along with spoken-word storytelling — explores hip-hop dance as a vehicle for cultivating joy within struggle. Bong conceived the show during the pandemic as a way of restoring hope in a time of loss and hardship, particularly among communities of color.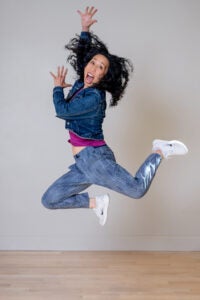 "One of the things I realized was so important in the process of hip-hop is that it's a practice for cathartic release, so that we're not holding these emotions in our bodies," Bong said, adding that the hip-hop cypher (the circle where freestyle dancers gather) offers a "safe and healing, restorative place … to tell our stories through movement."
Attendees of the birthday party are invited to witness the performances and join the cypher with the special guests, which will also include b-girl Nancy "Asia One" Yu, street dance ensemble Versa-Style Legacy and freestyle/street dance artist K'niin.
The power of community
The third and final "Hip Hop 50 event" on Oct. 4, held at the Glorya Kaufman International Dance Center, will celebrate collaboration and community within hip-hop dance.
"[From] the beginning … hip-hop has been able to bring communities together, especially communities that were disenfranchised," said Daria Yudacufski, executive director of Visions and Voices.
Shamell Bell, a USC alumnus and lecturer of somatic practices and global performance at Harvard University, will discuss street dance as a form of grassroots political action that can unite and empower BIPOC and LGBTQ+ communities.
Hip-hop dance as a collaborative art is also a focus: Musician Ahmad DuBose-Dawson and dancer Yoda Jones will lead Everything Raw, an event inspiring improvisation and cross-pollination between artistic forms. A live band playing spontaneous music will provide the soundtrack for attendees to dance alongside USC Kaufman students and faculty. Students from the USC Thornton School of Music are invited to sit in with the band, while students from the USC Roski School of Art and Design are invited to contribute to live painting and art making.
"Hip-hop is rooted in improvisation, coming out of Black musical styles like blues, jazz, soul, R&B, funk and gospel," said Jason King, dean of USC Thornton. "The opportunity for students to jam together and to come together and to collaborate across schools, under the banner of this form that hip-hop has opened up in our culture, that's really exciting to me."
The celebration continues
"Hip Hop 50" is one of several hip-hop-themed Visions and Voices events happening this fall. On Oct. 19, New York-based Ephrat Asherie Dance, a company that focuses on African American and Latinx street and social dances, will perform in Bovard Auditorium. Their show "UNDERSCORED" will feature five generations of New York City club dancers, ages 28 to 80, showcasing breaking, hip-hop, house, vogue, waacking and hustle.
"This performance does a beautiful job of acknowledging the broader history of hip-hop, especially amongst LGBTQ+ people and women," said Yudacufski. "When you watch the show, all you want to do is dance."
"These events are our attempt to pay some degree of tribute to the massive influence and massive legacy of hip-hop on the world, on the country, on L.A., and on USC and our students."

— Josh Kun, vice provost for the arts
On Dec. 2, Tariq Trotter (aka Black Thought), the co-founder and lead emcee of the hip-hop musical group the Roots, will join King in Bovard Auditorium for a conversation about Trotter's forthcoming book, The Upcycled Self: A Memoir on the Art of Becoming Who We Are.
In the spring, the Cypher Summit Block Party on Mar. 2, led by Bong, will celebrate women in hip-hop. The event, held at the Glorya Kaufman International Dance Center during Women's History Month, will feature performances by the Ladies of Hip-Hop Dance Collective and USC Kaufman artist-in-residence Toyin Sogunro, as well as an intergenerational panel discussion and a participatory sisterhood cypher and closing dance party.
"These events are our attempt to pay some degree of tribute to the massive influence and massive legacy of hip-hop on the world, on the country, on L.A., and on USC and our students," said Josh Kun, USC's vice provost for the arts, professor in the USC Annenberg School for Communication and Journalism and chair in cross-cultural communication.