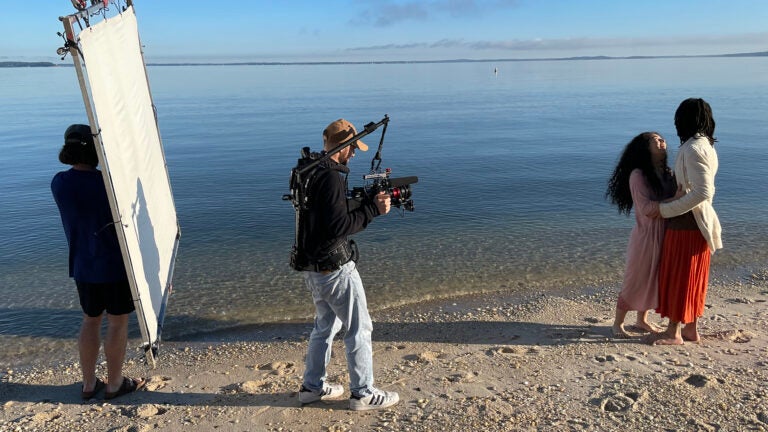 USC Kaufman alums turn their interdisciplinary college experience into a full-fledged art business
Young entrepreneurs learn how to start a small business and thrive while helping today's USC Kaufman students make their media mark.
Starting a business can be a daunting, especially for a trio of fresh-faced graduates — and even more so during a pandemic. But that's exactly what a group of USC Kaufman School of Dance graduates did, and now they're using their technological prowess and dance knowledge to help current Trojan dance students.
As members of the inaugural class at USC Kaufman, Justin Epstein, Adam Agostino and Noah Guthier had to navigate a brand new educational experience at USC and blaze their own path. That path helped them form their own artistic media company and brought them back to their alma mater, where the trio have been working with Kaufman students to help them blaze their own paths at USC.
"We were thinking, 'Oh, it would be cool if the students had an opportunity to learn the kind of things that we're doing now,'" Agostino said. "Even though they're focused on dance, maybe they have some sort of interest in media, film, or sound, and we can provide that opportunity."
Starting a business startup
Their company, RYBG, is difficult to categorize. Incorporating video and audio production, live performance and motion capture, the company seeks to provide a full-bodied experience through various forms of media. The name stands for Red, Yellow, Blue, Green and is derived from a choreographic game the three were taught during their freshman year by then-professor – and world-renowned choreographer – William Forsythe.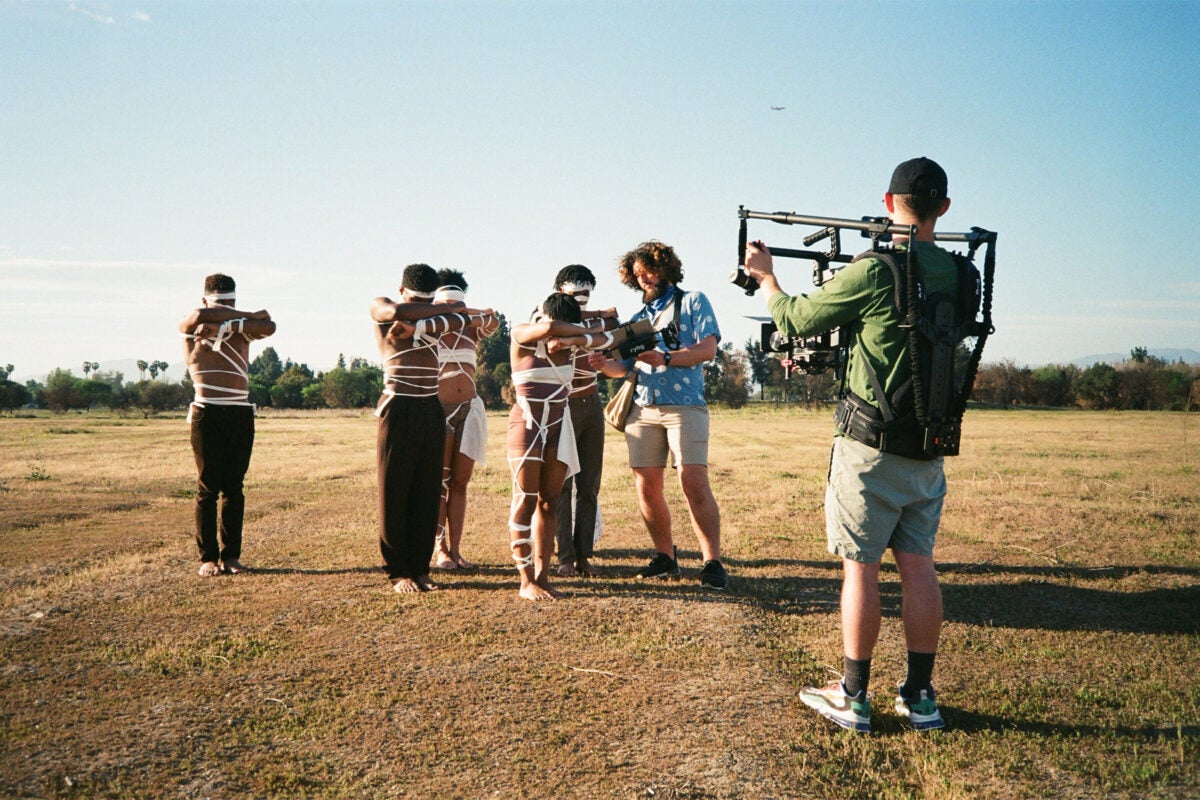 "Bill [Forsythe] was just a big influence on how we approach art-making, so it just was a natural way to name the company," Epstein said.
The game is essentially a muscle-memory exercise used as a warmup to get students' minds and bodies working together seamlessly. Students motion across their bodies, touching opposite knees and shoulders while saying, "red, yellow, blue, green."
"You're using visualization in your brain, your motor function and speech, and you're bringing them all together," Epstein said. "You're leaning into choreographic thinking, of not using your brain to process but allowing your body to do the processing. "
Thus, the company's mission statement: "Think choreographically."
Most of RYBG's work over the past year has been video-related, but the group quickly points out that they're not limited to that medium.
"Our company is not a video production company," Agostino said. "That's a lot of what we're doing now, but I would consider it more as like a media experimentation group."
USC experience inspired young entrepreneurs
Prior to starting RYBG, Agostino and Epstein were working as resource employees in the USC Kaufman video department. Once COVID-19 safer-at-home recommendations put a halt to live performances, they started creating videos of their friends in the dance community. Through that, they realized they had a good partnership and wanted to take their artistic vision beyond just videos. The two moved in together and convinced Guthier to move back from New York to join the team.
Within the company, Agostino is the filmmaker, Epstein is more on the audio side and Guthier handles motion capture and design. Each of their specializations is directly tied to what they studied outside of dance while at USC. That's why they wanted to come back to Kaufman to work with current students who have interests and passions that can be brought into the dance world.
In addition to filming dance solos of Kaufman students, the trio is also teaching a directed research course – dance intermediate – that allows students to be researchers with RYBG, where they learn skills like audio and video editing.
"I think students really do want to learn this kind of stuff, so we wanted to provide that opportunity if that's something that they're really interested in," Agostino said.
"We've kind of created a bridge from our company back to the school."
Art business draws from diverse, creative backgrounds
All three come from different backgrounds and different parts of the country, but they share the excitement of having been in the first class at USC Kaufman.
Epstein, an L.A. native, grew up dancing and originally wanted to dance in music videos, TV and film. Coming to Kaufman got him out of his bubble and exposed him to a "huge world of dance."
Agostino was raised in Seattle before moving to the Bay Area during high school. He always had a love for film and dance and described USC as "a dream." Once he was accepted into Kaufman, he knew immediately that he'd minor in film — or at the bare minimum take classes at the USC School of Cinematic Arts.
Guthier is originally from Madison, Wisc., and saw firsthand with his two older brothers the path dancers can take after high school: One attended a dance conservatory while the other immediately signed with an agency. The youngest Guthier wanted a little bit of each and more, which is why he came to Kaufman.
"With being the first class, it was almost more than just a dance program," Guthier said. "It was a four-year exercise in just training yourself to be adaptable and malleable."
While many on the outside might look at 2020 as a prime example of adaptability, the trio just saw it as the world their company was born into.
The company probably would not have started without COVID. It definitely brought us all together.

Justin Epstein
"It was a blessing really. The company probably would not have started without COVID," Epstein said. "It definitely brought us all together."
In addition to the work they do with USC, RYBG is also gaining traction within the dance and music industry, having worked on several music videos and short films. It's a testament to Agostino, Epstein and Guthier's creativity as well as their flexibility and willingness to push themselves beyond their limits.
"If you look at what we're doing, we're three dancers who are now doing something completely different," Agostino said. "We're still learning so much every day because we're in an industry that we just kind of defected into – like, how did we end up [here]?"
But it's that phase of questioning that seems to be where the group feels most at home. In Epstein's words: "That's where we thrive, that space of figuring it out."