Why a successful engineer left the career he loved to teach kids STEM
Once USC alum Darin Gray got his first taste of teaching, he couldn't give it up. For decades, he's helped educate Angelenos in science and math through USC Viterbi's K-12 STEM Center.
As a young engineer at the Hughes Aircraft Co. in the 1980s, Darin Gray worked on technology that was so new that most people weren't even aware of it yet.
Gray was one of just a few Black students at the USC Viterbi School of Engineering in 1988 when he earned a bachelor's degree in biomedical and electrical engineering and another in mathematics from the USC Dornsife College of Letters, Arts and Sciences. He had grown up in inner-city Detroit with three siblings and a single mother, but soon after graduating from USC, he was designing technology at a company that created radar systems, lasers, propulsion engines for space travel and more. And he loved it.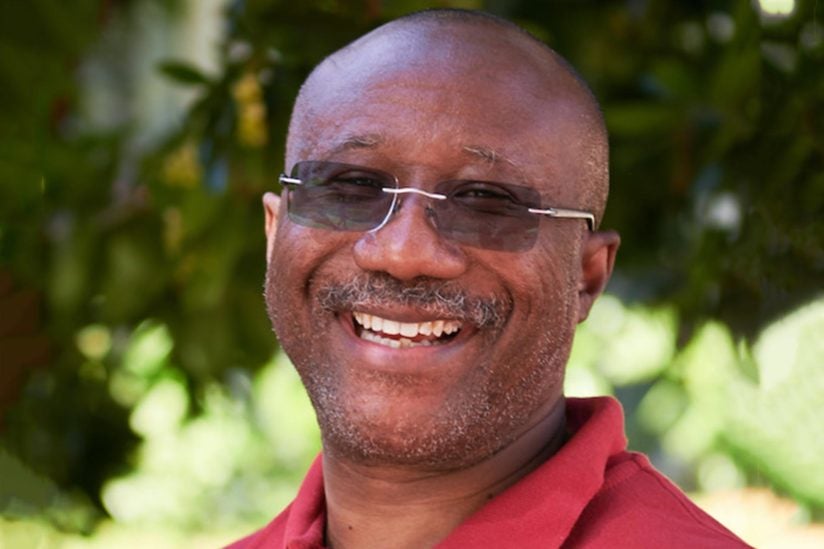 So he was a little surprised when someone asked him to volunteer with kids as a computer teacher.
"The only thing I thought about teaching was that when I was in my 70s, after I had built a rocket to Mars, I would maybe teach a math class or two," he said.
But the computer class was for at-risk students who had fallen out of a dropout prevention program and had no other school to go to. Given his background, Gray thought it would be a good fit.
It was. What began with volunteering turned into the path for his future. Today, Gray serves as director of STEM education outreach programs at the USC Viterbi K-12 STEM Center.
Darin Gray: From engineer to STEM educator
When he began volunteering, the computers in that school were unused for so long that they were coated in a thin layer of dust. He also soon discovered that his students lacked the math skills necessary to learn how to use them.
Gray had no teaching experience. But he was an engineer, he said, and engineers are problem solvers.
"I would use examples from the real world," he said. "It was my love of math that made kids love math. I absolutely love math because it always makes sense. Even when you can't find the solution, it makes sense. That gave me stability in a place that was not stable."
Gray loved teaching so much that he left his job at Hughes to work with at-risk students in Los Angeles. It turned into a long career teaching and introducing a generation of Angelenos to science, technology, engineering and math — often called STEM for short.
He joined the USC Viterbi K-12 STEM Center in 1996 and eventually earned a Master of Teaching degree from the USC Rossier School of Education in 2011.
During his time at the K-12 STEM Center, he has launched a half-dozen academic year STEM programs and more than a dozen summer programs. He has taught not only students but also teachers, all while leading USC Viterbi's efforts to diversity engineering through community outreach.
The K-12 STEM Center is an umbrella organization for all of USC Viterbi's K-12 outreach programs. Some of them take place in school while others happen after school or during the summer. The center also offers teacher development programs. Some programs bring students to the University Park Campus, where they take part in activities led by center staff and USC Viterbi students or join a professor or graduate students on research projects. Other programs send USC Viterbi students to some of the schools that Gray taught at 30 years ago.
This center, and all of the programs contained within it, are the result of USC Viterbi's commitment to bring STEM to life for K-12 students — especially those in under-resourced schools — through project-based learning.
"Our dean, Yannis Yortsos, always likes to say that our work is 'to help engineer a better society,'" said Katie Mills, co-director of the K-12 STEM Center.
The education of future engineers evolves
The center's work aligns with Dean Yortsos' commitment to benefit the neighborhoods surrounding USC. Specifically, he has made it a goal to amass 100,000 volunteer hours a year among USC Viterbi staff, faculty and students, Mills noted.
The programs help USC Viterbi students as much as they help the high schoolers. Those who volunteer to visit schools learn invaluable communication skills. It's an increasingly important skill for engineers to have because they must know how to communicate complex ideas to non-engineers.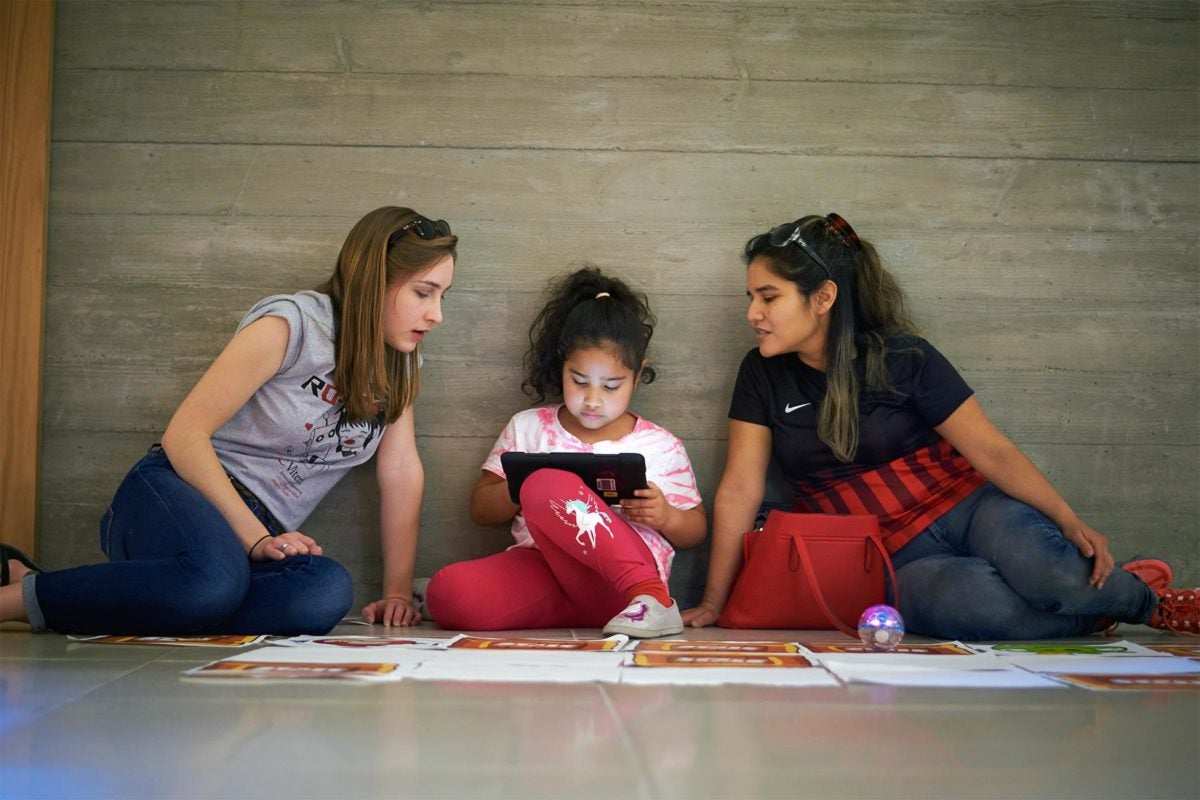 When Gray started out, he said he could simply "talk nerd" among his coworkers. But in today's work environments, engineers have to talk with people from marketing, business development and human resources or even pitch projects to venture capitalists.
Teaching in front of a room full of K-12 students, he said, helps do the trick.
USC Viterbi is in a perfect place to do this kind of work because it has the resources to do something about there not being enough people — specifically, enough people of color — in STEM fields. Additionally, the school believes in making STEM an appealing field of study for people who don't necessarily see themselves working in traditional STEM areas. It teaches skills that are important to life in the 21st century, including STEM literacy and the ability to assess and solve problems logically with computers and similar tools, Mills said.
"America is falling behind on its STEM abilities," she added. "It's not even the traditional engineering of building bridges and tall buildings. It's about cybersecurity, artificial intelligence or automated vehicles. There's a whole new skillset where American students have a tremendous opportunity."
One student's experience with USC's K-12 STEM education
While it's a lofty goal, the only way to achieve it is by working with one future engineer or scientist at a time.
That's how it worked for Monique Warren, who was in the summer of her junior year in high school when she participated in the center's Discover Engineering program. She spent four weeks at USC with engineering professors working on different projects.
"I learned and heard about how engineers solve real-world problems, and that really struck me," she said. "I don't think I had ever seen engineering as a career field before."
If I can see the Black astronauts who have gone to space, maybe that would show me that that's something I can do, too.

Monique Warren
Warren remembers one particularly passionate and inspiring instructor: Gray. He had a deep passion for what he did, something Harris hadn't seen in other adults.
"When I was younger, I'd see people not very excited about their field of work," she said.
Warren ended up attending USC Viterbi and graduating in 2014. She now works for the Lawrence Livermore National Laboratory and volunteers with young students in the area.
"If you don't see someone who looks like you doing a job, you're not going to instinctually connect with it," she said. "If you can see it, you can be it. If I can see the Black astronauts who have gone to space, maybe that would show me that that's something I can do, too."
Over the decades Gray has spent in educational outreach, he has seen former students from his time at the Los Angeles Unified School District and K-12 STEM Center go on to attend USC and other colleges around the country. Some of his former students' children are even applying to college, and each one of them shares the values they learned through these programs.
"You get this multiplier effect, and that's how you make the world a better place," he said. "Those kids will go out and be engineers, doctors, teachers, plumbers and lawyers and have this experience that someone cared about them. And that gives them the same belief system about making a difference."