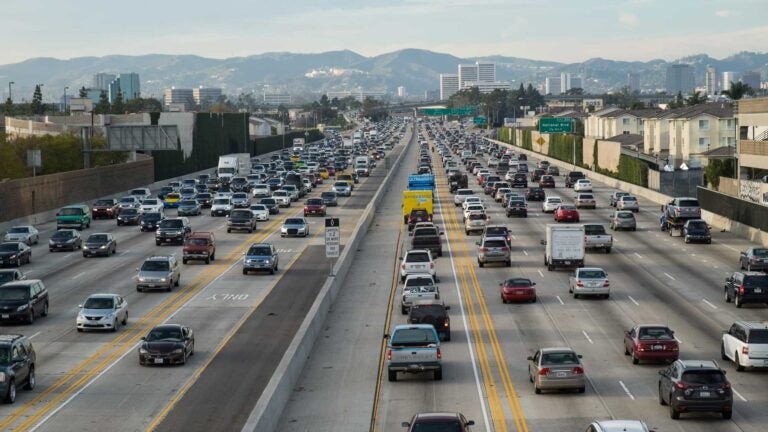 Database project reveals L.A.'s most hazardous time to drive, and more
USC Annenberg and USC Viterbi join to report on accident-prone roadways and the worst interchanges
The most comprehensive database ever assembled on Los Angeles traffic is now accessible to drivers, journalists and policymakers via a user-friendly platform built at USC.
Thanks to a data-driven journalism collaboration between the USC Annenberg School of Journalism and the USC Viterbi School of Engineering's Integrated Media Systems Center (IMSC), the "Crosstown Traffic" project provides fresh insights on congestion, road accidents and public transport from 2012-16.
Findings include:
The most accident-prone roadways.
The most hazardous travel time (Friday evening rush hour).
The worst interchanges.
The least "on-time" city bus (Route 733).
Crosstown Traffic is the first interdisciplinary collaboration between USC Annenberg and USC Viterbi resulting from a 2016 grant from the Annenberg Foundation.
Since 2011, IMSC has developed a large-scale data platform for acquisition, storage and analysis of L.A. Metro's transportation with the USC Price School of Public Policy. Initial analyses completed by IMSC Associate Director Ugur Demiryurek were shared only with policymakers, but Demiryurek wanted to make the information available to a broader audience.
He found the perfect partner in USC Annenberg professor and veteran journalist Gabriel Kahn, who incorporates data-driven journalism in his classes.
Data was mined from 17,000 street sensors on the main arteries and freeways across Los Angeles County and from transmitters on 2,000 buses. Undergraduate and graduate-level computer science students working under Demiryurek integrated, cleaned, sorted and analyzed 11 terabytes of traffic data (enough data to fill 5 billion single-spaced pieces of typewritten paper).
The IMSC computer science students then partnered with students in the USC Annenberg School of Journalism to discover trends, anomalies and patterns in the ways 10 million residents get around the region.
Together, the engineering and journalism students designed the Crosstown Traffic site and its affiliated customizable and downloadable data dashboards. In addition, the journalism students produced original stories about some of the most salient findings from the study:
"Crosstown Traffic is the result of exactly the kind of cross-school collaboration we want to foster through the Annenberg Leadership Initiative," said Willow Bay, director of the USC Annenberg School of Journalism. "Combining the strengths of their fields, student journalists and engineers are weaving together storytelling and the power of data-mining for a real-world purpose. These are the communication and technology professionals of the future."
Traffic transparency
Kahn underscores the importance of transparency when it comes to traffic, an issue that impacts everyone in Los Angeles.
"Voters in the county just overwhelmingly chose to tax themselves last November in order to spend billions on new transit projects," he said. "But until now, they've had very little access to the data that will inform one of the largest-ever investments in public infrastructure."
The findings, Kahn said, "have implications for everything from insurance to auto body repair."
IMSC Director Cyrus Shahabi said the center focuses on "data-driven solutions for real-world applications with major societal impact."
That goal is well-aligned with USC Viterbi's concept of Engineering+, he noted.
"Our collaboration with Annenberg is a great example of how the IMSC transportation data platform enables new developments in journalism and provides real-life experience for both journalism and engineering students."
The data for Crosstown Traffic will be updated and refined. The next phase of Demiryurek's research will provide Angelenos with more accurate real-time, predictive traffic information. In addition, Demiryurek will develop analytics regarding the impact of events on traffic flow.