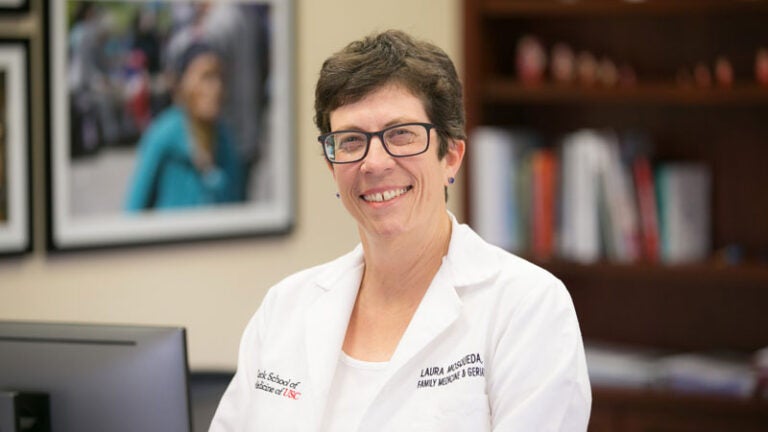 The Evolution of Becoming a Doctor
Laura Mosqueda was once a student at USC's medical school. Now, as its dean, she reflects on how to prepare young doctors for a changing world.
Laura Mosqueda MD '87 remembers the grueling residency schedule she had to survive on the road to becoming a doctor: 40-hour shifts and 80-hour weeks were the norm around the nation. It made for exhausted physicians and potentially poor decisions for patients. "A lot of good learning can happen when you follow a very sick patient for more than 36 hours," she says, "but it just doesn't make up for the downside."
Thankfully, the way the nation trains future physicians has evolved. Mosqueda knows that firsthand: The USC alumna is USC's new medical school dean after taking the helm of the Keck School of Medicine of USC in May 2017. The changes reflect the rapidly shifting health care industry, she notes. Guidelines limit how long residents can work, and there's more attention to the well-being of both patients and doctors. At USC, she is also spearheading a three-year curriculum renewal to re-examine what needs to be taught in medical school, and how it should be taught.
She spoke with USC Trojan Family Magazine's Elisa Huang about what's different for doctors in training.
How has medical education changed since the time you were in school?
What's really remarkable is how many ways things have stayed the same. It's still about establishing relationships with patients. It's still about knowing how to interpret science, understand evidence and think using scientific methodology. One change is the incredible growth of technology. You don't have to memorize everything now when things are at your fingertips, which allows us to use our brains for synthesizing information. The idea of physician well-being is also now more well understood and recognized. To take good care of others, students need to know how to take care of themselves.
Have teaching techniques also changed?
We know a lot more about adult learning. We have fewer lectures and more time spent on discussions, independent learning and small groups. Students still need to know physiology, genetics/genomics, anatomy and pharmacology. Now they also need to be prepared for different ways to put this info together to serve not only an individual patient, but the community as well.
How can medical education prepare students to become doctors, when the field is so quickly changing?
We have to think about our incoming class of students, who probably won't be practicing medicine for seven to 12 years. How do we know what medicine will look like in 10 years? We know a few things: It won't be as common to go into private practice. We also know it's important to know system quality indicators. Telemedicine will become more common as technology advances. But are stethoscopes going to be a thing of the past because everyone is using ultrasounds connected to their smartphones? I don't know. But we have to prepare them for what we don't know. So we need students who are adaptable as things change fairly rapidly.
As the school's dean, what do you want the Keck School of Medicine to be known for?
I want us to be a medical school that leads in the area of social justice. That's everything from developing a medical service for people who live on the streets to researching socioeconomic determinants of health, to helping with health care access and understanding how family violence impacts health. We live in a diverse community, we serve a diverse community and I'm interested in making sure we fulfill our obligation to our community.
What are some of the ways the health care world is changing?
I can see a world when you come into a doctor's office, we look at your cholesterol level, but we'll also consider your other risk factors. Do you have diabetes and a sedentary lifestyle? Then we'll also pull in your family history and your DNA to look at risk factors there, and then genetics to see what medication you might respond to. We'll be able to say, 'Here are 30 different studies about cardiovascular health, and here's how that applies to you, the patient sitting in front of me today.' I see a move toward personalized medicine that integrates your personal genetic information and background.
What skills make a good doctor?
The magical combination of understanding and being good at science and understanding and being good with people. You have to combine the science and the heart of medicine. Our expectation for Keck School physicians is that they will be really good at both. We'll continue to have an emphasis on our role as a research university. Our students will graduate with an understanding and ability to go into clinical care or academic careers. They can also go into research that spans from the lab to policymaking, from the cell to society. Our students will be the best clinician–citizen-scientists in the world!