USC's family nurse practitioner program earns national accreditation
It's a big milestone for the department's innovative approach to develop a new generation of advanced practice nurses
The Department of Nursing at the USC Suzanne Dworak-Peck School of Social Work has earned a prestigious national accreditation from the Commission on Collegiate Nursing Education, an accrediting agency of the U.S. Department of Education.
The five-year accreditation, the maximum duration for a first-time applicant, comes just weeks after the school graduated its first three Master of Science in Nursing (MSN) students in May.
"Earning this national accreditation was a huge undertaking by a dedicated team of faculty and staff," said Ellen Olshansky, the department's founding chair. "It's an acknowledgement of the academic rigor, excellence and quality our department has instilled in the program since its inception."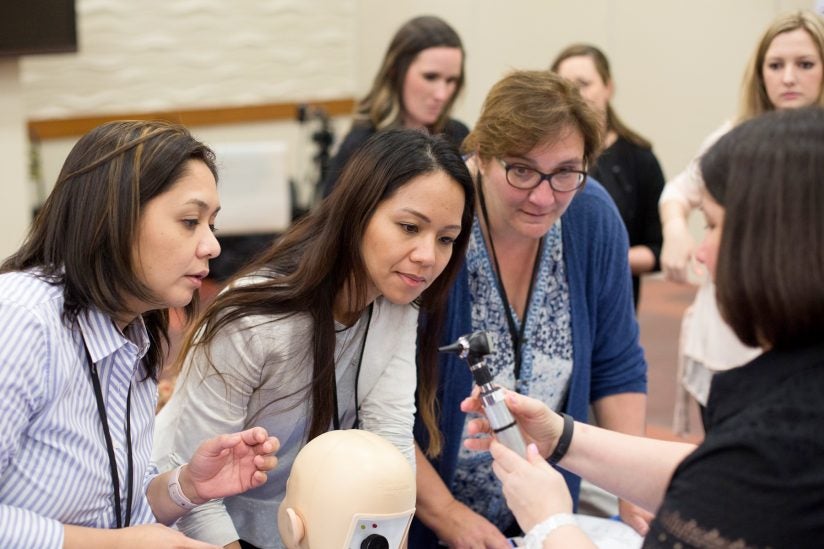 The accreditation arrived after about eight months of legwork to document institutional commitment, curriculum and teaching-learning practices, admissions and student profiles, as well as department leadership and faculty. The program review also included a site visit by the accrediting team. Olshansky noted that the 200-plus page "self-report" document was compiled through the efforts of a small writing team including Sharon O'Neill, department vice chair; Kathleen Becker, clinical associate professor; Joan Kub, adjunct professor; and Olshansky.
The accreditation marks what may be the first of its kind within a school of social work, Olshansky said. It's an important milestone for the Department of Nursing and its innovative approach to develop a new generation of advanced practice nurses whose scientific foundation and holistic approach to nursing is augmented by social work's vision and expertise. The program emphasizes health care grounded in an understanding of the social factors that influence patient well-being.
Looking to the future
Olshansky helped launch the online Nursing@USC program as the school's first Department of Nursing chair in fall 2016, with O'Neill, vice chair of the department and director of the online MSN for Family Nurse Practitioners program. Olshansky recently announced her planned retirement from her positions as professor and department chair. She'll continue to collaborate with nursing and social work faculty on research projects.
We have exciting future plans for the Department of Nursing.

Janet Schneiderman
Research Associate Professor Janet Schneiderman will step in as interim chair of the program while a permanent replacement is sought. Formerly vice chair of USC's nursing department — phased out in 2004 — within the Independent Health Professions at the Health Sciences Campus, Schneiderman brings leadership and expertise in nursing education, as well as the study of the physical health of and health care use by maltreated children who are part of the child welfare system.
"We have exciting future plans for the Department of Nursing, and I'm so pleased to work with such an enthusiastic and excellent group of nursing faculty to grow this program," Schneiderman said. "With accreditation, we will work to increase our reach all over the country. Our aim is to prepare our family nurse practitioners to provide primary health care that helps to close the health gap and increases equity in health outcomes and health care access."
---
The USC Suzanne Dworak-Peck School of Social Work's MSN program is the first program of its kind offered at USC. Offered online, the program has drawn students from around the state and across the country.
Classes can be taken part-time (over eight semesters) or full-time (over five semesters) in a fully online format, with two on-campus intensive courses and clinical placements in local communities. Students are admitted in cohorts and begin courses three times a year. The program is designed for students with at least one year of clinical experience as a registered nurse.