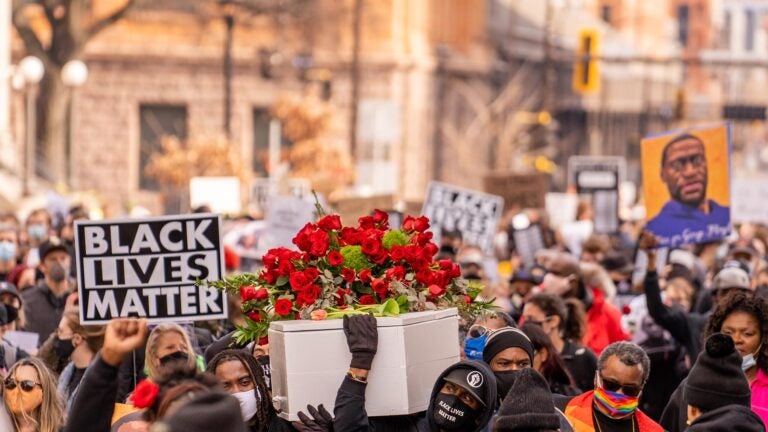 A seminal trial in American history, USC experts say after Derek Chauvin verdict
The guilty verdict in the killing of George Floyd is a relief to many — but experts in race, politics and more say it's just the first step.
The jury's verdict Tuesday in the trial of former Minneapolis Police Officer Derek Chauvin — guilty on all counts in the video-recorded killing of George Floyd — is a relief and yet a source of pain to many.
The trial has unfolded at a critical point for America.
In recent years, Americans have borne witness to multiple assaults and killings of Black men and women shared live on social media channels through cellphones held shakily by their helpless companions and passersby. From those deaths and trauma rose the #BlackLivesMatter movement, with protesters and survivors crying out for justice and equity for their lost loved ones. At the same time, extremists and white supremacist groups, emboldened by a nationalist president, began holding counterdemonstrations and protests of their own, some of which ended in deadly violence.
USC experts on law, race, law enforcement and psychology reflected as much on the moment as on the significance of the verdict.
Derek Chauvin verdict due to 'brave witnessing'
"This conviction is due, in part, to Darnella Frazier's brave cellphone witnessing. I am so grateful that she had the wherewithal never to leave Mr. Floyd's side. With just a cellphone, she said, 'I see you. I will remember you. I won't let you die alone,'" said Allissa Richardson, an assistant professor at the USC Annenberg School for Communication and Journalism and the author of the book, Bearing Witness While Black: African Americans, Smartphones and the New Protest #Journalism.
There should be a solution, but for many in communities of color, police mistreatment is not a bug in the system but a feature.

Manuel Pastor
"Chauvin's conviction is for the ancestors of so many brutalized Black Americans whose last moments were not filmed or vindicated in court. Thank God for this jury."
Brendesha Tynes, an associate professor of education and psychology at the USC Rossier School of Education, also credited the witnessing of Frazier, "who had the courage to press 'record.' America is forever changed because of her."
Though grateful for the verdict, Manuel Pastor — a professor of sociology and American studies & ethnicity at the USC Dornsife College of Letters, Arts and Sciences — worried that many will regard the outcome as putting to rest the many issues the case brought to the fore.
"There should be a solution," he said, "but for many in communities of color, police mistreatment is not a bug in the system but a feature. Let this moment close a chapter of pain for the Floyd family and open a lifetime of social justice work for us all."
Jury's verdict is a 'tipping point'
The jury's verdict "is a tipping point in our fight for racial justice," said Hazel Atuel, a research associate professor at the USC Suzanne Dworak-Peck School of Social Work and an expert on the psychology of hate.
"The narratives we tell ourselves and others are informed by our place in the racial hierarchy. And the video of George Floyd's death reminded us of what that racial hierarchy looks like and feels like."
Experts are hopeful the verdict signals a pivotal change for the nation. Through the videos recorded by traumatized witnesses, Americans finally now see, undeniably and repeatedly, the violence and traumatic losses from racism.
Erroll Southers, director of the USC Safe Communities Institute and a professor of the practice of national and homeland security at the USC Price School of Public Policy, shared a similar sentiment: "I quote Winston Churchill in saying, 'This is not the end, it is not the beginning of the end, but it is the end of the beginning.'"
The convergence of seismic political, social and cultural events in America's present and its past makes it very difficult to see clearly what is next for the nation and its people.
With this verdict it is clear that it is possible to achieve legal remedies in the most egregious of recorded police brutality cases.

Ange-Marie Hancock Alfaro
"With this verdict it is clear that it is possible to achieve legal remedies in the most egregious of recorded police brutality cases," said Ange-Marie Hancock Alfaro, Dean's Professor of Gender Studies and professor of political science and gender and sexuality studies at USC Dornsife.
However, "I am struck by the number of law enforcement officials who testified for the prosecution and will watch closely going forward to see if this trend continues as a way of changing how law enforcement understands its mission to keep all members of our community safe.
Derek Chauvin reaction: Verdict doesn't end racism in America
One thing is certain: The jury's verdict does not end racism in America, said Alison Dundes Renteln, a USC Dornsife political science professor who is an expert on human rights and civil rights.
"We must continue to strive for major structural reforms of our political system," she said. To stop egregious violations of human rights committed by law enforcement will require that we take many steps, urgently: demilitarizing the police, training officers not to use lethal force, establishing citizen commissions that have the power to impose sanctions and demonstrating a serious commitment to civil rights and human rights.
"This country must move forward with meaningful systemic changes to prevent further tragic loss of life."
Jody Armour agreed. "This will be a turning point only if we take the right lessons from it," argued Armour, a professor at the USC Gould School of Law and an expert on the intersection of race and legal decision-making. "If the lesson is all we need is an occasional trial and conviction, that isn't what they were arguing about in the streets here in Los Angeles, where we saw six weeks of protests. They were demanding we address systemic racism.
"We'll see if we are ready to tackle that now, after the verdict."