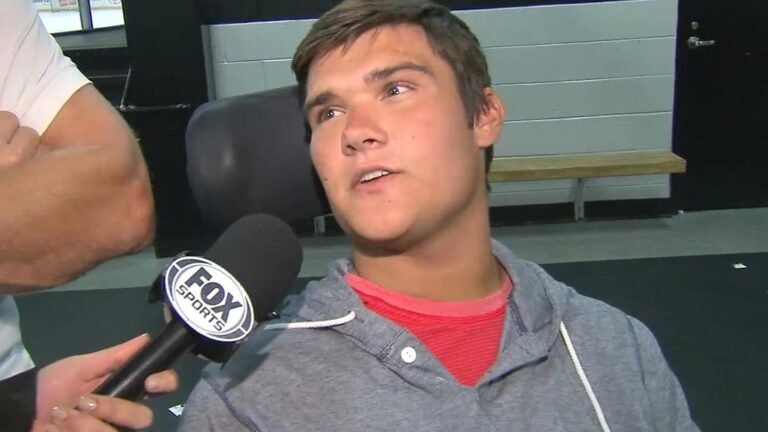 Despite paralysis, Trojan Jack Jablonski is making a name in hockey, the sport he loves
Injured as a high school player, the USC communications major is working off the ice with the LA Kings
An on-ice injury during a high school game in 2011 left Jack Jablonski — now a USC communications student — paralyzed from the chest down. But that hasn't stopped him from pursuing a career in the sport.
Jablonski is interning this season with the Los Angeles Kings as part of the communications department and working in the press box at Staples Center on game nights. It's a fast-paced environment that includes gathering player statistics and scouting reports for the coaching staff. He also gets the final word on the starting lineup and the scratches — players not in the game that night — to the Kings' on-camera announcers.
"Jack has been a great addition to our front office club on the whole and to our communications department in particular," said Jeff Moeller, the Kings' senior director of communications and content and a USC adjunct instructor who teaches sports public relations.
"[Jack] has a keen interest in the business of sports and a tremendous amount of enthusiasm, and his background in hockey in particular is a big plus."
Illegal hit
During that 2011 game playing for Benilde-St. Margaret's School in St. Louis Park, Minn., Jablonski had scored the first goal. But during the third period, an illegal hit from behind severed his spinal cord at the neck.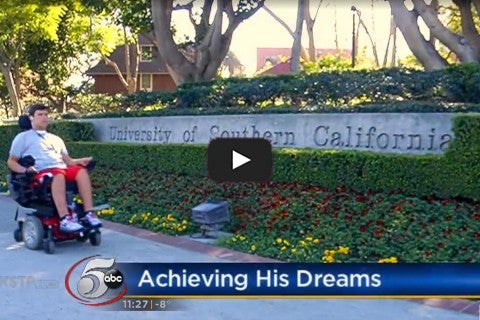 His injury and ongoing recovery have attracted national attention and raised awareness about correct ways to check in hockey. Jablonski received a scholarship to attend USC from Swim With Mike, the national program providing scholarships for physically challenged athletes that started at USC. And his family and friends created the BEL13VE in Miracles Foundation (Jablonski played as No. 13) to support Jablonski's recovery as well as spinal cord injury research.
Local radio
After his injury, Jablonski was forced to find off-the-ice ways to use his hockey IQ if he wanted to stay involved in the sport. He developed his own weekly radio show, Hockey Night Minnesota With Jack Jablonski, which aired in the Twin Cities.
"I learned a lot about how things work behind the scenes," he said. He booked his own guests and conducted the interviews, developing skills he's now using again to gather postgame quotes from players for members of the media covering the Kings' games.
With having played the game and his knowledge of the game, he brings a lot to the table to share.

Daryl Evans
"He has a tremendous amount of passion for the game," said Kings radio analyst Daryl Evans. "With having played the game and his knowledge of the game, he brings a lot to the table to share."
Surrounded by accomplished broadcasters as Evans and on-camera announcers Jim Fox and Bob Miller, Jablonski said he's just soaking up as much knowledge and experience as he can — and getting used to hockey season being underway when it's still relatively warm outside.
"Who knows where it will go," said Jablonski, who is also minoring in sports media. "I might be an intern, but obviously I know my hockey."