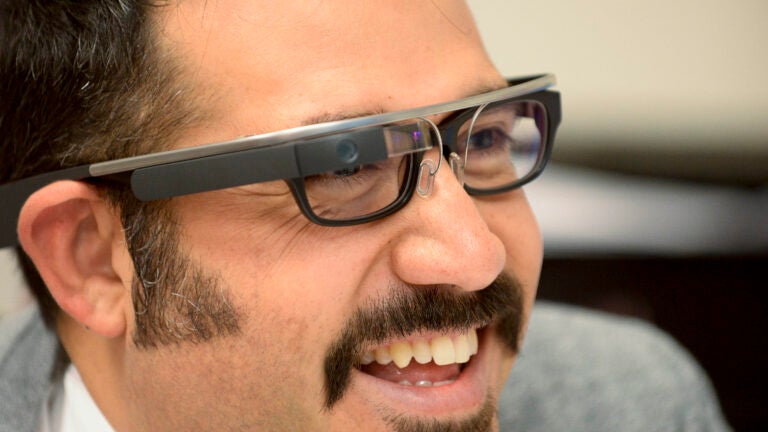 Digital journalism: Your Sunday newspaper will never be the same
Communicators, engineers, filmmakers — they're all coming together across USC to change how you experience our shared stories
When Robert Hernandez looks through Google Glass, he sees the future of journalism.
Google's computerized wearable glasses have become not only symbols of the future of technology but also, perhaps, a future that's a bit unsettling. They incite fascination and curiosity, as well as fear over privacy concerns — and more than a little mockery.
But as a self-described technology nerd and assistant professor in the USC Annenberg School for Communication and Journalism, Hernandez (@webjournalist on Twitter) sees something else entirely. To him, Google Glass is an important new tool for a craft as old as humanity: The telling of a great story.
Hernandez and researchers in digital media across USC are grappling with emerging technology and how it's changing the reporting of news. From Google Glass to citizen reporters armed with mobile phones, the digital age has only begun to transform journalism.
The Google Glass class
This fall, Hernandez is offering a class through USC Annenberg in which students use wearable computers to create more vibrant and interactive stories. He has a single objective for the class: Students must build a usable application by the end of the semester.
This is the first class of its kind, according to Google. While other courses explore the new technology, they're all theoretical. His "Glass Class" is all about the practical.
"We're spending 15 weeks together to build something on the platform," Hernandez said. "This is not abstract. This is not hypothetical. This is real stuff we're building."
To do that, Hernandez reached across USC for students from different disciplines. Many applied, but he had a clear idea that to make the program a success, he'd need more than journalism students. In the end, class members include students with expertise ranging from 3-D modeling to public relations, from cinematic arts to Web development.
I'm a journalist, a storyteller, who hijacks technology.

Robert Hernandez
Hernandez believes future storytellers will need both technical expertise, and reporting and writing skills.
"People talk to developers as if they're hired code monkeys," he said. "That's not the culture we're doing here. Nobody in this class works for anybody else. The developers aren't going to go to the content people and say, 'Hey word jockey, I made this thing, put your pretty stuff in there.' "
Scratch and sniff?
Computer science major David Carr was already a Glass Explorer (that's what pioneering users of the devices call themselves) when he heard about Hernandez's class. Before the class even started, Carr was already going to Google Glass meet-ups Hernandez organizes throughout the year. And yes, they're open to the public (go to the class's website to learn more.)
Carr is excited about being at the forefront of an emerging technology, noting that today's news apps on mobile phones and tablets only hint at what's to come. "They basically deliver headlines," he said. With wearable computers, "there's a lot we can do."
Hernandez believes communication explorers will move beyond words and pictures to create multisensory stories.
"I'm a journalist, a storyteller, who hijacks technology to do those things," Hernandez said. "I look at Glass and I think, 'What does this story look like, feel like, sound like? What can you get from this device that you don't get now?' Well, for better or worse, it knows where you are. It knows what you're looking at and has the power of the Internet.
"What is augmented reality contextual storytelling going to look like? We're going to experiment."
Stories brought to life
From blogs to Twitter, de facto journalists now include people from vastly different fields and with far-reaching perspectives. These days, journalists can be artists, researchers, computer programmers, filmmakers, photographers — anyone with the tools to tell a story.
Ask Nonny de la Pena. She started making immersive journalism projects in 2007, and after two years as research faculty at USC Annenberg, she decided to pursue the concept full time as a doctoral candidate at the USC School of Cinematic Arts. A former Newsweek reporter, de la Pena (@immersivejourno on Twitter) uses technology designed for games to connect viewers with issues ranging from hunger in Los Angeles to political conflict in Syria. By donning virtual-reality goggles and body tracking devices, users can place themselves inside the story she covers.
As users move through virtual reality and interact with characters in a scene, they hear sounds recorded on location and see images of real events. The projects are a collaboration of the USC School of Cinematic Arts, the Mixed Reality Lab at the USC Institute of Creative Technologies and USC Annenberg.
Citizen journalists
The dawn of the Internet also brought the rise of the citizen reporter. Take the Arab Spring, for instance. During the uprisings and eventual overthrow of governments from Tunisia to Libya starting in 2010, ordinary citizens posted mobile-phone footage of violence to social media — where it was ultimately shared and picked up by international news organizations.
Engineers at the USC Viterbi School of Engineering have developed a system named MediaQ that connects consumers with citizen journalists who happen to be on the scene of a story.
MediaQ collects, organizes and shares video taken in specific locations at specific times. It's the brainchild of Seon Ho Kim, associate director of USC Viterbi's Integrated Media Systems Center, and his team.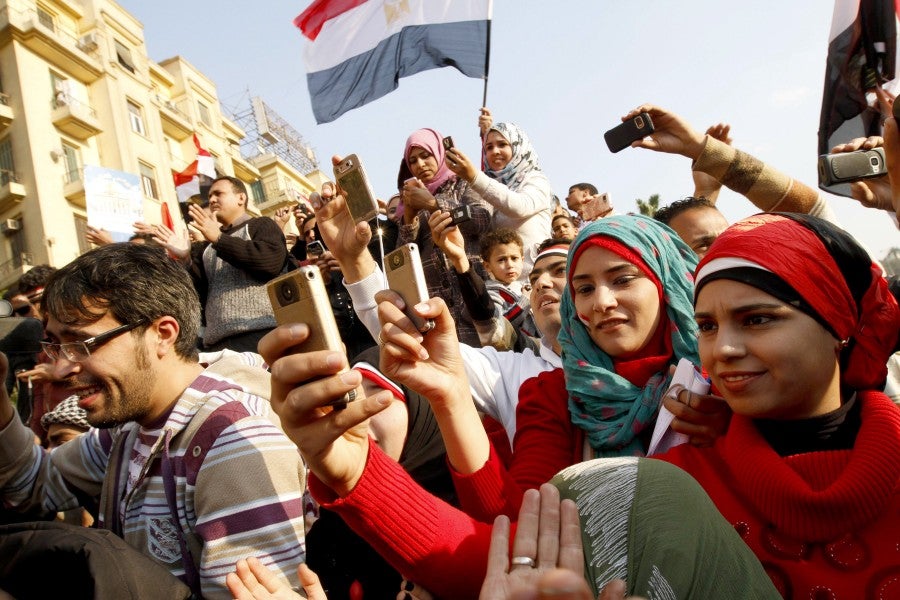 Videos and photos recorded by the public are mushrooming, and they're democratizing journalism, Kim said. But with so much material available, it's difficult for media services to find what's relevant and to do so quickly.
Here's the MediaQ premise: Say there's a fire and 10 people record it with their cellphones. How do you find the exact part of videos that you want to see (including location and even the direction the camera is facing) among the countless others constantly being uploaded to YouTube?
Using proprietary technologies in mobile media and spatial database, MediaQ quickly and accurately connects that content with consumers who want to use it. The application is still in testing, but it's already been used successfully by PBS NewsHour during the 2013 presidential inauguration in Washington, D.C. During the event, more than 15 student journalists on the PBS NewsHour College Reporting Team shot videos and uploaded them to the MediaQ server so people could enjoy a new way of watching news media.
Truth or gossip?
But just as the amount of media explodes, questions about the reliability of information come into play. What happens to established newsgathering operations when citizen journalists can post their content to the same Internet as The New York Times? How can the public differentiate truth from propaganda?
These fears may be misplaced, according to Manuel Castells, University Professor and holder of the Wallis Annenberg Chair in Communication, Technology and Society, and Michael Parks, journalism professor at USC Annenberg.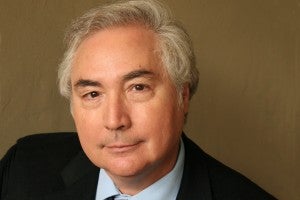 "While there is widespread fear about the damaging consequences of these trends for the quality of journalism and the professional survival of journalists, we believe that current developments may, in fact, be paving the path toward better journalism and more independent journalists," they wrote, along with Dutch documentarian and journalist Bregtje van Der Haak, in a 2012 paper in the International Journal of Communication.
Because of the value associated with analysis, the need for the professional journalist will remain. "There is still a need for sense-making — for a professional processing and understanding of information," they wrote. "And there is still a major need for professional storytelling."
Stephen Smith, executive director of the USC Shoah Foundation — The Institute for Visual History and Education, has looked closely at how people judge the value of information they receive online. He warns that in the highly diverse media world, consumers must be savvy about inaccuracy.
"It's down to you as a reader to work it out," he said. "You have to take that as part of the environment. You have to do your fact-checking."
The digital campfire
Journalism has often been slow to adopt new technologies, often to its peril. Advertising revenues at newspapers — both print and online — have plunged since 2000, when the Internet matured after the burst of the dot-com bubble. Today, newspapers and television news continue to struggle to retain their audiences, which have fractured into a diaspora toward blogs, news sites, social media and beyond.
To share stories with a wide audience, journalists must make them resonate. Apps can now share a wealth of information with users when and where they want it. At a baseball game? An app can share a player's batting average or provide reviews of the ballpark food. At a restaurant? An app can provide crowdsourced news about its menu changes.
But technology only goes so far, Hernandez said. Even though his upcoming class heralds the potential of Google Glass, he knows that good stories depend on good writers and creators. They must tell the smart, human stories that others aren't seeing — the ones that are valuable to consumers.
"What matters is that the reporting is still there, the storytelling is still there, the content is still there," he said. "I'm loyal to that."