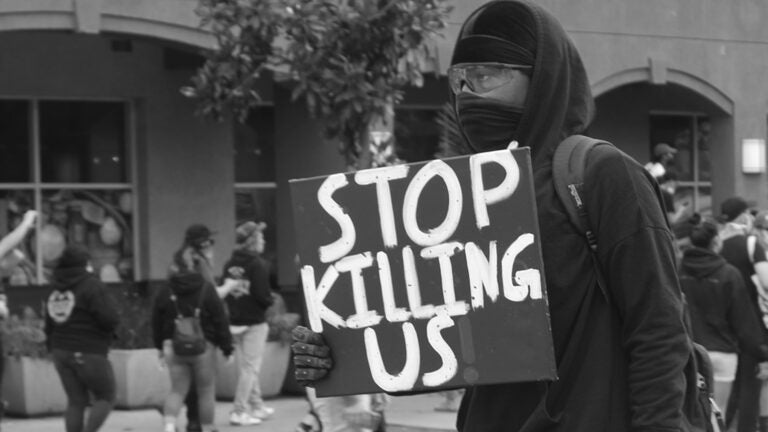 New generation of advocates uses photojournalism to illuminate life in L.A.
The Digital Promotoras program — funded in part by the USC Good Neighbors Campaign — teaches teens how photography can shed light on the unseen issues in their communities.
Haley Santibanez started out in photography as a kid by shooting a popular subject in social media: cats.
Today, the 17-year-old from El Sereno is a published photographer with serious accomplishments. Photos she took at a protest in downtown Los Angeles last summer were featured in The Washington Post.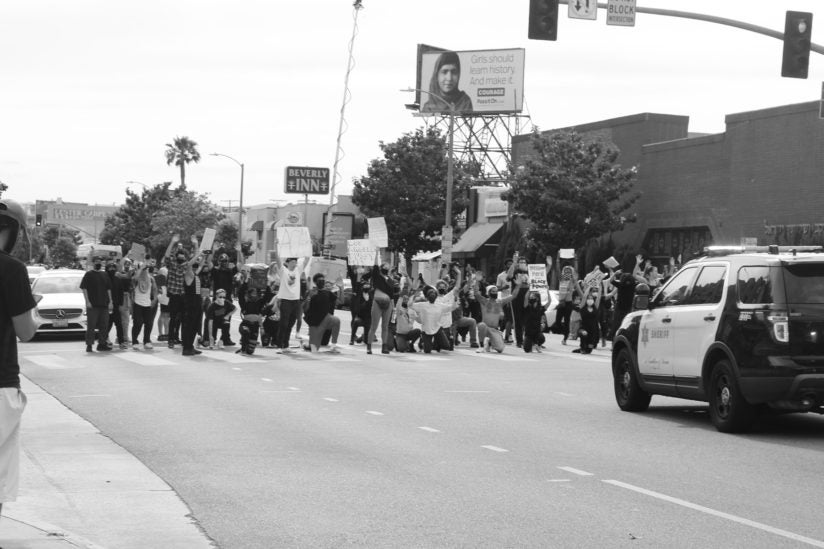 The news outlet's attention surprised her. "I didn't think my work would be good enough to be featured like that," Santibanez said. Just a few years ago, Santivanez was a painfully shy teen when she walked into a photography program in Boyle Heights called Digital Promotoras. She knew few technical aspects of photography, like aperture or shutter speed, but the program's training changed that.
Digital Promotoras helps girls and nonbinary children of color use photography to improve their communities. It receives funding through the USC Good Neighbors Campaign, foundations and other donors. Over the course of the 12-week program, the participants find their own voice, gain confidence and learn to advocate for themselves and others.
"The growth we see in some of our students is just so amazing," said Lucia Torres, executive director of Las Fotos Project, the nonprofit that runs the Digital Promotoras program.
The program gets its name from promotoras, who are traditionally women in Latin American communities who educate neighbors about basic health issues. The promotoras model works particularly well in working-class neighborhoods with poor access to quality health care. Residents often are new immigrants or distrust health systems.
Trained promotoras teach neighbors where to buy healthy foods. They show them how to access low-cost health insurance, reproductive health care and other resources.
The Digital Promotoras offer a modern spin on that role. These promotoras use photography and photojournalism to shed light on daily life and social struggles in their neighborhoods. They have done photo projects on food insecurity, the impact of a small community health clinic or even profiles of activists running for public office. Participants focus on south, east and central areas of Los Angeles.
"Our students become the promotoras," said Torres. "But instead of doing the door-to-door education that promotoras traditionally do, they adopt the model of photojournalism to have conversations about issues that impact their communities."
The program is open to girls and nonbinary people of any race and ethnicity, not just Latinas, between ages 13 and 18. Participants receive mentoring and training from volunteer artists and teachers at no cost to them.
Santibanez has gone through the program three times. She views photography as an art form that is almost therapeutic.
"If you want to express yourself, you can let out some of that anger or stress through photography," she said. "Sometimes it helps me calm down."
Her photos are improving, and others are starting to notice her talent. As her hard work begins to pay off, Santibanez wants to continue to develop her photography and activism.
"Now I know I'm capable of doing other things," she said.