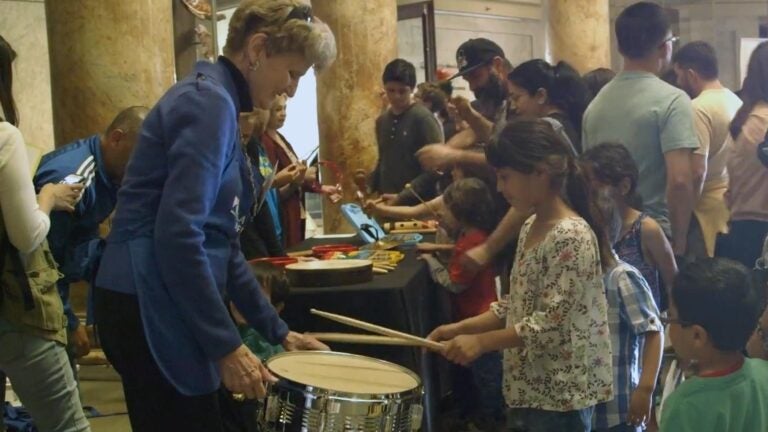 Dinos and drumbeats: KUSC brings Kids Discovery Day to the Natural History Museum
First-ever event combines arts, science and learning — and a dose of dinosaurs
(USC Video/Adam Lindzey)
In a partnership that brought together the arts, science and love of learning, Classical KUSC brought the first Kids Discovery Day to Natural History Museum visitors in Los Angeles on April 9. When you combine kids and dinosaurs, how can you go wrong?
Children under 18 attended the free event that brought together musical artists from LA Opera, musicians from the USC Thornton School of Music's Community Engagement Programs, the Colburn School Jumpstart Wind Ensemble, the LAMusArt Choir from the Los Angeles Music and Art School in East Los Angeles, singer-songwriter Heidi Swedberg and Friends, as well as musicians from the Inner City Youth Orchestra and the Los Angeles Chamber Orchestra.
Kiara J. Brown, of the museum's community and external relations group, described the event as a partnership and collaboration, "showing the harmonious relationship between nature, music and the arts, and that there isn't any separation between all three."
Activities for kids include an instrument "petting zoo" sponsored by the Los Angeles Philharmonic Affiliates, guitar "anatomy" lessons and an instrument repair showcase with McCabe's Guitar Shop staff, arts and crafts with LA Opera's education division and the launch of a KUSC-designed app — Moodle ("musical doodles") — that allows kids to create, record and share their own original tunes.
"This is a way of introducing kids to music and the arts," said Brenda Barnes, president of Classical KUSC, "especially if they have not have the opportunity to experience art firsthand through their schools, and it brings them in touch with organizations that provide arts education in Los Angeles."