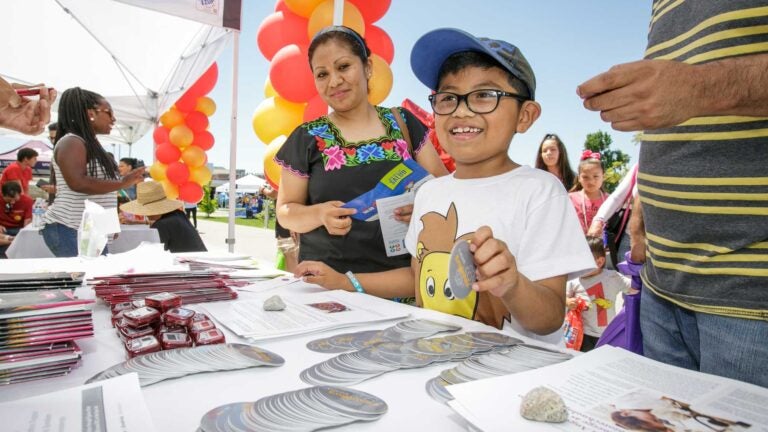 How to stay healthy, and maybe find a career, in the age of biotech
Pioneering USC surgeon shares wellness tips and talks about biotech opportunities at East L.A. College health fair
Get regular checkups, keep in touch with your doctor and be aware of opportunities in biotech. Those are doctor's orders from Rene Sotelo, professor of clinical urology at Keck School of Medicine of USC, who spoke with community members and families during a health fair Saturday at East Los Angeles College.
"Take care of yourself," said Sotelo, a pioneer in urinary robotic surgery, as he answered questions in Spanish about cancer screening and treatment from residents of Boyle Heights and other nearby communities. Sotelo also emphasized the educational and career prospects in medicine and biotech.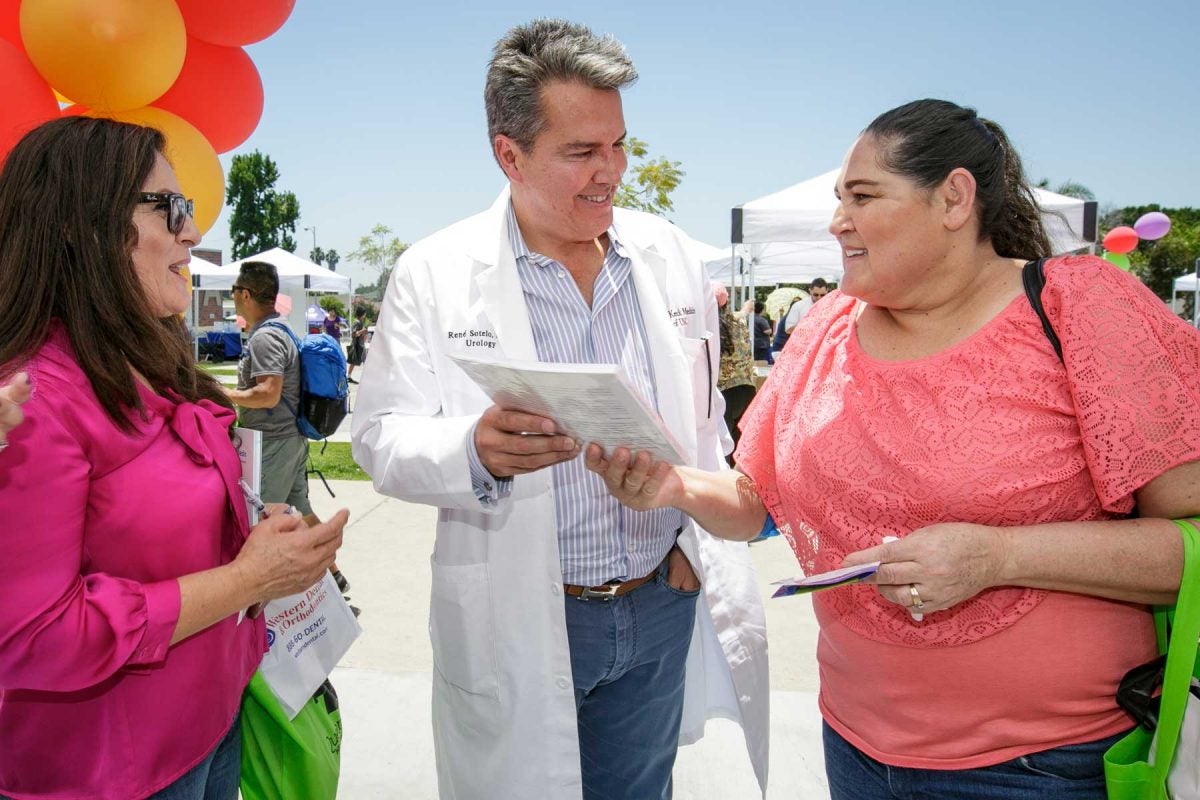 "There are many career opportunities for students, involving technology that will assist them to improve the quality of health care. This includes apps, medical devices, pharmaceuticals," Sotelo said. "There's technology that can help us follow the patient home after the surgery to see exactly how they're doing. All this is part of it, and there are no barriers."
Ghecemy Lopez, a cancer information resource and navigation specialist with the Keck School, took the stage along with Sotelo. She focused on engaging and educating youths about in the importance of creativity and critical thinking in STEM, cancer research and patient advocacy.
Lopez said that STEM education — focusing on science, technology, engineering and math — is an equalizer of economic and labor opportunities that can address health issues and break barriers, particularly those affecting the immigrant and low income community in Los Angeles. Lopez, who survived cancer at a young age, said she is grateful that STEM technology and research advances helped her beat cancer and gave her a second chance in life.
Future doctors and engineers
"Do you want to be a doctor, or a dentist, an astronaut or an engineer?" The question was asked repeatedly, as families with young children talked with USC students and volunteers about STEM education programs. Engineering students from the USC chapter of the Society of Hispanic Professional Engineers were on hand to share information.
Alexandra Coronado, a first generation college student studying biology, answered questions from kids as young as 4 at USC's booth.
"I think it's amazing for kids to be exposed at a young age to different sciences, different careers in STEM," she said. "I got interested in medicine a long time ago when my mom got me a Barbie doctor kit. That was it for me.
I want these kids to know about STEM and biotech opportunities. They've got to start with biology, chemistry and math.

Alexandra Coronado
"I want these kids to know about STEM and biotech opportunities. They've got to start with biology, chemistry and math."
Stacks of pamphlets about USC Roski Eye Institute's Ophthalmic Technician Education Program and the USC-West Los Angeles College Dental Assistant Program were distributed. The programs offer health care career pathways to high school students and graduates.
A biotech hub
The Keck School, USC Civic Engagement, the USC Viterbi School of Engineering, the university's Physicians Assistant program and the Herman Ostrow School of Dentistry of USC all supported the June 17 event, sharing health information and telling the community about the benefits of a proposed biotech park at the university's Health Sciences Campus in Boyle Heights. USC hospitals, research institutions and graduates in fields related to biotech would support the park, which could create thousands of jobs.
"We want students to go and pursue these kinds of careers, because biotech is the future of medicine," said Sotelo. "There's opportunity at the research level and in support jobs, and there's great diversity and inclusion."