With operatic flourish, activist Dolores Huerta and younger cousin receive USC doctorates on same day
COMMENCEMENT: Hers is an honorary degree; his is a doctorate of musical arts. The conferral is a prelude to an operatic interpretation of Huerta's remarkable life, which the composer calls "a microcosm of loss and perseverance."
When June 5, 1968, began, Robert Kennedy seemed to be on track to be elected president in November.
Minutes past midnight, Kennedy addressed his supporters from the lectern of the Ambassador Hotel, 4 miles from USC. Next to Kennedy was his friend, ally and farmworker activist Dolores Huerta. She was wearing a red frock, and her face seemed filled with hope.
Then, Kennedy left the stage.
So ends the first act of Dolores, a new opera based on Huerta's life that was composed by her cousin Nicolás Lell Benavides, a USC lecturer who will receive his doctorate this week from the USC Thornton School of Music.
"In that moment, the Chicano civil rights movement, the United Farm Workers, they were in a crisis," Benavides said. "They had spent their resources to help get him elected, and now he's not there for them. Dolores said: 'What matters is our dream, our perseverance. We go on. There is no one human who represents this movement, or the loss of hope.'"
Although the two were born years apart, their lives will intersect at USC's commencement on Friday as Huerta is awarded a USC honorary degree and Benavides receives his Doctor of Musical Arts in composition.
"It seems like just yesterday he graduated from Santa Clara University," Huerta said. "And now he's getting his doctorate."
Decades apart but close in heart
Benavides, 36, is more than 50 years younger than his cousin. She's known for leading the 1960s grape boycott that led to a landmark labor contract, but her work as a civil rights leader never stopped.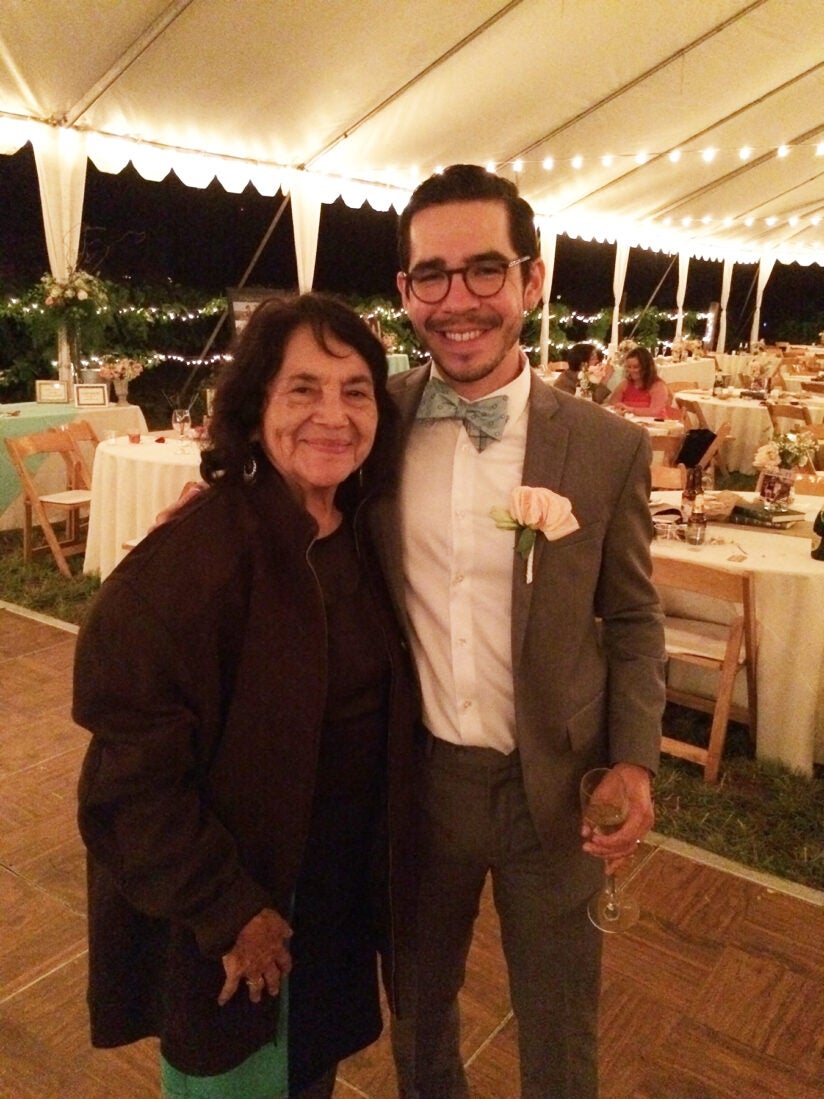 "Growing up, she was always the most patient listener," Benavides said. "She still is, and that's what makes her a great leader. I know it sounds like propaganda at some point, but it's true."
Benavides was not fully aware of Dolores Huerta's status as a civil rights leader until 2007, when he was studying at Santa Clara University earning a bachelor's degree in music with a minor in Spanish.
"It was a course called 'Intro to Chicano Studies,' and we came to a point where we were to study Dolores. I was like, 'Oh, that's my cousin.' Then, we had this midterm essay project and I asked, 'Do you mind if I call her and interview her?' I got a good grade on that paper because nobody could refute anything I wrote. I went to the source," he said.
"That was one of the first times I realized what a big deal she is. That's a testament to her humility."
Dolores: It's not just about opera
Raised, as were many of his family members, in New Mexico, Benavides grew up around music of many kinds — except classical.
"I did rancheras, folk music, jazz, a lot of popular sounds, and it wasn't until I graduated high school that I first heard an orchestra," he said. "I'm one of those weirdos who heard an orchestra play when I was 18 and thought, 'That — that's what I want!'"
"He gets his musical genius from his mother," Huerta said. "His mother and grandfather had a band, and they played Latino songs. They made a record when Nick was very young, and it's still being played on radio stations in Mexico."
In 2014, Benavides earned his master's degree in composition from the San Francisco Conservatory of Music. He then spent four years in the music industry writing, teaching and running a nonprofit before arriving at USC Thornton in 2018. While finishing his dissertation, he served as a lecturer, and he will continue to teach aural skills and composition for non-majors after commencement.
Benavides' operatic progress moved at a fast tempo: He worked with the Washington National Opera and the Nashville Opera, and he earned support from the National Endowment for the Arts for a new opera with librettist Marella Martin Koch.
The pair were commissioned to develop a full opera about Huerta in 2021.
The genesis for Dolores began in late 2016 — a time of tumult and fear surrounding the presidential election.
"Friends were down. Some of them felt powerless," Benavides said. "I thought, that's crazy, because historically there are so many examples of people who've been hit with difficult situations, and they persisted. I saw no excuse to give up."
"I think it's quite exciting," Huerta said. "And I'm really happy that he chose to do this."
Civil rights history condensed in music and time in Dolores opera
The opera covers a time span of a few months, but most of the action takes place over the course of a day.
"I would be honored to stand by your side, as you have stood by ours," Huerta sings to Kennedy just before his assassination.
"It plays with the tropes of an opera, but turns it on its head," Benavides said. "The female protagonist has a lot more power. She's not a soprano. She's a mezzo soprano, so she's more down to earth because she's someone of the people."
Historical figures including Cesar Chavez, Richard Nixon, Larry Itliong, Paul Schrade and Ethel Kennedy play into the story.
Audience members will hear English, Spanish, Spanglish, a chamber orchestra, trombones, trumpets, electric guitar, saxophone and an opera chorus.
"The chorus is vital," Benavides said. "It's the sound of the people, people moving, organizing, it's a sound that inspires the hair on the back of your neck to stand up."
Dolores opera: A not-so-close collaboration
Huerta is, of course, an adviser to Benavides. But she has given her younger cousin plenty of creative space.
"I haven't given him any advice," Huerta said. "I'm just really thrilled he chose to do this."
She's told me, 'I'm here for you as a resource, but you write the work you want to write.'

Nicolás Lell Benavides, Dolores opera creator
"She's been generous, helping us with inspiration, with rights to things, but she's hands-off," Benavides said. "She's told me, 'I'm here for you as a resource, but you write the work you want to write.'"
"For me, it's an origin story of Dolores Huerta, the person who invented 'Si se puede' ['Yes, we can'], the person who rallied generations — especially people like me, Chicanos in this country — to fight for our rights, especially farm workers, the most vulnerable among us."
Dolores has been commissioned by four opera companies and is expected to premiere across the Southwest during the 2024-25 season. West Edge Opera in Oakland, Calif.; The Broad Stage in Santa Monica; the San Diego Opera; and Opera Southwest in Albuquerque, N.M., all plan to stage it.
"I'm really looking forward to it. And to think that Nick was chasing a tragic moment, like the assassination of Robert Kennedy, and put that into musical form so that memory can be transformed into a spiritual remembrance. It gives us a better way to remember him, through music," Huerta said.
"Had Bobby Kennedy not been assassinated, we would have a different world right now," she added.
When the opera debuts, Benavides hopes to see plenty of family members in the audience.
"I come from a family that doesn't know anything about classical music. Opera at its worst is full of gatekeeping and exclusivity, but opera at its best is a beautiful story that's sung on stage. It's just an emotional vehicle. For the audience, it's a beautiful ride."