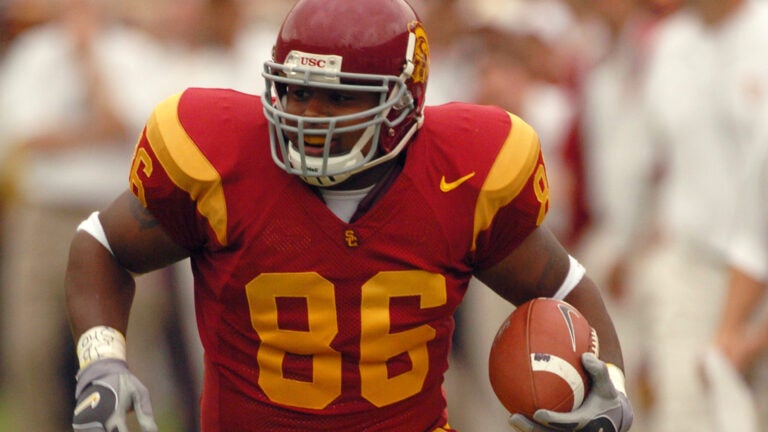 After a football career, Dominique Byrd returns to get his USC degree
Former Trojan tight end and NFL veteran makes good on his commitment to get a diploma
It started with a promise.
It was Feb. 6, 2002 – the day before his 18th birthday – and Dominique Byrd was about to sign his national letter of intent to play football for USC. For Cheryl Bowens, it would mean sending her only child to a school more than 1,900 miles away from home in Minneapolis. But she gladly signed her name next to his to make the agreement official, with one caveat.
"Her only real condition was that I got my degree," Byrd said. "She made me promise that, and a promise made to your mother is something I take seriously."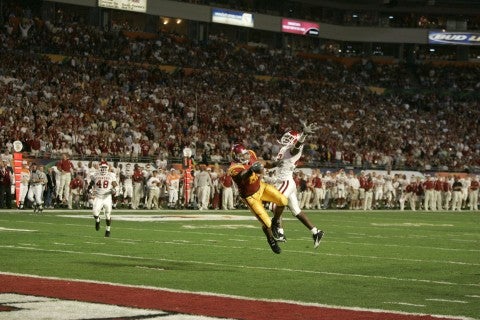 On May 15, Byrd will make good on his word and graduate with a degree in African-American studies at the USC Dornsife College of Letters, Arts and Sciences, nearly 10 years after playing his final game at the Los Angeles Memorial Coliseum for the Trojans as a tight end. He'll walk across the stage alongside two former teammates, defensive tackle Shaun Cody and running back Chauncey Washington, and five other student-athletes who have returned to campus to complete their degrees.
University commitment
That so many have returned after long stretches away from campus is a testament not only to their continued commitment to education, but also USC's commitment to them.
"We made a promise to those students that if they've done their part, we will be committed to helping them graduating," says Magdi El Shahawy, director of student-athlete academic services. "Our athletes understand that once you're finished playing, you've still got a long working career ahead of you … We're using our resources to help them prepare for their future."
Those resources include the Trojan Athletic Fund and its members, whose annual donations provide direct support for all student-athlete scholarships. So long as student-athletes leave campus in good academic standing, they're eligible to receive the same financial aid once they return.
When and how they do so depends on the athlete. All-American wide receiver Marqise Lee, for instance, was back on campus this spring taking a full course load immediately after his rookie year with the NFL's Jacksonville Jaguars.
Byrd tried that approach in 2007 after his first year with the St. Louis Rams, but discovered that it would work best for him to wait until later in his football career to fully rededicate himself to his studies. He ultimately returned as a full-time student in spring 2014, and completed his remaining course work over the next year and a half. Now, at age 31, he's not only grateful for the opportunity to return, but has the flexibility to do so when he would make the most of his time in the classroom.
Focus on the classroom
He's always been smart enough to do well in class, but he used to focus on things that, as he puts it, "didn't have anything to do with school."
With his years playing for the Arizona Cardinals, Washington Redskins and other teams now over and his 30s ahead of him, "I found this experience of being in school so much richer than when I was younger," he said. "I gained so much just being able to be in the classroom."
Now, he's prepared to take that knowledge into the workforce. He isn't sure where he wants to focus specifically yet, but he knows that he wants to delve into philanthropy, perhaps beginning with his own foundation.
"I always want to give back," he said. "It's the gift that keeps on giving. It may be a clichéd phrase, but the actions people take to do it are the ones that keep on giving."
He'll have his first chance when he crosses the stage to receive his degree, with his mother beaming in the crowd.
"She put me first, and I'm incredibly humbled for that," he said. "That promise I made to my mom and her sacrifice is something I'm paying homage to.