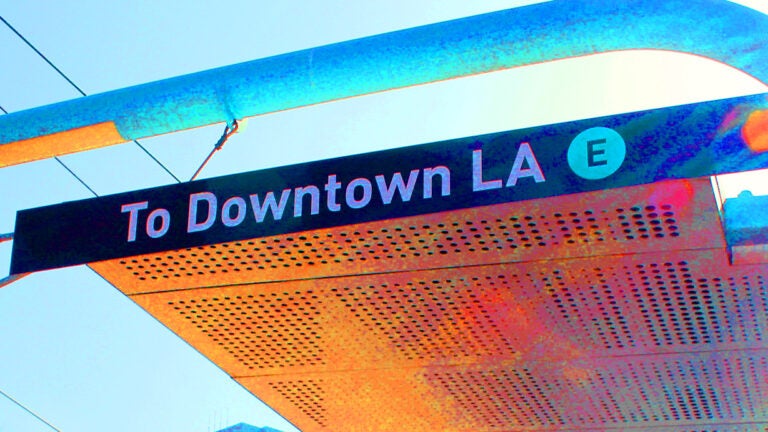 Downtown is USC's college town
Cultural events and nightlife grow as downtown Los Angeles comes into its own, drawing students and alumni
Once upon a time, USC students would cover up their cardinal and gold and sneak into Westwood for a typical college town experience. Not anymore.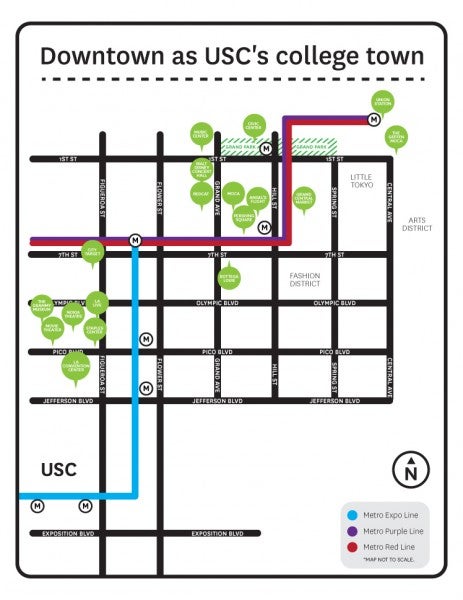 A couple of miles north of USC's University Park Campus, an explosion of new restaurants, shops, and entertainment venues has transformed downtown Los Angeles into a place where students want to spend their evenings. And new transportation options from the Expo light rail line to the Lyft ride-sharing service make it easier than ever to get there.
In a sign that it's entered the zeitgeist, downtown now has its own hashtag: #DTLA. The area's stunning transformation — a story that has captured the attention of publications from The New York Times to GQ — reverses decades of decline. As recently as the 1990s, a mass exodus of some 200,000 office workers each afternoon turned the neighborhood into a nighttime ghost town.
Then in 1999 an adaptive reuse ordinance spurred the conversion of old vacant office buildings into residential lofts. Residents soon poured in. Dining and retail establishments followed. Today, more than 50,000 people call downtown home — an increase of 36 percent over just five years — and sidewalks once empty after 6 p.m. can barely contain the millions of people who flock to downtown to shop, eat or simply stroll past the historic architecture.
Recent USC graduate Sheridan Watson is among them.
"I'm the number one fan of downtown," said Watson, who received her bachelor's degree in film studies in May.
Watson didn't have a driver's license when she first enrolled at USC in 2010. But that didn't stop her from exploring Los Angeles. In her first two years as a student — in the days before the Expo Line and ridesharing apps — Watson would hop on the local DASH bus line toward LA Live, an entertainment and dining complex that opened in 2007.
"I'd go there a few times a week," she said. "The movies are down there, and it's a really easy spot to grab food."
A car-independent lifestyle
Even now that Watson owns both a driver's license and a car, she still frequents downtown — and usually leaves her car at home.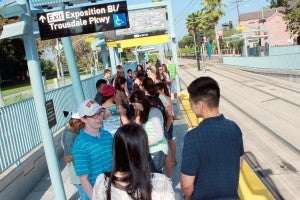 When Metro's Expo Line debuted in April 2012, light rail made downtown Los Angeles more accessible to USC. Two new stations, Expo Park/USC and Jefferson/USC, serve the university and the surrounding community.
"It's super easy," said Watson, who lives a block from the Jefferson/USC station. "Whenever we want to go downtown we just hop on the Metro with our TAP cards."
As convenient as the Expo Line is, it has its limitations. Trains stop running around midnight on weekdays, and passengers must transfer twice to reach downtown hot spots like the Arts District or Little Tokyo.
Enter ridesharing, a transportation mainstay for the Millennial generation.
"Once Uber and Lyft opened up it was like a whole new world for everyone," said Watson, referring to two of the most popular ridesharing services active in Los Angeles.
The UberX and Lyft smartphone apps connect passengers in need of a ride with drivers behind the wheels of their own cars. Ridesharing works like a private taxi service, except that everything — from hailing a ride to payment — is done through the app, and the driver might just be your neighbor. In Los Angeles, it's not unusual for an aspiring actor to pull up in a Prius.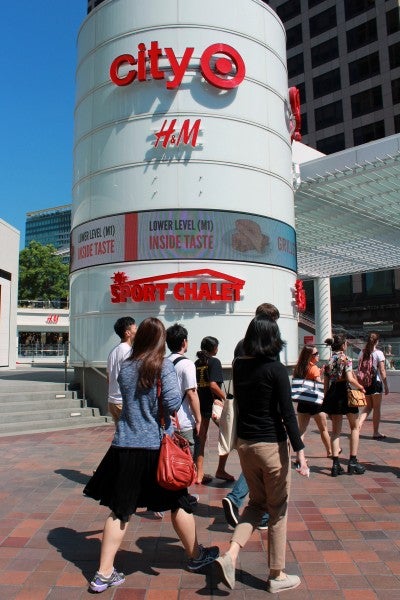 Open either company's app, and you'll likely see several cars hovering around USC's University Park Campus, waiting to take students to their destinations.
Watson prefers Lyft, which advertises its service as "your friend with a car."
"Lyft is so cheap, and I always have great conversations with the driver."
Fares vary with the distance and duration of each trip and also by the time of day (expect to pay more on Saturday nights), but the average trip between USC and downtown Los Angeles takes five minutes and costs $8 to $10, Watson reports.
Everyday errands
Natalie Morin is another recent USC graduate who often took Lyft and UberX downtown. Morin, who majored in print and digital journalism, is a self-described "foodie" who likes to sample downtown's eateries.
Her favorite? Bottega Louie, a 10,000-square-foot restaurant that opened in 2009 on the ground floor of the historic Brockman Building. Even late at night, the marble and brass interior buzzes with hundreds of conversations.
But Morin, who graduated in May, has found downtown just as valuable for running everyday errands.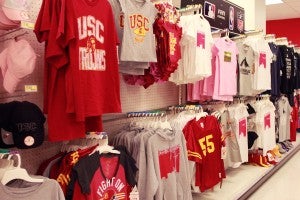 "It was huge when City Target moved there," she said, referring to the 104,000-square-foot store that opened inside the FIGat7th shopping center in October 2012.
"I feel that a lot of things are more accessible now. To a lot of people that might sound trivial, but to a college student who moves every single semester, you need these big resources right near you."
Immediately inside the entrance of downtown's City Target, a "City Love" display features rotating merchandise selected especially for the community. It's not uncommon to see USC-branded clothing and memorabilia on sale there.
Two-way street
Watson envisions downtown becoming an even more attractive destination for USC students.
"We're lucky at USC that we're so close to downtown," she said, "because it will be the center of the city in the next few years — just because of everything that's being built."
Brigham Yen wouldn't disagree; the real estate agent and blogger has become downtown's most outspoken champion. But Yen also sees an emerging "synergistic relationship" between USC and downtown — one he says will only grow stronger as the city makes pedestrian, bicycle and transit improvements to the Figueroa Street, the axis of L.A.'s Arts and Education Corridor.
We're lucky at USC that we're so close to downtown, because it will be the center of the city in the next few years — just because of everything that's being built.

USC alumna Sheridan Watson
"[USC's immediate neighborhood] itself is kind of coming into its own. I love what's happening in the area," he said.
Yen ticks off a list of changes. At the corner of Figueroa Street and Exposition Boulevard, a mixed-use development replaced a gas station. In Exposition Park, the Los Angeles County Natural History Museum recently renovated its historic facility, and the California Science Center acquired the Space Shuttle Endeavour.
"And then the USC Village project that is breaking ground soon — that's pretty darn amazing in itself," Yen said. "I think that might entice downtowners to go to USC just to shop or hang out."