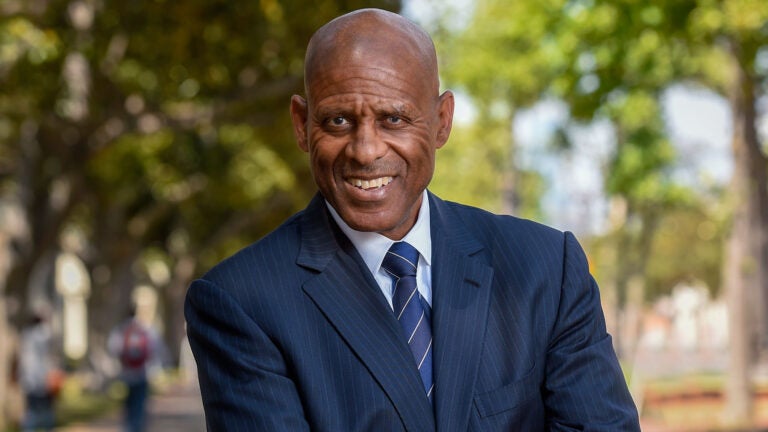 Earl Paysinger brings neighborhood knowledge to USC Civic Engagement post
After a 40-year career with the LAPD — much of it on the streets of South L.A. — he takes on USC's extensive efforts that connect it with the neighborhoods around the university's campuses
As an African-American kid growing up in Harbor City in the late 1950s, Earl Paysinger felt a lot of doors close.
It was during the civil rights movement, which meant as a kid, just going to a public pool or playing tennis could be impossible – or meant a trek across town his family couldn't make.
His dad, a cement finisher, worked every job he could get – which meant sometimes driving hours to San Diego or San Bernardino. His mom cleaned houses to help support him and his five siblings.
But while many doors seem closed, one important door opened for Paysinger. It was called Royal Rangers, a boys leadership organization through a local church. The group mentored him, helped him with homework and took him to Big Bear, where he saw snow for the first time.
"It's a place where I actually found sanctuary," he said. "They didn't care who I was or where I came from. They just opened up their arms and welcomed me in."
It was in that moment, he learned the power of opportunity. "I found a way," he said.
Paysinger, who went on to spend four decades with the Los Angeles Police Department, now wants to open doors for other families through his new position at USC. As of July, the former cop heads up USC's Civic Engagement — its community work with neighborhoods around USC, such as the Neighborhood Academic Initiative, Minority Business Development Agency and the Good Neighbors Campaign, which provide educational and financial support to local families, businesses and organizations. He retired from the force in June as first assistant to Chief Charlie Beck and director of the Office of Special Operations.
His goal is to strengthen that line of support between the campuses and their surrounding neighborhoods, so kids know they can get an education, small businesses know they can get free help and nonprofits know the Trojan Family is there. He'll also be focused on eliminating local homelessness.
'People want to move ahead'
"This university sits at the epicenter of a region that – although in a transformative stage — still has pockets of places that are disadvantaged, disenfranchised, families stranded on the shores of the social mainstream," Paysinger said, whose title is vice president of civic engagement. "People want to move ahead. They want to dream and turn the dream into realities. It sounds cliché, but it also happens to be true."
The neighborhoods may recognize his face. Paysinger spent half his career in South L.A. in the department's 77th division. He started there as a student worker while at California State University, Long Beach, then worked patrol, was a sergeant and later was a lieutenant there. Over the years, he worked in gang, internal affairs and special problems units. He even rode a horse for three years as mounted patrol.
"The fact that I've had that experience of seeing the people where they live and having a crystal clear perspective of what they need and what they're asking for — I know that's what makes my presence here valuable," he said. "I'm one of these rare individuals who has been to their homes, been to their churches, been to their job sites."
Community outreach has always been close to Paysinger's heart. In 2006, LAPD put him in charge of its Cadets Academy leadership program – not much different from the Royal Rangers he joined in his youth – which provides lessons in life skills, decision-making and character building. By last count, he had grown the youth program from 300 to 9,000 kids – that's a 2,900 percent increase.
New opportunities
In his new role, he plans to use what he learned there to think of new kinds of programming with USC.
"There are always opportunities unrealized," he said. "As many programs as there are and opportunities available, there's still a population of community and youth looking for something else — and our job is to provide that something else."
Thomas S. Sayles, senior vice president of university relations, said picking Paysinger for the position was a no-brainer.
"He's got an intimate knowledge of the city, particularly the areas surrounding our campuses. Part of his role was to engage with the community, and this will be an opportunity to utilize all that experience to further expand our work with residents and community-based organizations," Sayles said.
Sayles also emphasized the importance of his job and civic engagement to USC.
"We are a private institution but we have a public heart," he said. "I think our ability to be who we are is to work with the surrounding communities and improve the lives of people in those communities – whether it's providing education for their children, expanding opportunities for small businesses or just general betterment of the community."