Environmental progress likely for China, professor predicts
Urban economist is upbeat about the country's future and fascinated by California's coastal cities
When Matthew Kahn was 9 years old in the early 1970s, he wrote a letter to then-President Gerald Ford to inquire about the details of the chief executive's "Whip Inflation Now" economic program.
"At a very young age, I was already thinking about inflation," Kahn said with a laugh. Rather than a substantive reply, however, Kahn received an autographed photo of the president.
His enthusiasm for economics was hardly dampened. When Kahn was a teenager, his father charged his son with reading The New York Times.
"I could tell that economics was really important in explaining what was going on at that time, in the early '80s. Economics appeared to be everywhere on the front page, and I thought that it could help me understand the world."
A warm welcome
Kahn is currently a visiting professor of economics and spatial sciences at the USC Dornsife College of Letters, Arts and Sciences but will come onboard full time in August. He taught at Columbia, Tufts, Harvard and Stanford universities, and most recently spent nine years at UCLA.
"I'm delighted to have Professor Kahn joining our economics faculty," said USC Dornsife Interim Dean Dani Byrd. "In addition to his superb research on urban economics and sustainability, he will bring his commitment to undergraduate education and his tremendously engaging teaching style to students in one of Dornsife's largest programs."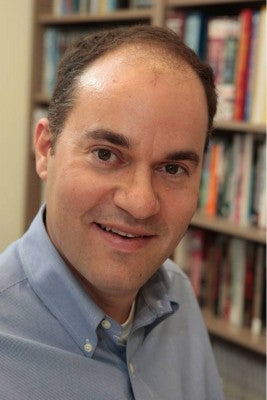 Joshua Aizenman, who holds the Robert R. and Katheryn A. Dockson Chair in Economics and International Relations, and professor of international relations and economics, agreed.
"Professor Kahn has a keen interest in China and other emerging markets, as well as social capital in the context of economic history. Matt's creativity, scholarship and the wide interdisciplinary overreach of his work puts economics at USC at the frontier of applied research dealing with three intertwined challenges: urbanization, the environment and development."
Kahn said he was attracted to USC Dornsife because of its commitment to the Pacific Rim and issues related to Asia, which will continue to be part of his work.
I've joined the department to help the university embark on urban economics and applied fields.

Matthew Kahn
"Economics at USC has always been very strong in technical fields like econometrics and theory. I've joined the department to help the university embark on urban economics and applied fields, applying the tools of econometrics and theory to real-world issues. There are really important questions out there, but you can only intelligently approach them if you're rigorously trained. USC has this potential for the best of both worlds."
Drawing parallels
The environmental and urban economist's current research focuses on China. A book he co-authored on the topic, Blue Skies Over Beijing: Economic Growth and the Environment in China (Princeton University Press, 2016), is slated for publication in May.
Kahn's view is an optimistic one: Although many of China's major cities are suffering the consequences of heavy industry and the resulting pollution, he predicts that many of its coastal cities should experience environmental progress as the country's economy moves away from heavy manufacturing toward cleaner sectors.
His argument uses the historical evolution of American cities as a comparison.
"In some of my earlier work, I was really interested in Pittsburgh," he said. "It was a place where the golden goose in the 1950-'60s was heavy steel. And steel created middle-class jobs and a booming economy but also pollution, so there was a tension there."
Kahn is also fascinated by California's coastal cities where a very different economy has taken root revolving around quality of life.
"In Los Angeles and San Francisco, the golden goose is the brain; it's being a productive, happy person. With a great quality of life, cities can attract and retain skilled workers — the Elon Musks — and that creates incentives for mayors to deliver green space, blue skies and clean water. My new book brings the same logic to bear, and we predict a similar dynamic will soon play out in China's rich coastal cities.
"I view myself as a free-market environmental economist," he explained. I am very passionate about the environment but a believer that with capitalism — through setting up the rules of the game well — we can achieve the win-win of protecting our environment and having a robust economy. I'm one of many micro-economists thinking about how we set up these rules of the game."