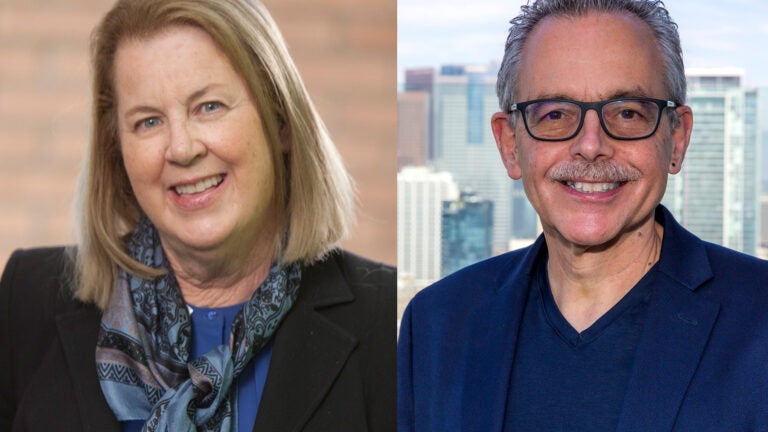 Eileen Crimmins, Manuel Pastor elected to the American Academy of Arts and Sciences
The prestigious honorary society recognizes exceptional individuals from academia, the arts, industry, public policy and research and engages them in addressing significant global and national challenges.
Noted USC faculty members Eileen Crimmins and Manuel Pastor have been elected to the American Academy of Arts and Sciences.
They join more than 250 accomplished individuals in this year's academy class, which celebrated authors Sandra Cisneros and Salman Rushdie, Brookings Institution President and retired United States Marine Corps four-star general John R. Allen, Indigenous Canadian-American singer-songwriter and Oscar-winning composer Buffy Sainte-Marie, and multi-award-winning actor Glenn Close.
Including Crimmins and Pastor, 37 USC faculty members have now received this distinction.
Founded in 1780, the academy convenes leaders from every field of human endeavor to examine new ideas and address pressing national and global issues.
Eileen Crimmins: Noted USC demographer elected to American Academy of Arts and Sciences
Crimmins, a USC University Professor and the AARP Professor of Gerontology at the USC Leonard Davis School of Gerontology, is among 261 national and international scholars newly elected to the academy. With this honor, Crimmins becomes the only USC faculty member to be selected for membership to the American Academy of Arts and Sciences, the National Academy of Sciences and the National Academy of Medicine. She is also the first USC Leonard Davis School faculty member to be elected to the American Academy of Arts and Sciences.
"Membership in the academy is one of the highest possible honors to receive and I am thrilled to be included among this diverse and distinguished group of thinkers and creators," said Crimmins. "As a demographer, I am particularly excited to engage with people who approach improving the quality of our lives from so many different directions."
Crimmins is a senior fellow of the USC Schaeffer Center for Health Policy & Economics, director of the USC/UCLA Center on Biodemography and Population Health, co-leader of USC's Multidisciplinary Research Training in Gerontology Program and is also a co-investigator of the U.S. Health and Retirement Study.
A USC faculty member since 1982, she has led decades of research focused on how health changes over the life cycle. Crimmins is a pioneer in developing and modeling the concept of healthy life expectancy to examine trends in population health, and she has been instrumental in organizing and promoting the paradigm-shifting field of biodemography, the inclusion of biological data in large population surveys. Her studies about the benefits of education, differences in chronological and biological age, and how and why American lifespans are now falling short of those in other wealthy nations have inspired research, informed the public and influenced policy.
"We all benefit from Eileen's decades of pioneering research on understanding risk factors and protective behaviors that contribute to the aging process," said Pinchas Cohen, dean of the USC Leonard Davis School. "Her immense contributions as a scholar, teacher and mentor simply cannot be overstated and I am delighted the AAA&S recognized the impact of her work."
"I am grateful to be included among such luminaries and credit countless colleagues and collaborators as being key to my success," said Crimmins. "The forward-thinking and multidisciplinary environment at the USC Leonard Davis School inspires and motivates me and my work."
An extended version of this report is on the USC Leonard Davis School website.
Manuel Pastor: USC Dornsife sociologist joins prestigious American Academy of Arts and Sciences
Pastor, who holds the Turpanjian Chair in Civil Society and Social Change and is director of the Equity Research Institute at the USC Dornsife College of Letters, Arts and Sciences, is the 27th faculty member at USC Dornsife to be elected.
An award-winning, nationally recognized scholar, Pastor studies issues surrounding the economic, environmental and social conditions that low-income urban communities face as well as the social movements that aim to address and improve those conditions. He views election to the academy as a call for scholars — particularly those early in their careers — to bring their work to bear on societal challenges.
"In a world that faces multiple crises — climate change, widening inequality and the fragility of our multiracial democracy — we need more academics to enter what USC Dornsife has termed the 'public square.' Fortunately, this next generation of scholars wants to do exactly that," he said. "This award — which notably was given in the category of public affairs — gives all of us both a permission slip and a mandate to make sure our work makes a difference."
His work led California Gov. Gavin Newsom in 2020 to appoint Pastor to the governor's new Council of Economic Advisors, which aims "to keep California moving toward an economy that is inclusive, resilient, and sustainable."
A recipient of Guggenheim, Fulbright and Kellogg National fellowships, Pastor is renowned among his colleagues and peers in the field, as is his talent as an instructor, mentor and colleague.
He says this latest honor is not so much personally gratifying as socially validating and sends an important message to budding scholars.
"What it shows is that the professional lane that I have tried to occupy — working as a public intellectual with a foot in the academy and a foot in social justice activism — is one that can be recognized and rewarded," he said. "The signal that sends to so many other younger intellectuals — that you can combine rigor with relevance, even-handedness with empathy, and analysis with action — is important."
Pastor earned his PhD in economics from the University of Massachusetts Amherst in 1984. Following more than a decade at Occidental College in Los Angeles' Eagle Rock community and a brief stint at the University of California, Santa Cruz, where he had earned two bachelor's degrees in 1978, he joined USC in 2007.
An extended version of this report appears on the USC Dornsife website.