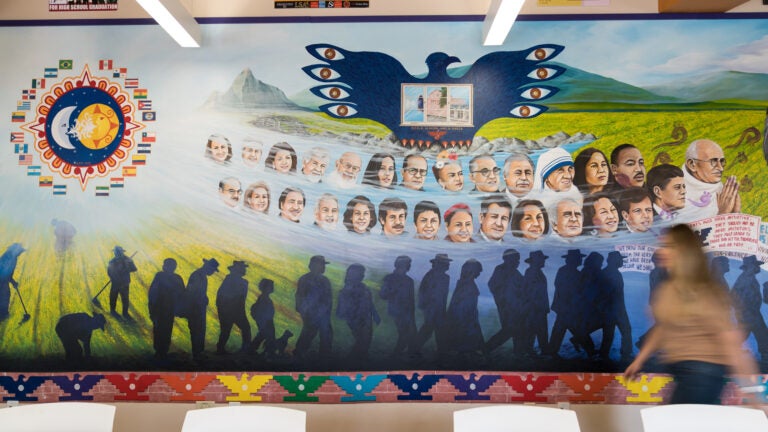 El Centro Chicano becomes La CASA, reinforcing its inclusive mission
After years of student requests, USC's center for Latinx and Chicanx students changes its name.
Though El Centro Chicano started as a service to students of Mexican American descent in 1972, the center has always been home to Latinos from all backgrounds. Now it's official – with a new name that reflects its mission: La CASA.
La CASA, which means "home" in Spanish, stands for Latinx Chicanx Center for Advocacy and Student Affairs.
"It's just a name, but it means so much," said Lenora Quiñónez, a graduate student at the USC Annenberg School for Communication and Journalism who is of Nicaraguan descent.
As an undergraduate, Quiñónez started the student group Central American Network because she wasn't certain she belonged at El Centro Chicano. She wondered: "Is this a space for me?"
Respecting El Centro Chicano's history while embracing the future
The name change comes after many years of requests from students who frequent the center and take advantage of the resources it offers but are not of Mexican heritage, said Billy Vela, the center's director since 2005. Chicano as a term for Mexican Americans was born out of a movement of student protests in the late 1960s during the civil rights movement in Los Angeles and California.
"We understand the history of the center and why it was founded and we want to respect that," said Vela, who himself is of Guatemalan descent. "The Chicano name remains and we want to build on that. The community has grown and now includes many different voices. Our current students want to be heard and want to be identified."
The center is one of five umbrella student equity and inclusion programs on campus, including Asian Pacific American Student Services, the Center for Black Cultural and Student Affairs, the Lesbian, Gay, Bisexual and Transgender Resource Center and the Veterans Resource Center.
The change comes as a larger national movement questions identity and labels used for people of Hispanic origins. For many, the terms Latino (masculine) and Latina (feminine), which come from the Spanish language, have evolved into the single word Latinx. The "x" takes gender out of the equation.
Jose Richard Aviles, president of the Latina/o Graduate Student Association, grew up in South L.A. and can identify as a Chicano. He is of Mexican and El Salvadorian heritage and can also identify as Latino. But neither suffices.
"Latino did not represent the nuances of being both brown and a queer person as opposed to having to choose who we could be and who we could love," Aviles said. "Latinx is an understanding of that."
La CASA: "We just want people to feel at home"
La CASA houses more than 25 undergraduate and graduate student organizations and dozens of programs. Its efforts have resulted in such innovations as the Latino Floor in student housing, which aims to ease the transition into Trojan life; the Chicanx/Latinx Graduate Celebration, an event that draws more than 3,000 people; and the creation of the Latino Parents Association and Power Pan Dulce Speaker Series.
For the past year, students have taken the lead to establish an inclusive process to hear from alumni, faculty, staff and current graduate and undergraduate students to find a way to move forward while respecting the past.
"This is complicated," said Aviles, who will graduate in May with a concurrent master's in social work and planning. Aviles attended Foshay Learning Center as a Leslie and William McMorrow Neighborhood Academic Initiative scholar.
"Chicano is a history that cannot be forgotten," Aviles said. "We are not removing Chicano. This is more of an addition."
Together Quiñónez and her peers at the Central American Network teamed with other student leaders at Latinx Student Assembly, Latino/a Graduate Student Association and El Centro Chicano to lead the effort to change the name to one that represented a larger majority of their communities — La CASA.
"The name is the most inclusive term we could use," Quiñónez said. "We didn't want to step on any toes.
"We just want people to feel at home."