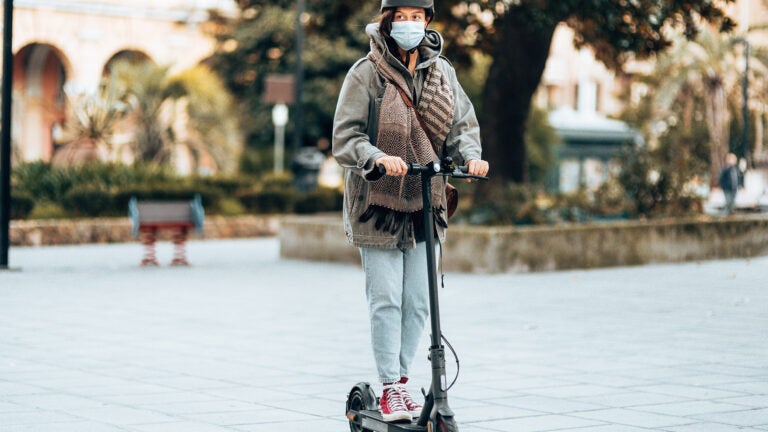 Education drives this week's USC Safety Days — from electric scooters to skateboards
Pedestrians and bikes, skateboards or electric scooters can be a dangerous mix. A two-day event this week on the University Park Campus aims to help everyone stay safe.
With the return of in-person classes comes more pedestrian traffic, and with it greater potential for accidents. The increased popularity of electric scooters has brought new safety concerns to college campuses, and the USC Department of Public Safety has seen an uptick in e-scooter-related accidents. That's why the university is hosting a two-day safety event to help educate the campus community on the best safety practices and emergency responses.
"Education is the first step because there are so many students on bicycles, skateboards and scooters that it really requires them to be on-campus safety partners," said David Carlisle, interim executive director and DPS chief.
USC Safety Days will be held Tuesday at USC Village and Wednesday at Hahn Plaza from 10 a.m. to 2 p.m. Both days will feature booths from USC and Lyft, along with demonstrations from safety experts, music and giveaways.
Electric scooters in recent accidents
For Carlisle, as much as the event should be fun and engaging, the safety message is a very important one. Carlisle noted two recent examples of e-scooter-related accidents. In one, a student sustained major injuries after riding a scooter the wrong way on the wrong side of the road. The other resulted in the student being hospitalized for significant injuries after being struck while in a crosswalk. And those are only some of the ones he knows about.
"We feel strongly that the vast majority of bicycle, skateboard or e-scooter collisions are minor in nature and do not get reported to DPS," Carlisle said. "So, it's hard to track how many there are."
But that's not to say that scooters don't belong on campus. For Tony Mazza, director of USC Transportation, people just need to be made aware of the proper procedures and hazards — as with any other mode of transportation.
"[Scooters] offer another transportation option that has a place in urban cities such as L.A. but must be used safely for the protection of the rider and those that come in contact with them," Mazza said. "This includes riding them with helmets, lights, and in designated lanes.
The vast majority of bicycle, skateboard or e-scooter collisions are minor in nature and do not get reported to DPS.

David Carlisle, USC Department of Public Safety
"Safety on our campus involves everyone. That said, DPS, along with Environmental Health and Safety and Transportation have a vested interest in ensuring those riding scooters are made aware of the potential dangers to themselves and others around them."
Beyond electric scooters' safety to emergency readiness
Even with education on scooter safety, students still need to know how to respond in emergency. That's where USC Fire Safety and Emergency Planning comes in. During this week's Safety Days, representatives will be handing out emergency procedure guides and talking to students about campus emergency procedures.
"If something were to happen, you want to make sure that everyone knows what to do, how to call for help and how to prevent an emergency from happening in the first place," said Steve Goldfarb, safety director for USC Fire Safety & Emergency Planning.
The one thing all the various agencies agree on is education. Enforcement is a last resort, so that's why an interactive event like USC Safety Days is so important.
"There are so many more students than DPS officers, so we need them to help make our campus safe," Carlisle said. "Hopefully, through education, we gain compliance to create a safer campus."
USC Safety Days is co-sponsored by DPS, USC Transportation, USC Fire Safety & Emergency Preparedness, USC Environmental Health & Safety, Lyft, the Los Angeles Bike Coalition and USC Village/The Shops at USC Village.