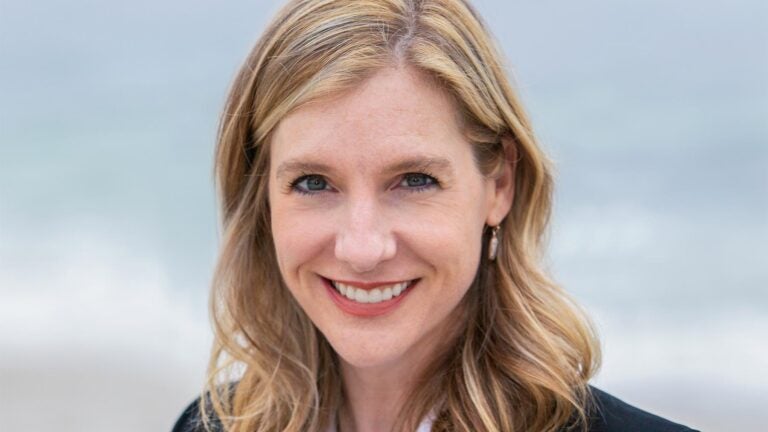 Emily Roxworthy, champion of diversity and interactive theater, named dean of USC School of Dramatic Arts
Currently the associate dean of the Graduate Division at the University of California, San Diego, Roxworthy will join USC in July.
USC leaders have selected noted scholar and artist Emily Roxworthy as the dean of the USC School of Dramatic Arts.
Roxworthy, a champion of diversity and interactive theater, is currently associate dean of the Graduate Division at the University of California, San Diego, where she is responsible for the recruitment, retention and professional development of UCSD's 7,000 graduate students.
She has led UCSD's joint doctoral program with the University of California, Irvine, in theater and drama and was vice chair of the UCSD Department of Theatre and Dance. There, she developed programming across disciplines, including a collaboration with the UCSD School of Medicine, to assist with training on diversity and ethics issues. Roxworthy begins at USC on July 1.
"Emily Roxworthy is the right person to lead the USC School of Dramatic Arts at this time of growth and opportunity," President Carol L. Folt said. "She has a track record of engaging her students and the community through the performing arts in ways that prompt deep dialogue and greater awareness."
Prior to her current role, Roxworthy spent four years as provost of UCSD's Earl Warren College, an interdisciplinary undergraduate school. Recognized at UCSD in 2015 with an award for her outstanding work on improving diversity and inclusivity, she also served as interim associate vice chancellor for the UCSD Center for Faculty Diversity and Inclusion.
"Dr. Roxworthy brings a passion for dramatic arts and a vision for how they lead to a more cohesive society and greater social justice. We are eagerly looking forward to her collaborative, multidisciplinary approach to building on the exceptional strengths of the School of Dramatic Arts," said Provost Charles Zukoski. "Dr. Roxworthy brings to USC the energy and drive to expand the school's exceptional programs at a time of disruption and opportunity."
The USC School of Dramatic Arts, one of the nation's top-ranked programs, produces more than 20 shows annually across four stages. Its students take advantage of the school's unique location at the center of the entertainment industry to gain professional experience.
"This opportunity is unparalleled," Roxworthy said. "Both the theater and Hollywood are in the midst of a social justice movement, and the USC School of Dramatic Arts is perfectly situated to empower its students through creativity and the performing arts."
The school, one of USC's six schools focused on the arts, blends multimedia artistic training in a conservatory environment with the full academic experience found only in a major research university. The school offers Bachelor of Arts degrees in theatre and visual & performing arts; Bachelor of Fine Arts degrees in acting for stage, screen and new media, musical theatre, design, sound design, stage management and technical direction; and Master of Fine Arts degrees in acting and dramatic writing.
New dean of USC School of Dramatic Arts believes theater is a 'powerful tool' for resistance
Roxworthy has proven to be an innovative leader who combines research on race, diversity, social justice and history with the performing arts.
"Theater has been a model of both resistance and revival," she said. "It is a powerful tool, and we are training gifted storytellers who have an impact."
She founded and is the artistic director of Workplace Interactive Theatre, a company that performs diversity training workshops for organizations.
She also directed a 3D role-playing video game, which earned two National Endowment for the Humanities grants. Drama in the Delta, created in collaboration with the San Diego Supercomputer Center, reconstructed interracial and intercultural performances staged during World War II at the Rohwer and Jerome internment camps that incarcerated Japanese Americans in the Arkansas Delta.
Roxworthy published her second book, The Theatrical Professoriate: Contemporary Higher Education and Its Academic Dramas, last year. Her first book, The Spectacle of Japanese American Trauma: Racial Performativity in World War II, received the Barnard Hewitt Award Honorable Mention from the American Society for Theatre Research.
For her article "'Manzanar, the eyes of the world are upon you:' Performance and Archival Ambivalence at a Japanese American Internment Camp," she received both the ATHE Outstanding Article Award and the ASTR Gerald Kahan Scholar's Prize.
As a professor, Roxworthy has taught many subjects, including "Documentary Theatre," a graduate course that gives students the opportunity to develop their own docudramas, and "Asian American Theatre," a popular diversity, equity and inclusion undergraduate course.
Roxworthy grew up in Detroit before moving to Chicago to earn her bachelor's degree in performance studies and English literature from Northwestern University. After getting a master's in theatre arts from Cornell University, Roxworthy returned to Northwestern for her doctorate from the Interdisciplinary Program in Theatre and Drama.
Roxworthy has been in California for 17 years and is excited to explore the "microneighborhoods" of Los Angeles with her family, including her husband Dennis Kim, an endocrinologist and chief medical officer at a biotechnology company, and her rescue dog from Tijuana, Demi.