End of an era for USC Trojan Marching Band associate director
After 45 years with the group, Tony Fox directs the basketball band at home for the final time Saturday
Let the band play on, even without one of its leaders.
When USC men's basketball takes the court tomorrow at home, it will mark the end of the regular season for the Trojans. For members of The Spirit of Troy and longtime USC hoops fans, it will be the end of era.
This last game of the season at the Galen Center will be the final time USC band associate director and arranger Tony Fox MA '81 leads the basketball band at that arena. After 45 years with the program — more than 30 as director of the spring basketball ensemble — Fox will retire at the end of May. Since 1971 he has teamed with director Arthur Bartner to build the USC Trojan Marching Band into one of the top units in the country.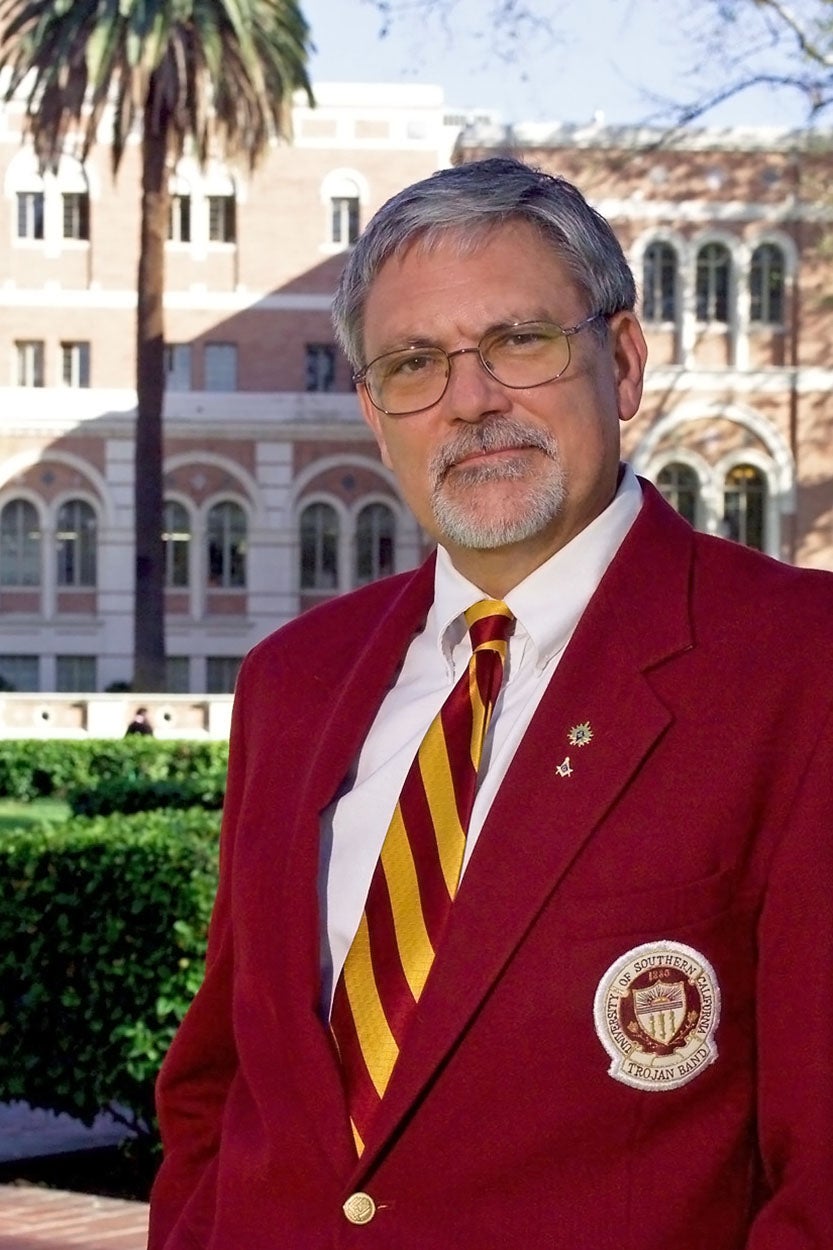 Fox, known affectionately by generations of band members as just "Tony," shared directorship of the basketball band with Bartner from the early 1980s until taking over the duty full time in 1996. Over the years, he has watched nine USC head basketball coaches come and go from the edge of the court at the Sports Arena and Galen Center while instructing thousands of young musicians, many of whom have gone on to careers as music educators themselves.
Whether or not they know it, USC fans have enjoyed Fox's work for decades. His arrangements of contemporary music — from 1970s funk to the pop hits of today — have been performed by the Trojan Marching Band throughout the world and, of course, at every basketball game. His development of the band's powerful sound was key to the program's rise in reputation over the years.
Fox began arranging for the band in 1971 as a USC undergraduate and never stopped. In 1981, he received his master's degree in composition and became a faculty member at the USC Thornton School of Music. Over his long career, he has arranged and composed music for the 1984 Olympics, seven Super Bowls halftimes, the rededication of the Statue of Liberty and the welcoming fanfare for Pope John Paul II's visit to Los Angeles in 1987. He was even nominated for an Emmy in 1986 for arranging the music for Disneyland's 30th Anniversary Celebration.
The USC band's spring concert on April 17 will be dedicated to Fox; all proceeds from the event will go toward a scholarship fund in his name. Information can be found at uscband.com.