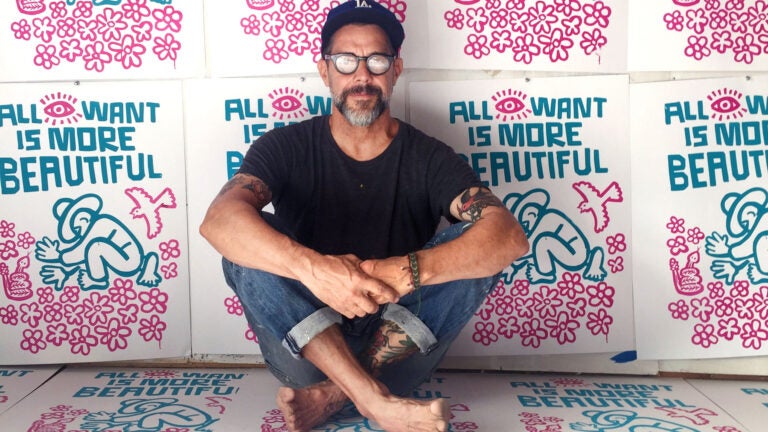 'Wash Your Hands' and 'Resist Hate': USC Roski lecturer sees timely revival of his artwork
Several years ago, L.A. artist Eric Junker created two pieces of art with simple, straightforward messages. In 2020, those messages ring truer than ever.
When Los Angeles artist Eric Junker was asked to create a piece for New York's Lafayette café and bakery, he had no idea the piece would make a resurgence roughly five years later for much a different reason.
The same goes for an admittedly impulsive piece he created in response to the 2016 election. In both instances, these one-off pieces have been repurposed during a year that has already seen its share of fear, division and tragedy.
"It was interesting how these pieces took on new life and new meanings and new urgency," Junker said. "It's always exciting as an artist when you know your work is reaching people."
The first message, "Wash Your Hands," has gone from a piece of art in a New York restaurant to a reminder for the general public amid the COVID-19 pandemic. Junker, a lecturer at the USC Roski School of Art and Design, was selling posters with the message for the past few years but recently made it available for download as a coloring sheet.
The piece, featuring blue lettering and hands under a faucet on a white background, was originally sold in three languages — French, English and Spanish — but has been translated into 14 different languages for the downloadable piece. Junker said the coloring sheets have been downloaded as far away as Sweden, Japan and South Korea, but the image itself has also maintained its prominence in L.A., particularly around his Silver Lake neighborhood.
"Originally, it was a quirky hand-washing sign design for a restaurant, and then on March 18, 2020, it became an urgent PSA, which was not part of the original intention," he said.
'Resist Hate' poster finds an audience during George Floyd protest
Just as recently, another of Junker's pieces also became an urgent PSA of sorts. During the 2016 presidential election, Junker created a piece with the simple message of "Resist Hate." Junker then turned the piece into a poster for an ACLU fundraiser in early 2017, which was used in the subsequent protests and Women's March that year. Eventually, the poster was photographed during a protest and featured in The New Yorker.
"I'd always dreamed of getting in The New Yorker," Junker said with a laugh. "It doesn't have my name anywhere on it, but it's still one of those bucket list things."
COVID is a new problem, but the issues that Black Lives Matter is addressing are systemic, 400-year-old problems.

Eric Junker
In early June, the piece found its resurgence following the death of George Floyd at the hands of a Minneapolis police officer. Junker began getting requests from people around L.A. to bring the posters back for the most recent police brutality protests. Initially, Junker said he was hesitant to reprint the poster, as he didn't know if the message was appropriate or relevant.
"I was wrestling with whether the message of 'resist hate' was simply too vague, especially with what's going on now," he said.
Eventually, Junker tailored the poster so that it could be customized by those that purchase them or download them off his website in exchange for a suggested donation to Black Lives Matter L.A. or the Los Angeles Action Bail Fund.
"COVID is a new problem, but the issues that Black Lives Matter is addressing are systemic, 400-year-old problems," he said. "So they're two different forms of urgency."
Junker paints new mural in L.A.'s Arts District to honor Black lives lost
In addition to reviving the "Resist Hate" poster, Junker was also recently asked to paint a mural on Everson Royce Bar in L.A.'s Arts District. The mural features Floyd, along with Breonna Taylor — who was killed in her Louisville, Ky., home by police — and Ahmaud Arbery — who was killed by two men in Georgia. Junker had painted a previous mural on the wall of the bar and wanted his second mural to encourage viewers to remember those names, especially come November's election.
Though he's happy with the renewed interest in his work, Junker said he's also disappointed that their messages still have to be this relevant. However, seeing the reach of his art and the global efforts to address these issues, he's ultimately glad that his artwork can be of any assistance.
"The new mural is just really topical, and I think people are looking for ways to connect," he said. "The rapidity with which this has all happened has been disorienting for people, and I think they are looking for landmarks or points of reference to rally around."