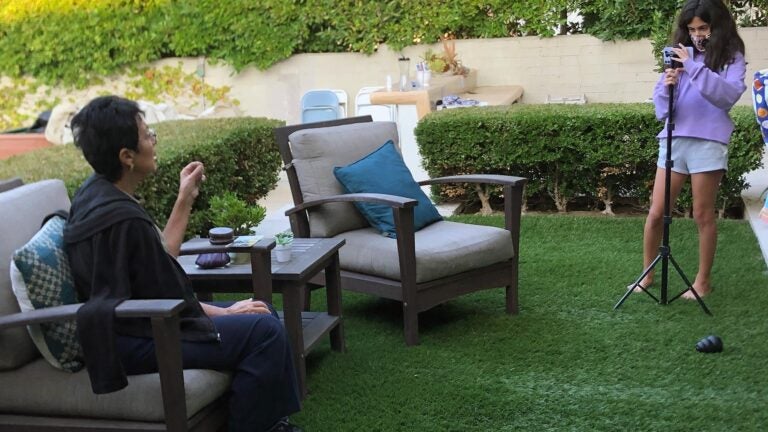 Student helps teens build relationships with their grandparents — by documenting them on film
After seeing the distance between kids and their elders in his own Jewish community, Ethan Kurzrock developed the Haggadah Project for L.A. middle schoolers.
Growing up, Ethan Kurzrock's two loves were film and family. So when the Bay Area native set out on a cross-country road trip with his grandmother several years ago, he was naturally going to document it. His heartwarming video turned into a hit that was widely shared on social media.
Now, as part of his senior thesis at the USC School of Cinematic Arts, Kurzrock has taught a group of Los Angeles middle schoolers to create documentaries in a similar style and build closer relationships with their families at the same time.
"I often captured my grandparents, parents and pets in my films growing up, so combining the family and filmmaking always felt very natural to me," he said. "Coming up with my thesis idea, I wanted to do something educational that involves the community and takes this idea of teaching a filmmaking class not just for kids but also for the grandparents."
After identifying a growing separation between youth and elders in Jewish families, Kurzrock — who himself is Jewish — developed the Haggadah Project, an educational intergenerational storytelling program for students at Pressman Academy of Temple Beth Am in L.A. The word "Haggadah" is Hebrew for legend, parable or anecdote that is retold.
"Some schools have a 'Grandparents Day' where one day a year they have the students do one little project about their grandparents, but I wanted a longer-lasting, multiple-week challenge where they work together outside the classroom," Kurzrock said. "One of the goals of this research project was not just to teach filmmaking skills to the kids or to the grandparents but to bring them closer together."
Middler schoolers document their grandparents' remarkable stories
The students were each loaned iPads from the USC School of Cinematic Arts, and weekly classes took place Sundays in October and November. Though Kurzrock did most of the teaching, several guest lecturers also came by, including CBS Sunday Morning correspondent Mo Rocca.
Ultimately, Kurzrock compiled all the students' documentaries and showcased them on the Haggadah Project's website, which he launched last month.
Kurzrock was amazed at how much the students already knew about filming and editing and said the majority of his lessons focused on interviewing. For the films, students were simply given four prompts: memory objects, process, testimony and reflection. He wanted to give them as much freedom as possible.
I feel like when I'm older, I could show the video to my kids and their kids can find out what used to happen in Israel.

Maya Arbib
"I expressed to the students that this class is about collaboration and creativity. I'm much more interested in seeing them explore their ideas than following the exact assignment prompt," Kurzrock said. "It's kind of like that at USC: When you have the most open-ended assignment prompts, you see such a variety of student projects."
One seventh-grader, Ella Hoenig, shared the story of her grandmother's escape from Hungary to Western Europe amid communism and anti-Jewish measures. Her grandmother recounted how her father made a trade with a member of the secret police in Hungary in order to escape the country. Ella and her grandmother, Julie Madorsky, met in the backyard once every week to record her video projects, an experience that brought the two much closer.
"I think it makes both of us happier when we see each other once a week," she said. "That continued after the class."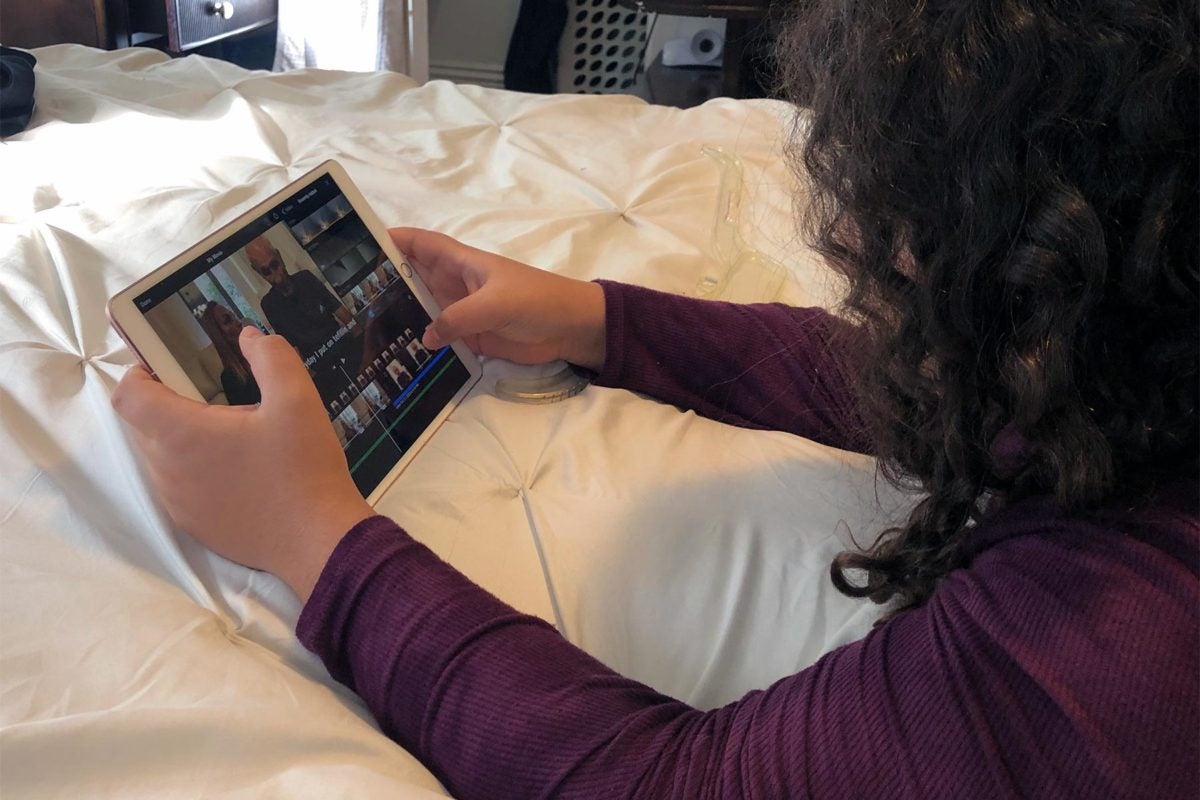 Sixth-grader Maya Arbib interviewed her grandmother, Frida Rouben, about Israel's Six-Day War of 1967. Maya later admitted that this was her first time hearing these stories from her grandmother and said she was happy to capture her story for future generations.
"I feel like when I'm older, I could show the video to my kids and their kids can find out what used to happen in Israel," she said.
Filmmaking provides connection, brings kids and grandparents together
As an instructor and filmmaker, Kurzrock said he was blown away by the stories the students told and how they were able to handle mature topics at such a young age.
"One thing that's great about teaching film is that you're able to enable whole groups of filmmakers and then spread and share their ideas with even more people," Kurzrock said. "To take all the valuable knowledge at a film school like USC and give it to younger students to get exposed at a young age is so great."
Erica Rothblum, head of school at Pressman Academy, said the class enriched the student experience during a challenging time and brought kids and grandparents together even when they were physically apart.
"Ethan's work touched upon something that is vital for all communities: connection," she said. "This intergenerational project allowed for our students to connect deeply with their grandparents while also creating a family artifact to allow continued generations to connect through video stories."
In addition to the students' videos, the Haggadah Project website includes guest lectures and resources for anyone looking to implement a similar class. For Kurzrock, the site goes beyond showcasing his thesis. It's an opportunity to share stories of struggle, survival, perseverance, hope and family.
"A lot of the grandparents in this generation were survivors of the Holocaust or had made it out shortly before, and the university has a legacy around capturing those stories with USC Shoah Foundation, so I think it was interesting to give students the opportunity to produce those kinds of films," he said. "I think all of these films kind of serve as artifacts to educate people about these topics and letting people in the community speak for themselves about their experiences."