Fighting for gender equality within the new media landscape
TITLE IX: Professor of Communication Sarah Banet-Weiser helps the next generation transform the media landscape to be more inclusive.
Editor's note: Title IX — the landmark legislation that prohibits sex discrimination in educational institutions that receive federal funding — was signed into law on June 23, 1972. In recognition of this anniversary, we'll be profiling Trojan trailblazers throughout the academic year.
On Tuesday afternoons, Professor of Communication Sarah Banet-Weiser challenges students in COMM 395: Gender, Media and Communication to examine the portrayal of gender and race across multiple media platforms. Her goal is to help them consider the ways gender is intertwined with notions of power, identity and voice.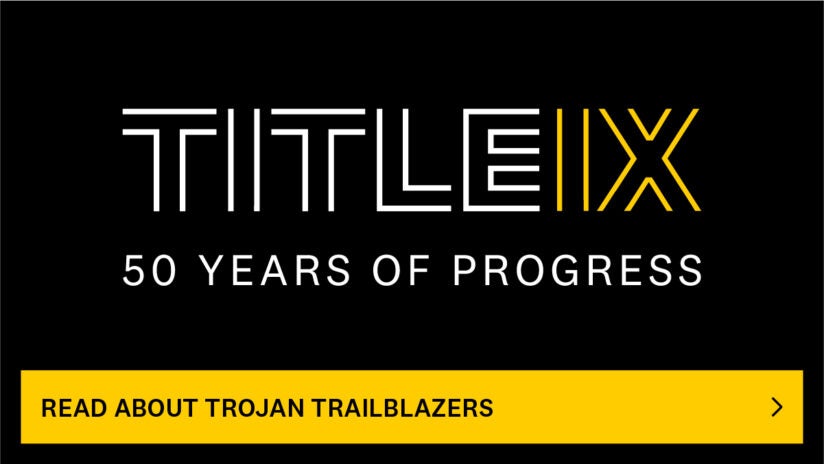 "We need to learn how to recognize how images of race, gender and social class are constructed in the media," Banet-Weiser said. "If we can understand that representations matter in the world and impact how we occupy our positions and how we organize our lives, we can also recognize that the negative constructions and expressions of gender and race are something that we made. If we made these expressions, then we can unmake them."
With joint appointments at the USC Annenberg School for Communication and Journalism and the University of Pennsylvania's Annenberg School for Communication, Banet-Weiser researches gender, race and media, youth culture, feminist theory and cultural studies. As the founding director of the Center for Collaborative Communication at the Annenberg schools, she is leading efforts to reimagine and potentially revolutionize how collaborative communication can be used to address complex issues, including how gender is represented in the media and the role that gender plays in interpersonal, public and cultural communications.
"To have students who are media makers and invested in transforming the media and this landscape to be more diverse and inclusive is incredible to me," Banet-Weiser said. "I think that part of the reason why they feel like they can do it is because they're protected by things like Title IX."
Seeing Title IX's impact beyond sports
As a mother of a college athlete, Banet-Weiser is still quick to remind her students that the Title IX landmark legislation has an impact well beyond sports — it's about gender equality.
"Fifty years is not a long time, but it is enough time to actually repair some structural inequalities," Banet-Weiser said. "We still see things like the state of Florida, which has just put forward a bill that wants to eradicate gender studies and critical race theory from higher education, and a movement across Europe where gender studies departments in universities are being dismantled. I see a very important fight coming. A 50-year anniversary can be a moment of celebration, but it also is a moment of reckoning and we need to be honest about that."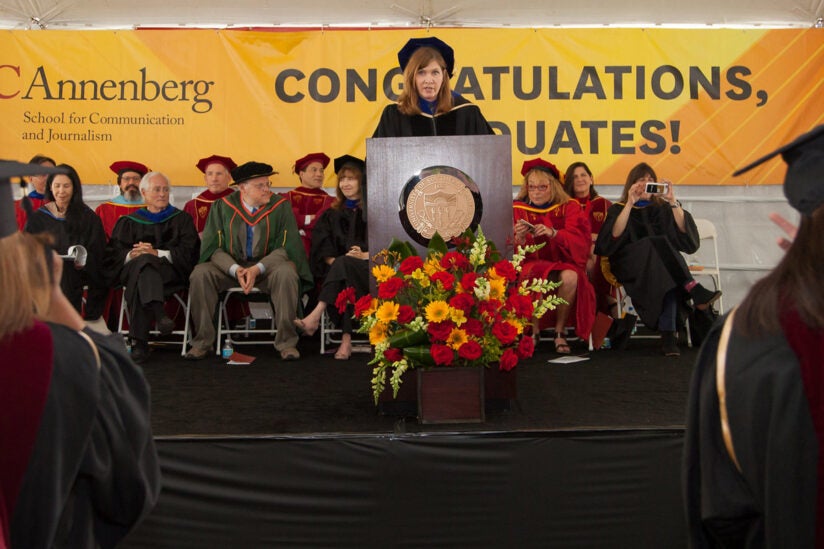 She is inspired by the students in Florida who walked out of classrooms to protest the new bill, and the massive number of scholars standing up against inequality at college campuses worldwide. However, she still notes structural inequalities and patterns of discrimination on campus like sexual assault and the gender wage gap as room for improvement.
"Many of us at Annenberg teach that power isn't just something that is top-down; it can be bottom-up," she said. "It's our job as educators to remind students that they actually have a lot of power and to give them the tools to fight back."
It takes a village: men and women mentors
While growing up in San Diego, Banet-Weiser remembers how her mother demonstrated what it meant to overcome adversity and provide a life for her loved ones. When her father became disabled around the time she was 8 years old, her mom became the head of the household. She credits her mother with creating a context in which she felt confident in who she was and for helping her feel emboldened to make a difference. Now a mother of three, Banet-Weiser can trace how Title IX has affected all generations of women in her family.
Banet-Weiser also reflects back on her journey before becoming a distinguished faculty fellow at the Center for Excellence in Teaching at USC, the director of the School of Communication at USC Annenberg and eventually head of the Media and Communications department at the London School of Economics, and the many people who demonstrated what it meant to write and do research on topics that had the potential to make a difference.
I have been mentored by amazing people — both men and women.

Sarah Banet-Weiser, USC Annenberg
"I have been mentored by amazing people — both men and women," she said. "When I was studying for my PhD, my adviser, Valerie Hartouni, introduced me to feminist theory as a whole new way of seeing the world in terms of gender politics. I will forever be grateful to her."
Staying vigilant for the future of Title IX
Banet-Weiser wants students to have a sense of possibility for what they can do in the media landscape. In the evolving age of streaming and networked distribution, she believes there are opportunities to restructure and repair inequalities. Students learn how to do this by creating media like memes and zines, along with using tools such as historical and visual analysis, as avenues of expression of alternative narratives outside of what is provided by the mainstream media.
The last decade has shown her that there isn't a linear progress to culture. It doesn't always move in the way that is expected.
"When there are openings to discriminate and when there are openings to exclude and erase, people will take them," Banet-Weiser said. "So we need to be watchful, and Title IX will help us stay vigilant in the years ahead."