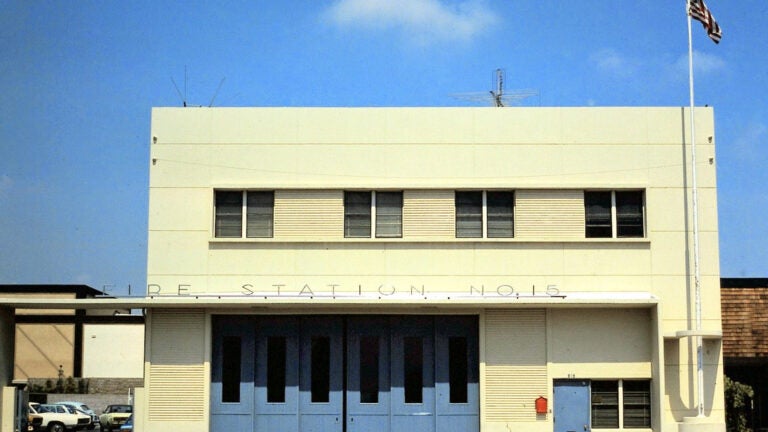 Fire Station No. 15 is ready to roll
With help from a big rig, the retired structure will move to a new USC site a few blocks away — but that's going to take a while
Fire engines move around, but the firehouse usually stays put.
Not this time.
During the late hours of Oct. 5, USC's historic Fire Station No. 15 is scheduled to hit the road, riding on a custom rig atop three 12-wheeled trailers. The 24-by-51-foot concrete structure — weighing in at 250 tons — will laboriously make its way to a new site on 32nd Street, where it will be repurposed as a sound studio for the USC School of Cinematic Arts.
The three-block trip will take four to five hours, with the rig traveling at a pokey 1 to 3 miles per hour, said Willy Marsh, project manager at USC Village, where Fire Station No. 15 has stood since the 1950s.
Under the USC Village master plan, the university agreed to preserve and relocate the old firehouse, and build a new one to serve the West Adams neighborhood. The portion being moved represents about a third of the entire building; the remainder will be demolished to make room for a pedestrian walkway.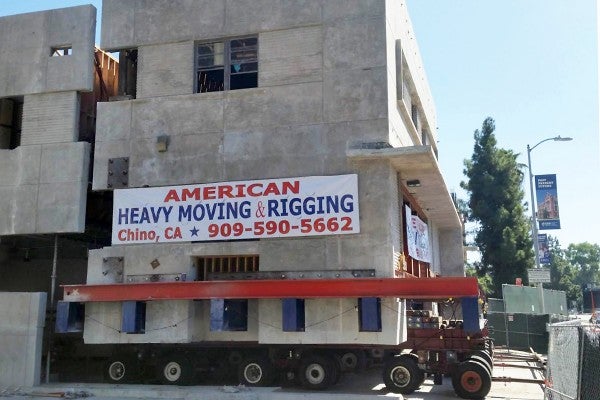 "It's taken two months to get it to this stage," Marsh said of the now-mobile fire station. To hoist it onto wheels, workmen had to cut slots through the concrete walls, insert steel beams and "shimmy up" the building in stages.
Meticulous preparations were required, from hazardous waste abatement inside the old building to the removal of trees and other obstacles along the route. (The trees, taken from the median on Jefferson Boulevard, will be replaced in the road-improvement phase of the USC Village development.)
After the move, it will take another couple of days to lower the fire station from the rig and tie down the structure on newly installed footings.
Station 15 firefighters settled into their new state-of-the-art facility a few months ago, built at the university's expense on USC-owned land at Hoover Street and 30th Avenue. A grand opening celebration, where President C. L. Max Nikias and LAFD Fire Chief Ralph Terrazas will speak, is set for Oct. 10.