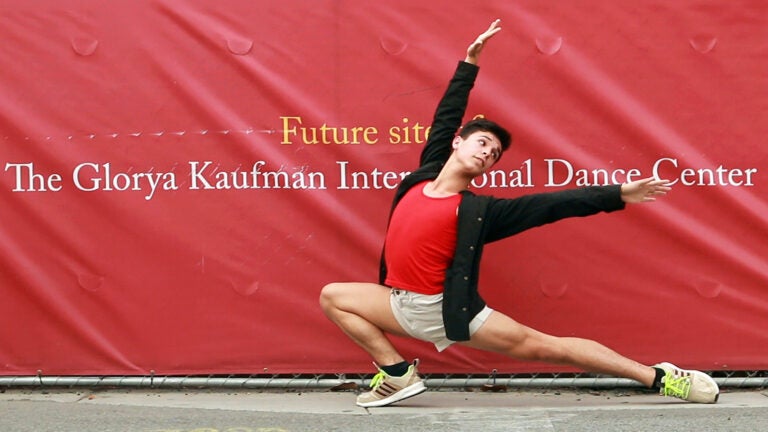 First class of USC Kaufman dancers offers promise and poise
As the Glorya Kaufman International Dance Center rises, the dance school debuts with 33 talented students
https://youtu.be/Mdxq0UhaIUw
There was an overwhelming response from prospective students for the inaugural class of the USC Kaufman School of Dance. The result, according to Jodie Gates, vice dean of the school, is a first class composed of 33 outstanding students.
"It's an incredibly diverse class full of hybrid dance artists," she said, "from aspiring choreographers to hip-hop dancers to ballet dancers to contemporary dancers."
Gates said the class collectively fulfills the vision of what it means to be a hybrid dance artist, one who is well versed in several different styles. "The students will learn from each other and thrive off of the curiosity they have for creating new art forms."
Gates said she and others on the admissions committee looked at the cohort of the first Bachelor of Fine Arts dance majors as a whole, much the same as putting together a dance company.
The backgrounds of the students vary, which is exactly what we wanted.

Jodie Gates
"The backgrounds of the students vary, which is exactly what we wanted," she said.
Students hail from Canada, Mexico, Colombia and from across the United States. Six are the first in their family to attend college and 10 come from backgrounds traditionally underrepresented in higher education.
In addition, the class is balanced in gender — 15 men and 18 women — which is unusual in dance programs. (Photos and brief biographies of each student are on the USC Kaufman site.)
"Their dance auditions were remarkable," Gates said. "It was such a joy to see all of this talent out there."
New dance center taking shape
The new students start classes this week. Next spring, the dancers, faculty and staff will move into a new, state of the art 55,000-square-foot building dedicated solely to dance education. The three-story Glorya Kaufman International Dance Center, taking shape now at the corner of Watt Way and West 34th Street, will have six dance studios, including one with flexible performance space for students, faculty and guest artists to research, explore and showcase repertory in a safe learning environment. "We're all incredibly excited," Gates said. "I can't wait to step into those doors."
Her excitement is matched by the incoming freshmen.
"There are thousands of reasons I fell in love with USC, but my top reason was this whole idea of type," said Paulo Hernandez-Farella, a contemporary ballet dancer from Los Angeles who dreams of joining the Joffrey Ballet. Other dance schools had clear types, he said, with all the dancers having similar physical attributes. "That really scared me. I'm 5'6" and Hispanic so I've really never fit into a type," he said.
The incoming USC Kaufman class, which he has gotten to know through its Facebook page, "is all completely different, not only in their dance backgrounds but in their personalities. I can't wait for us to learn from each other."
Lenai Wilkerson of Washington, D.C., whose dream "is to be the next African-American dancer in the Miami City Ballet company," said she has "waited so long for a program like this to arise.
"Many college programs offer a diverse program of dance, but it's not always on the same level," she said. "So you could find a very strong modern dance program in a school but not so strong a ballet program or vice versa. This program is special to me because I've been looking for something that reflects the diverse background I've been trained in that emphasizes every kind of dance."
Alyssa Allen of Gardena, who has trained in contemporary dance, said she picked USC Kaufman over a conservatory school because she wanted "that overall college feel so I could meet people from completely different fields and majors." Also, she noted, the new school's curriculum "is unusual in the best way." She said she aspires to become a choreographer and looks forward to taking cinematography classes to learn how to put dance on film.
Austyn Rich, of Marietta, Ga., a contemporary dancer and choreographer, discovered USC Kaufman while attending the National High School Dance Festival in Miami last year.
"I've been looking for a school that specializes in choreography, and I thought 'wow, this is a cool program.'" The fact that USC is located in Los Angeles was also a big selling point, he said.
And I think it's just perfect that I can be part of a school where the motto is The New Movement.

Austyn Rich
"I've been trying to explain to my friends here in Atlanta that dance is not going to be the same in the future," Rich said. "We need to be willing to adapt to it and branch out and try new things artistically. And I think it's just perfect that I can be part of a school where the motto is The New Movement."
Kaufman's gift
Philanthropist Glorya Kaufman made the transformational gift to establish the dance school at USC that now bears her name in November 2012. Her gift created an endowment to support the school's programs in contemporary and classical dance, recruit renowned faculty and provide student scholarships, as well as fund construction of the instructional building.
USC Kaufman is the first school to be established through an endowment at USC in 40 years. It joins the university's five preeminent arts schools in architecture, cinematic arts, dramatic arts, music and fine arts and design.
The school combines a conservatory environment with the academic rigor of a major private research institution. Its four-year professional degree has been designed to prepare the artist, the innovator and the entrepreneur. The degree, while developing dancers and choreographers, includes classes in new media and career skills for the 21st century.
Interdisciplinary study is assured through unique partnerships, such as collaborations with faculty and students at the USC School of Cinematic Arts and the USC Thornton School of Music. Students in the BFA program will be able to select a specialization in cinematic arts or music during their junior and senior years.
"Glorya Kaufman has truly changed the landscape for dance in America and particularly in Los Angeles," Gates said. "We are creating a renaissance, and I truly believe this program is facilitating that renaissance."
Gates, a former principal ballerina with the Joffrey Ballet, Frankfurt Ballet and Pennsylvania Ballet and a choreographer who has created more than 50 works, marveled at the opportunities the USC Kaufman students will have.
"I wish this program would have existed when I was 18 years old," she said.