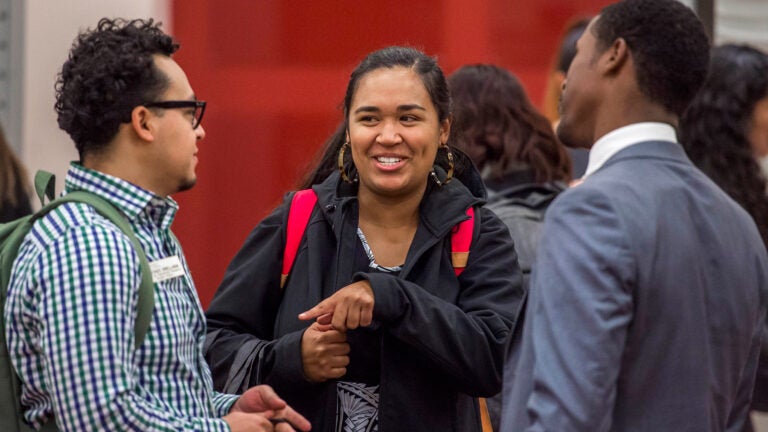 First-generation college students gather for second USC summit on higher education
USC leaders speak to students about the opportunities available to them
First-generation students from across California gathered at USC to talk about higher education.
"Take advantage of high-impact practices made available to you," said George Sanchez, director of the USC Center for Diversity and Democracy, at the university's second summit for first-generation students Feb. 3.
More than 300 participated and while most were from USC, students from Loyola Marymount University, San Diego State University, Stanford University, the University of California, Irvine and the University of California, San Francisco also attended.
"Do hands-on work in the surrounding communities to allow you to have experiential learning thought civic engagement," said Sanchez, who noted the work of the Joint Educational Project (JEP), a service-learning program at the USC Dornsife College of Letters, Arts, and Sciences.
USC Provost Michael Quick, the first in his family to attend college, has focused on first-generation families.
"Students who are the first in their families to attend college have all the skills to be successful students — before they even get here," Quick said. "They are driven, resilient and eager to learn. They are exactly the type of students who succeed in higher education."
About 15 percent of USC's undergraduates are first-generation students, and their six-year graduation rate is about 90 percent — the same rate as the general student population. This compares to an average graduation rate of just over 68 percent for first-generation students at private universities nationwide, according to a UCLA Higher Education Research Institute study. The study also found about half of first-generation students are low-income students and likely to be part of a minority.
Reaching out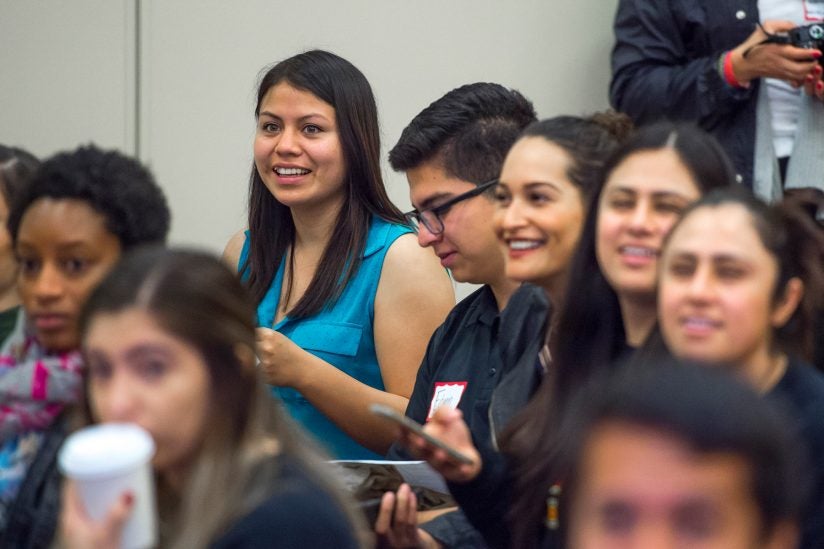 USC sophomore Alejandra Franco said the summit was an extension of the outreach she does on her own in the Coachella Valley.
"I go back to my high school sometimes on weekends or breaks and talk to students about college," Franco said. "A lot of their parents do manual agricultural labor, and the kids think the only way to get through is to start working right after high school."
Franco said young people should be encouraged to attend college.
"I know about the admission process, financial aid resources and opportunities. It would be selfish of me not to share it."
Franco has considered becoming an immigration attorney.
"Here at USC, I'm seeing there are so many other ways to impact my community," she said. "I just know for sure I want to go back to my community and help out people any way I can, legally or educationally."
What about students with full-time jobs?
Edwin Saucedo, president of the USC Undergraduate Student Government, received a student leadership award at the summit. Saucedo has advocated for resources, including a stipend aimed at helping working students with their tuition. Some of those students can't participate in student activities because of full-time jobs.
"Student involvement increases graduation rates," Saucedo said. "But there are persistent issues. It's really hard to ask for help being a first-generation student. You come from an environment where you don't ask for help because a lot of times your parents can't help you."
Saucedo, who will graduate in May with a degree in public policy, said the summit was a chance to talk about matters that affect first-generation students.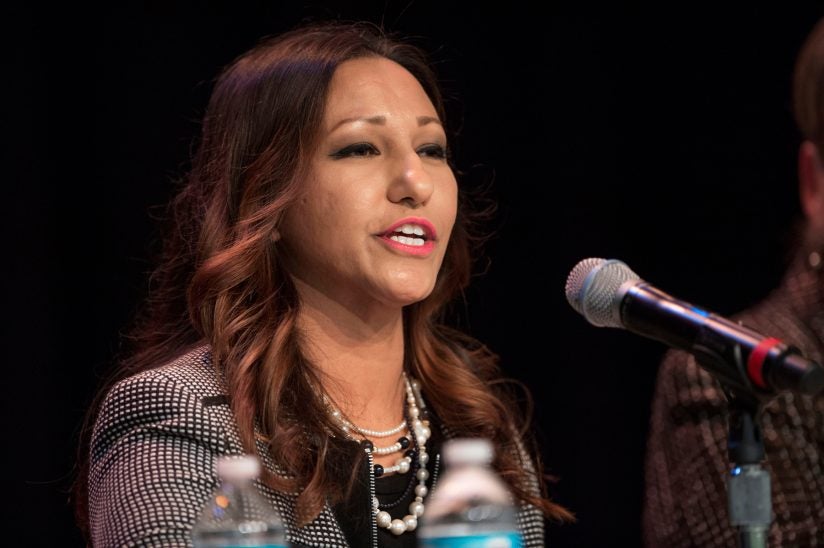 "At USC, we talk about race and diversity, but we don't talk about class and that's what's holding them back," he said.
Shafiqa Ahmadi, associate professor of clinical education at the USC Rossier School of Education, spoke about the importance of building community.
"I know that my students at times are struggling and are going through the same challenges I went through as an Afghan Muslim woman," she said, "and I need to do what I can in and out of the classroom to connect communities."
First-generation success is of importance to Los Angeles County Supervisor Hilda Solis, whose representative, Fernando Delgado '14, presented a congratulatory proclamation to attendees and organizers for their efforts. Delgado encouraged students to take an active role in shaping their future.
The summit was organized by the Office of Diversity and Strategic Initiatives at the USC Dornsife College of Letters, Arts and Sciences.
---

USC Communications' Ron Mackovich contributed to this report.