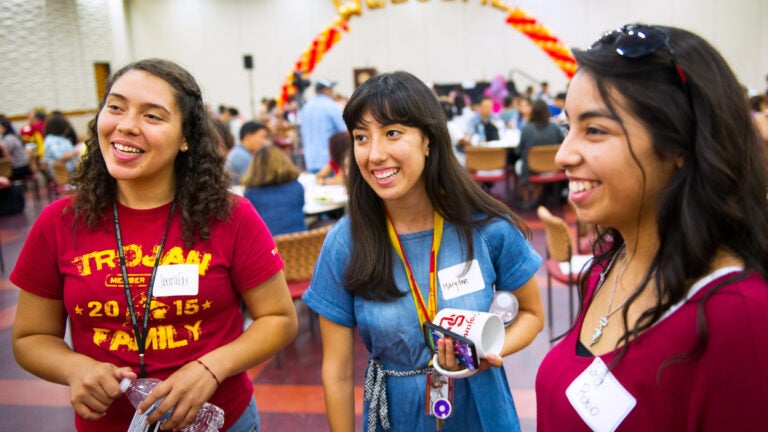 First-generation students are ready for the challenges ahead
Living up to high expectations provides motivation for a group that represents nearly 14 percent of the USC student body
[new_royalslider id="86″]
Starting college can be a whirlwind of new experiences for most freshmen and their families. For those who are the first in their families to attend college, it holds tremendous significance and often presents a unique set of challenges.
"We have found that parents of low-income, first-generation students are typically the opposite of the helicopter parent," said George Sanchez, USC vice dean for diversity and strategic initiatives at the USC Dornsife College of Letters, Arts and Sciences.
We want to see continued involvement with their kids.

George Sanchez
"Because they didn't go to college themselves, these parents tend to drop their kids off at college and that's it. We want to see continued involvement with their kids because we know that is important to students' success, so we want to bridge those gaps."
With this in mind, USC Dornsife launched "The First in the Family: Bridging Communication Between Home and the University," a new program that brought together more than 200 family members and first-generation students on the evening of Aug. 19.
Sanchez said at least 1,000 new Trojans starting this fall are first-generation — a group that makes up about 14 percent of the total student body at USC.
Figuring it out
USC senior and Norman Topping Scholar Maria Jose Plascencia shared her experience adjusting to college as a first-gen student on a panel along with parent Gricelda Bonilla, USC Associate Professor Lanita Jacobs and Mary Ho, assistant dean of diversity and strategic initiatives.
"The moment it hit me that I was first-generation was at orientation," Plascencia recalled. "I was one of the only kids without a parent there, and I was seeing parents so involved, fighting to get their kids the classes they needed, and I had to fend for myself and figure things out on my own."
Though she couldn't ask her mom for firsthand advice about college, Plascencia, like many first-generation students, had the resilience and ambition to eventually find her way.
Transfer students
Brittney McClendon, a transfer student from the University of Oregon, attended the event with her father. She said that being the first in her extended family to go to college is a source of enormous pride — and pressure.
"The biggest challenge is the pressure. I was a straight-A student in high school because I wanted to live up to their expectations," she said. "I want to make all of them proud."
Artie Garcia, a transfer student from Gavilan College in Gilroy, Calif., said his mother's high expectations have been a welcome driving force for him.
"It's very motivating to be a first-generation. It keeps me on my toes in school because I have my family looking up to me," he said. "It really pushes me harder."
His mother, Melina, like most moms, said sending her son to college is bittersweet.
"It's really emotional because he's going away, but we're really proud of him, and we want him to stay motivated," she said and then turned to Artie. "So, work hard."
Plascencia urged fellow first-gen students to take advantage of campus resources and to take great pride in all their work.
"We have to realize that we are here for a reason — and that's the hardest thing to get to really sink in — so you need mentors to help you do that," she advised. "You are powerful. You already opened a door that had never been opened before."