First-Generation College Students Transform the Face of USC
About one of every five Trojan undergraduates has parents who didn't go to college. And they're some of USC's top students.
The man strode up to George Sanchez with a sense of purpose.
Sanchez had just wrapped up a pep talk for parents of incoming USC students. The remarks capped off USC's first dinner for moms and dads of a special group of scholars—those in the first generation of their family to go to college. Now, one of the fathers wanted a word with him.
He looked into Sanchez's eye, as a young woman stood by his side, looking slightly intimidated. "Will you take care of my daughter?" the father asked in Spanish.
Sanchez was taken aback. In Spanish, he assured the man, a Mexican-American from California's Coachella Valley, that he would do his best. But he knew that his promise carried a powerful cultural obligation, especially for Mexicans.
"That connection had to be there for that father, and it was incredibly important to him," explains Sanchez, professor of American studies and ethnicity and history. "He wanted to make sure he had an adult here that he could trust."
Like that father two years ago, many parents who didn't go to college feel uncomfortable visiting college campuses, intimidated by an unfamiliar world. Their children face struggles too, and are more vulnerable to dropping out. But at USC, significant financial aid, mentoring and other resources provide first-generation students greater access to a high-quality university education and help them thrive—giving them a shot at a college degree and a better lot in life.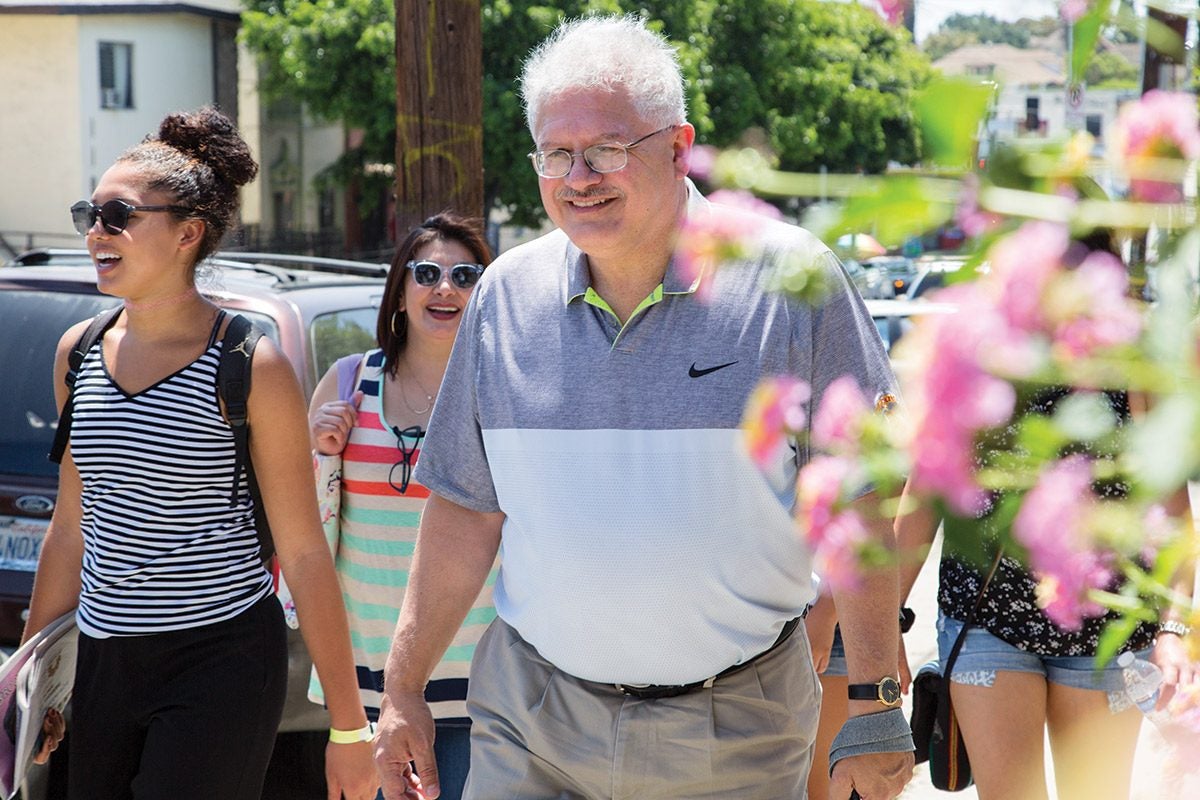 ?
FIRST IN THE FAMILY
First-generation students have become the focus of researchers' increased scrutiny. At first glance, their findings may be surprising: The percentage of first-generation students at U.S. four-year institutions declined from about 40 percent in the early 1970s to about 16 percent in 2005, according to UCLA's Higher Education Research Institute.
There's a reason for that. Forty years ago, about a quarter of adults in the U.S. went to college, but today more than half do.
The trend has a big exception: The parents of minority students are still much less likely than the overall population to have attended college. That's especially true of Latinos, followed by native Hawaiians and Pacific Islanders.
And despite gains, many academically qualified, low-income students—regardless of ethnicity—are still not getting degrees.
To fulfill their mission, colleges and universities have made a push to recruit first-generation students over the past decade. At USC, the proportion of first-generation students has more than doubled since 2005, and today they account for about one in every five USC undergraduates.
USC Provost Michael Quick says that these students bring desired values to the campus, including a powerful work ethic. "Students who are the first in their families to attend college have all the skills to be successful students—before they even get here," Quick says. "They are driven, resilient and eager to learn. They are exactly the type of students who succeed in higher education."
About 92 percent of USC first-generation students graduate within six years, just like their classmates. It's a rate far above the national average for first-generation students. Many go on to graduate school at USC, where nearly 7,100 first-generation students now account for 28 percent of total enrollment.
These students have grown up highly motivated to excel, and they've strived to attend USC to change the trajectory of their families, says Christina L. Yokoyama '02, MEd '04, director of USC's Norman Topping Student Aid Fund, a unique student-funded scholarship whose recipients are nearly all first-generation students. "Despite many challenging aspects of their lives, first-gen students are thriving because of who they are before they even arrived on campus.
"Our first-generation students contribute significantly both inside and outside the classroom, making our community a better place," says Yokoyama, who was herself a first-generation college student.
Quick, a Los Angeles native who also was the first in his family to attend college, notes that welcoming such students is "not just a mission of diversity for diversity's sake."
"Part of our mission is to educate future leaders, the next generation of people who are going to thrive in a 21st-century, mega-city, global environment," he says. "We want to look like the world because we want to be the training ground for our students, so they are ready to take on the world."
?
BRIDGING TWO WORLDS
Sanchez is one of the first contacts for many first-generation USC students. The son of Mexican immigrants, Sanchez is a professor of history and American studies and ethnicity in the USC Dornsife College of Letters, Arts and Sciences. He also was a first-generation college student—at Harvard University. At USC, he helped develop a Welcome Week orientation workshop to show families what to expect when there's a college student in the family. He has also taught the sophomore seminar "Pathways to Career Success for First-Generation Students" for many years.
As for his promise to a concerned father, Sanchez came up with a plan. The daughter — Alejandra Franco — now works as a research assistant in his office.
"It was a really humbling experience to see someone who is so successful come and talk to the first-generation community," says Franco, a political science and contemporary Latino and Latin American studies double major and a rising junior. "The thing about Dr. Sanchez that most captivated me is that when he talks, you truly feel recognized. He didn't know me then, but he seemed so interested in getting to know who I was, and what I could potentially become."
Beyond having faculty and staff who welcome such students, the first step in attracting and keeping them is understanding the barriers they face. Studies that explore the issues often describe challenges in dry, academic language. But students' own heartfelt voices speak to their experiences.
Franco, who was advised in high school to stick to state schools because USC was thought to be too expensive, says she faced low expectations.
"I feel like the biggest obstacle is trying to drown out the noise of all the negative things people say: 'You can't succeed at this because of where you come from or who you are.'" Vina Vo '12, MPL '13, who was born a year after her parents arrived as refugees from Vietnam, left USC four years ago with a bachelor's in business administration and a master's in urban planning. Yet, the issues facing her fellow first-generation students are still fresh in her mind. As if reading from an essay, she enumerates the obstacles: First, there's a lack of information and resources that forces students to make decisions without knowing all the options. Second, students have to navigate financial aid forms with little or no guidance. Third, they must overcome culture shock.
"It was really hard to relate to some of my peers who came from extremely wealthy backgrounds," says Vo, 27, who was raised in central Orange County's Little Saigon area.
She was stunned that classmates had credit cards. "They didn't have to worry about money, and I thought, 'Wow, that's such a different life.' And in a way, it was demoralizing at first. But then we ended up in the same place, despite our different circumstances. And I realized I should be really proud of where I came from."
Family finances can make bridging home and campus difficult. Sanchez recalls students who showed up to orientation alone, surrounded by classmates who had supportive parents.
Trista Beard EdD '16, associate director of USC's Norman Topping Student Aid Fund, was raised in a blue-collar household in a small community in southern Kansas and remembers the isolation that Sanchez describes.
"When I saw all those other kids, and their parents moving them into school, I felt a gut punch," recalls Beard, a first-generation student who graduated from New York's University of Rochester. "When Thanksgiving came and I didn't have anywhere to go, I felt a gut punch. When it was family weekend in October for homecoming, I felt that punch in the gut again."
?
BUILDING A NETWORK
Explains Sanchez: "One of the struggles of first-generation students is that you don't have any of the social cues that a lot of other students have. You don't know how to make basic decisions, like what should I major in, because you haven't heard of half the majors that are available. So there's a lot of trying to figure it out.
A solution to isolation? Creating a new network of peers and advisers on campus. Adult mentors can play a key role in that mission. But perhaps more important are peer relationships, says Beard, whose dissertation focused on how networks help Latino students succeed. First-generation students often follow the lead of fellow students who pass on tips and recommendations, such as what class to take or which adviser to trust.
Yet, creating that circle of trusted peers who share the same background isn't always easy. Unlike ethnicity or race, being a first-generation student is an "invisible identity marker," Beard says. That makes it hard to connect to classmates at first.
Rising senior Sierra Williams, who grew up a few blocks from the USC University Park Campus, tried to find her place when she first came to USC in 2014. Often, she found herself the only black woman in her classes at the USC Viterbi School of Engineering. Seeking a connection to others, she joined the National Society of Black Engineers and attended meetings of the Black Student Assembly.
"But it didn't click," says Williams, who was raised primarily by her mother, a retired in-home care provider. It wasn't until she joined the governing board of the Norman Topping Student Aid Fund that she found people with common bonds.
"Topping scholars all had to struggle," Williams says. "So even though our personal experiences are different, we all understand the struggle of being poor."
?
RESOURCES FOR FIRST-GENERATION STUDENTS
Leaving home for college can be fraught with turmoil for many students. Their sense of obligation to their parents is deeply internalized, and forcing them to let go can be traumatizing. There's even a name for it: breakaway guilt.
Franco, for one, worried about how to cover her college costs. Her parents had no internet service at home, so she'd spend hours at McDonald's using public Wi-Fi to fill out financial aid forms.
"In the end, they've got to let go of some of this," Sanchez says. "We have to push them to make that leap, to be a little bit selfish, because they're always thinking about their parents. They've got to start thinking about what they're giving up, because this college period is unique and will never come again."
USC has marshaled a wide range of resources to address the needs of low-income first-generation students. Faculty and staff advocate for these students across the university through a dedicated task force, which spawned the new First-Generation Student Union. Parents attend a special welcome reception on move-in day in August and a workshop during Trojan Family Weekend. A summit at USC also brings together first-generation students from several colleges, as well as researchers and educators, to talk about the needs of these students. Individual USC schools offer their own targeted efforts.
Another USC program serves as a pipeline to get more students to college. The Neighborhood Academic Initiative offers college-prep coursework for low-income students who live in the neighborhoods surrounding USC's University Park and Health Sciences campuses. Successful graduates who gain admission to USC receive a full-tuition scholarship.
The program has been Williams' ticket out. Williams—who has made the dean's list every semester but one since freshman year and who tutors high school students in AP calculus through the Neighborhood Academic Initiative—once hesitated to label herself a first-generation college student.
"I didn't because for the longest time there was a negative stigma attached to it," says Williams, who wants to be an engineering professor. "I felt like a first-generation student is someone who always needs help, or always needs guidance, or somebody else to tell them what to do.
"But now I embrace it because, yes, I'm a self-driven person, but at some point in my journey, somebody's always had to help me out."
Franco was also self-driven enough to reach beyond low expectations and learn to lean on supporters like Mom and Dad. When she was growing up, her parents kept a picture frame hanging on the living room wall. It had nothing in it. "They would tell me every day, 'That's where your college diploma is going to go.'