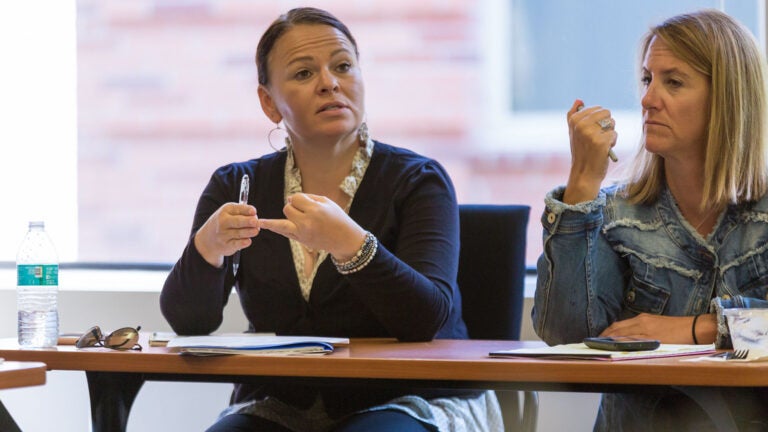 First graduates from online doctorate program turn theory into practice
The USC Suzanne Dworak-Peck School of Social Work degree affirms their skills as social work scholar-practitioners
Melita "Chepa" Rank knew that things wouldn't get better for the Native American population she works with in South Dakota unless something changed. So she decided to make the change herself.
Rank and the 15 other students in the first class of the online Doctor of Social Work program have graduated with degrees that affirm their skills as social work scholar-practitioners.
But these students have been applying what they've learned since the first day of classes. Putting theory into practice is the main objective in the innovative part-time DSW@USC program at the USC Suzanne Dworak-Peck School of Social Work.
Online doctorate of social work program: skills and knowledge
For Rank, who works as the acting CEO for the Fort Thompson Indian Health Service on the Crow Creek Reservation, the DSW@USC program was a way to bring back enhanced skills and knowledge to her community. She was tired of seeing the same social problems recur and wanted to help find real solutions as well as be able to teach others how to do so.
"I kept thinking if I don't start being proactive and taking strides to make things different, then it's going to stay the way it is," she said.
The DSW@USC program, launched in August 2016, includes a capstone project component that asks students to develop action plans to address one of the 12 Grand Challenges for Social Work, an initiative organized by the American Academy of Social Work and Social Welfare to tackle wicked problems such as homelessness and family violence.
The alignment with the 12 Grand Challenges is what attracted Rank to the program.
"So many of the challenges have an intimate connection with the Native American population," she said. "Other programs didn't have the opportunity to develop a capstone project or a network that would increase what I could do for myself, for my community and ultimately have a larger impact across the nation."
The DSW is geared toward working professionals, like Rank, who want to achieve greater impact and find breakthrough solutions for social change. In this first class, the students' average age was 43 and their typical work experience was 12 years. Most work on a full-time basis while earning their DSW, according to Carrie Lew, associate dean and founding DSW@USC program director.
"We want to prepare them to become innovative practitioners ready to tackle society's wicked problems," Lew said. "This program readies mid-level managers to go to the next level and lead an organization."
Online makes it easier
Making the degree online not only makes it easier for working professionals to participate, it also broadens the program's reach. The geographic diversity of the students means that "our approach is more global and national instead of regional," Lew said.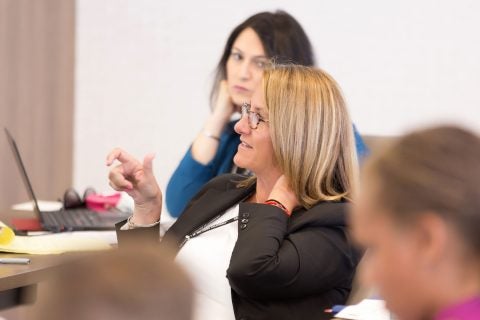 There's no shortage of social work schools in New York, where graduate Tina Atherall lives and works for a national nonprofit supporting military families. But when she decided it was time to boost her leadership skills, Atherall picked USC.
"I loved the opportunity to be in a program that was looking at social issues through a different lens," she said. And the flexibility of the online coursework made it possible to balance her academic studies with family and her full-time job as the director of community solutions at Blue Star Families.
Summer cohort expected to quadruple
Proof of the program's success is in its growth. The first class donning caps and gowns this month had 16 students. That number will likely quadruple for the cohort starting this summer. The program's national reputation continues to grow as well, with more students from outside California enrolling. In the cohort beginning in spring 2018, for example, just one-third of the students live in the state.
For Lew, who has worked at the USC Suzanne Dworak-Peck School of Social Work for more than two decades, and also earned her MSW and EdD at USC, overseeing the launch and first two years of the DSW@USC program had a special meaning. As a former admissions director for the school, she remembers admitting some of the DSW students as MSW students.
"I enjoy seeing them progress in their careers and come back for their doctorates," she said. "We are preparing innovative practitioners to make a greater impact and build a stronger, more equitable society."