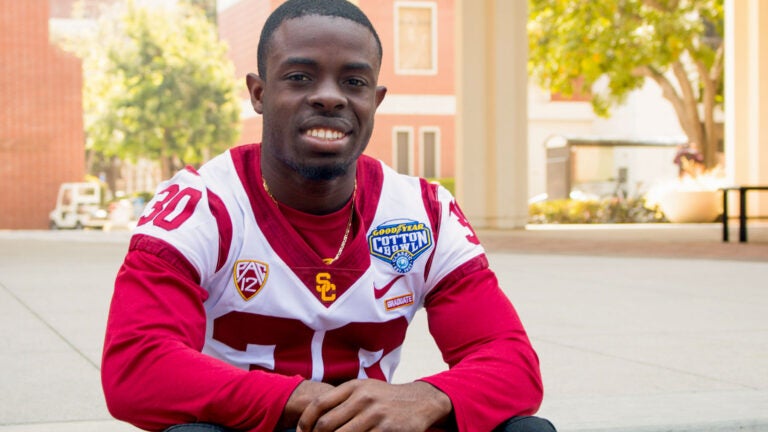 Football player turns in his cleats for computer science code
Yoofi Quansah fulfilled his dream of playing for the Trojans. As graduation nears, he's looking toward life as an entrepreneur
Growing up in Southern California, football player Yoofi Quansah dreamed of one day playing for USC, following in the footsteps of his local hero Matt Leinart. Over the past five years, he has lived out his childhood fantasy, and then some.
Quansah, who will graduate this month, played backup cornerback for the Trojans for three seasons, but his athleticism at the Los Angeles Memorial Coliseum only tells half the story. He also tackled one of the most challenging disciplines on campus, earning both his bachelor's and master's degrees in computer science in just five years with the USC Viterbi School of Engineering's progressive degree program.
Despite managing a full course load and 20 hours of training per week, he also completed two internships as a software developer and was an active member of USC's chapter of the National Society of Black Engineers.
"Balancing everything was challenging at times, but it's in my nature as an athlete to persevere," Quansah said. "I love football and my passion for the sport drove me to do well in that regard, but I'm also a student at heart."
A knack for math
Born to Ghanaian parents in Chino Hills, Quansah described himself as an athletic kid who spent more time scoring touchdowns than tinkering with gadgets. But math came naturally to him, so when it was time to choose a major, he enrolled in electrical engineering at the University of California, San Diego. Then he took a coding class to learn how to program in the C language — and it turned out to be a game-changer.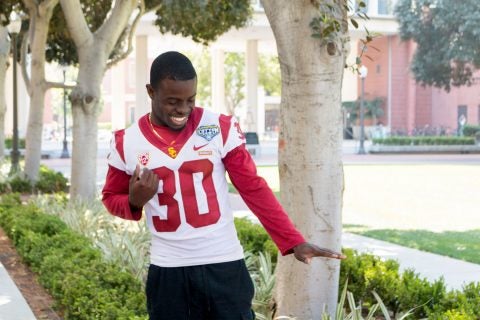 "I thought, wow, this is so optimal," Quansah said. "The startup cost to construct software is so minimal. Once you have the skills, all you need to make a product is a computer and a good idea."
At the same time, Quansah was also yearning to get back into football. That's when he discovered the Department of Computer Science at USC — home of his beloved Trojans. He switched to USC in fall 2014 and tried out for the team the following spring.
"The director of player personnel told me I'd made the cut right after Spring Game," Quansah said. "That was an incredible, surreal moment."
Since then, it has been a wild ride: In total, Quansah suited up for 32 games, including the team's 2017 Rose Bowl victory, one of the most watched college games in history.
But being a student-athlete is no easy task. Quansah's day usually started at 5 a.m. with a workout, followed by five hours of class before hitting the John McKay Center or Howard Jones Field for four hours of football practice. Later, he would take night classes, study for tests or work on team projects before turning in after midnight.
"I was training pretty much every day for three years, so giving energy to the sport and my studies was definitely tough," Quansah said.
How did he overcome it?
"Just keep the faith and focus on what you can control," he said.
Quansah also credits USC's support network for positively impacting his experience.
"USC has been very supportive and helped me throughout my whole career," he said. "I'm grateful to my advisers for getting me into the right classes that worked around practice times and my coaches for understanding my workload as a student."
Football player Yoofi Quansah: Tackling inequalities
From football player to computer scientist to entrepreneur — after graduation, Quansah hopes to create technology to fight inequalities in the education system. His parents, a nurse and insurance agent, always emphasized the importance of education, "but that's not the case for a lot of people in low-income neighborhoods," he said.
Going to college and being thrown into the world allowed me to witness how other people grow up.

Yoofi Quansah
"Going to college and being thrown into the world allowed me to witness how other people grow up. In some areas, we're not giving a fair representation of what education can do for you. It's all about equity — it's crucial that everyone has a fair shot."
Whether his future endeavor comes in the form of an educational app or low-cost hardware, Quansah may find his future business partner close to home: His brother is also a burgeoning entrepreneur studying software engineering in his fourth year at Syracuse University.
But while Quansah may have hung up the cleats to focus on coding, the sport is never far from his mind.
"For now, I want to pursue my career," Quansah said. "But I'll always have love for the sport and I'll definitely come back to it one day."