For community college transfer student, challenges before success at USC
A lack of support once held back a USC Marshall student, but transferring to USC changed the direction of her life
"I never pictured myself as a person with a degree."
Nicole Daviau said the words matter-of-factly just days before her graduation from the USC Marshall School of Business.
"Growing up, I just sort of floated through school with no real goals or dreams," she said. Academics took a back seat to socializing and music. Now, at 27, Daviau will not only graduate Friday from USC with a bachelor's degree in business, but she also has a new job waiting as an associate district manager with the Aramark Corp.
She earned good grades while she worked two jobs, founded a club for transfer students and even traveled abroad for the first time. Polished and professional in a tailored black blazer and slacks, she looks confident and ready to start the next chapter of her life.
But it's the studded leather bracelet on her wrist, peeking out from the cuff of her blazer, that gives the careful observer a hint that this determined and hard-working young woman took a few detours on her journey to USC.
'Mad at the world'
Hers was no storybook family: Daviau's parents didn't have a lot of money, and her mother wasn't around much. Her grandmother's weekly visits to take her and her brother to church and to lunch each Sunday was the sole source of consistency in her childhood.
Daviau was about 14 when her life veered off course. Her mother moved to San Diego, leaving her and her brother in their Harbor City apartment in South Los Angeles with their father, a folk rock musician who played in several bands while struggling to make ends meet.
Given more freedom than structure from her dad, she pursued music with passion and aptitude, learning how to play the guitar, piano, clarinet, saxophone and flute. When her clarinet broke during ninth-grade band practice, her heart broke, too: She knew that her father couldn't afford to fix it. She dropped out of high school shortly afterward, uninterested in going to class if she couldn't play in the band.
"I was mad at the world."
Certain that her father could never understand how she felt as a teenager and a young woman, she moved in with a friend. There she was free to do whatever she wanted. And going back to school wasn't part of that plan. Instead, she babysat to make money, living a goth version of la vida loca. Partying with friends at night filled the holes in her life, numbing any pain and anxiety. She concealed the details of her day-to-day existence from her father, who had his own troubles finding and keeping a job.
Though her friend's mother tried to persuade Daviau to re-enroll in school, surprisingly, the pressure to return to class came from the children she babysat.
"I'd walk them to school each day," she said, "and they'd complain how unfair it was that they had to go to class and I didn't."
Back on track
Because Daviau wanted to set a good example for the children, she found adult education classes and got on track to earn a high school diploma.
A front-line job as shift leader at a sandwich shop led to an assistant manager position at a candy store, and Daviau started earning enough money to support herself, as well as her father and brother. Not that she always avoided temptations: She still struggled to avoid what she describes as "questionable situations," but her wake-up calls eventually worked.
It was time to get serious.
She finished her high school studies, passed her GED exams and had what she thought was her dream job, seeing concerts and events for free while working event services at venues like the Stubhub Center in Carson. Then an acquaintance told her about the classes he was taking at nearby Los Angeles Harbor College. If he could do it, so could she, she thought. She signed up for music classes, earning a certification in the recording arts. Her good grades drew the attention of a counselor, who mapped out a course for her to earn an associate's degree.
As she neared her graduation date, her professors and counselors encouraged her to transfer to a four-year school, once never even a passing thought. Even though music was her passion, her professors advised her to pursue it as a hobby. With help, she applied to several schools, choosing business as her major.
She applied to several California State University campuses, including CSU Dominguez Hills, where she won a presidential scholarship competition with full tuition, book stipends and free parking. Tempting. Then a professor she admired challenged her to apply elsewhere: USC.
Bound for USC
She had doubts. How would she afford USC tuition? But the professor nudged, offering to pay her application fee. Reluctantly, Daviau waited until the last day to submit her application, certain of rejection.
A few weeks later, a yellow packet arrived in the mail. Could it be?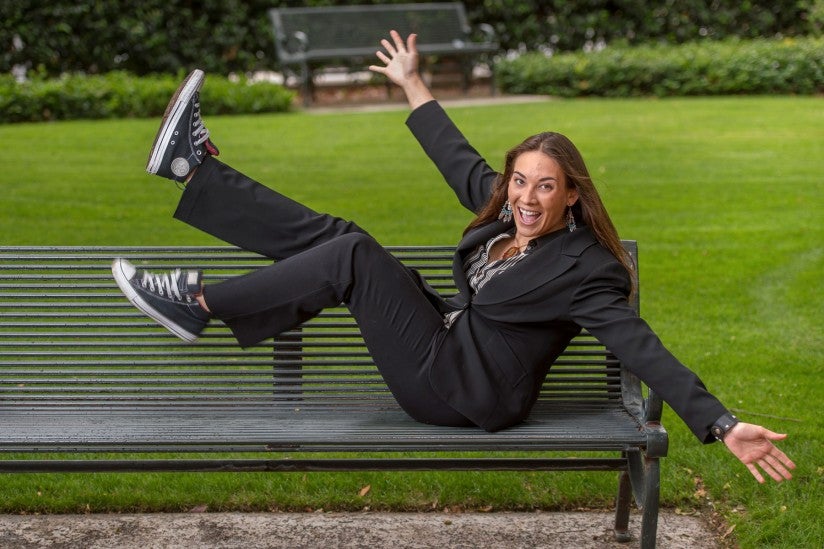 She had been accepted into the school and was offered a financial aid package, including a generous university grant, that would make it affordable. She was USC-bound.
Not that it was an easy transition. Admitted for the spring semester, she immediately took a full load of classes while working two event-services jobs to contribute to her family. Her daily commute expanded from five minutes to four hours on the bus, round trip. She had to make up general education requirements that she'd missed as part of her associate's degree. And she worried that she didn't fit in because she didn't have the nicest clothes or a lot of money. At times, she questioned if it was worth the sacrifice.
Life started to change once she enrolled in a seminar taught by George Sanchez, a USC professor and vice dean for diversity and strategic initiatives at the USC Dornsife College of Letters, Arts and Sciences. His sophomore seminar "Pathways to Career Success for First-Generation College Students" taught her how to better navigate her time at USC as well as create a plan for what would happen after graduation. Sanchez also encouraged her to take a university-led trip to the United Arab Emirates, which helped her make more friends, expand her network on campus and give her broader perspectives. The trip to Dubai was only her second time on an airplane. The first was a few months earlier, when Amazon flew her to Seattle for a job interview.
Meanwhile, she joined with other transfer students and student government to create USC's first transfer student community. The new club began meeting in January, striving to bridge the gap between transfer students and the USC community at large. For Daviau, it was important to help smooth the path for other transfers who would come after her. Their recent Launching Leaders event, a collaboration with groups including the Latino Student Assembly and Marshall Student Business Network, packed the room with students interested in networking and developing as professionals.
Now that she's graduating from USC Marshall, she recalls the rough transition of that first semester with a bittersweet smile.
"USC has challenged me in ways I would have never thought possible," she said. "It's given me confidence and removed my doubts about myself. Coming here has been one of the most rewarding things I have ever done in my life."