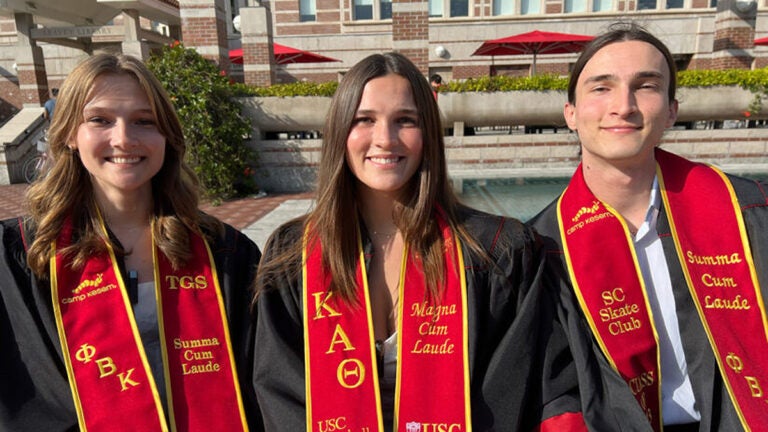 For the first time in 21 years, Trojan triplets will go their separate ways
COMMENCEMENT: Ireland, Kala and Smith Shute have rarely been apart. That will change after commencement. It's a bittersweet milestone in the triplets' journey.
They did college the way they've always done everything: together.
They got together often for meals. Two lived in the same residence hall during their freshman year. Text threads rarely rested.
The Shute triplets, born in 2001, are completing their four-year stint at USC. Their degrees, like their personalities, are different.
(Story continues after video)
For Ireland, oldest by a few minutes, it's a psychology degree from the USC Dornsife College of Letters, Arts and Sciences. Kala, often the first to speak, is graduating from the USC Annenberg School for Communication and Journalism with a degree in communication and a minor in marketing. Smith, a certified EMT who serves as referee when his sisters argue, is graduating from USC Dornsife's human biology (pre-med) program.
"College was our first chance to get some distance to kind of grow as individuals," said Kala. "It's taught us who we are, by not being compared with one another all the time. On the other hand, once we got settled in here, we kind of realized we missed being able to be with each other all the time."
Trojan triplets: One another's guardians
Throughout the past four years, the triplets acted as one another's on-campus parents, texting about classes, taxes and weekend trips home to La Cañada Flintridge.
They got support from the Trojan Guardian Scholars program, which helps current and former foster youth who attend USC. The Shute triplets also qualify because they spent time in kinship care before they were adopted.
Assistance navigating financial aid, health services, mentoring and social events all fall under the program's range of support. The triplets' graduation garb was provided by Trojan Guardian Scholars, part of the USC Suzanne Dworak-Peck School of Social Work.
"They're among the most contributing members of the group," said Jun Hyuk Park, a Master of Social Work candidate who interns with the scholars program and counseled the triplets. He describes himself as deeply invested in the Shutes' journeys.
"When I got to know them, I'd say Smith provided the canvas, Ireland gave me an outline and Kala provided the colors," he said. "So with three perspectives, I was able to envision this family landscape and see how they've blossomed."
A crowded commencement for Trojan triplets
There will be a big turnout among the triplets' family members at commencement. Older brother Cole, who graduated from USC last year, will be there. So will younger brother Trevor, who's studying cognitive science at USC right now. Then there's older sister Lauren, who graduated from USC during the early months of the COVID-19 pandemic in 2020.
The triplets' adoptive parents, longtime Trojan fans Joe and Christine Lee, wouldn't miss it, and five other relatives are flying in.
"It'll be a bit chaotic," Ireland said. "We'll be running from one ceremony to another."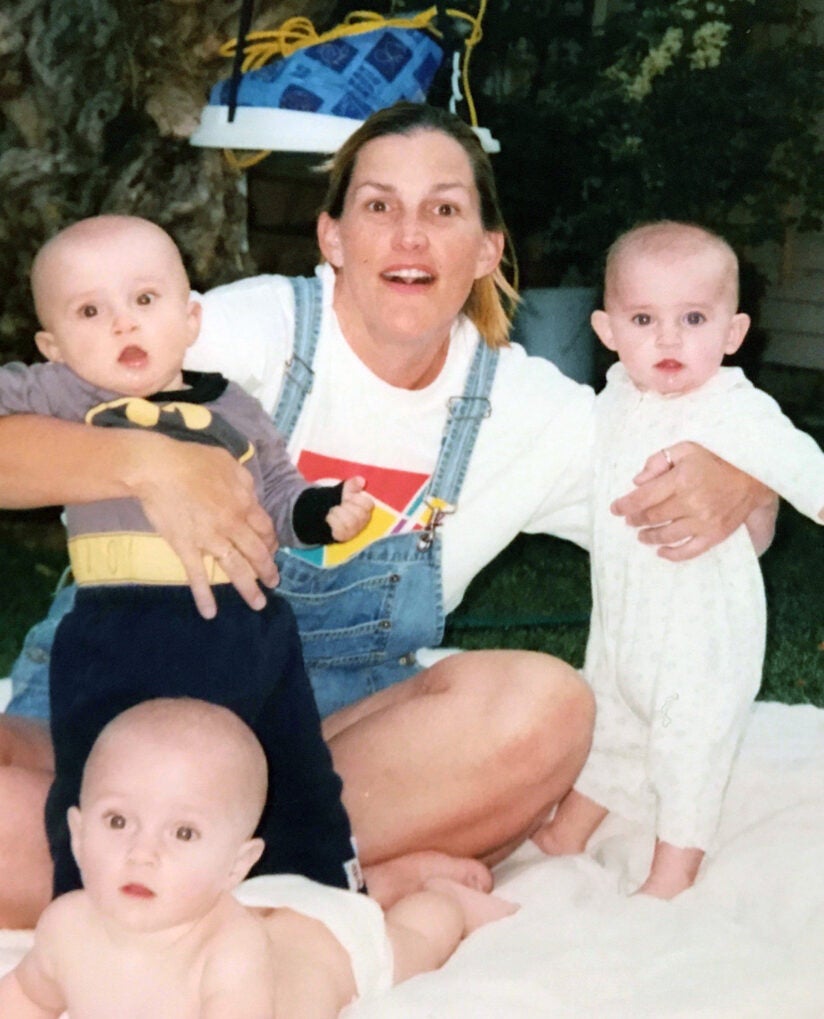 Controlled chaos is nothing new for the Shute triplets. They were raised by their mom, Robin Shute, a single parent who worked 80 hours a week. She graduated from USC in 1997 and worked in the emergency room as a physician assistant at Los Angeles County+USC Medical Center. She passed away from cancer in 2017 when the triplets were 15. The Lees — close friends and neighbors — adopted them.
"The seeds of resilience were planted early in their lives," Park said. "From their loss, they uncovered a sense of purpose."
Different directions
Though plans are not entirely firm, Kala and Ireland will start their careers soon after graduation. Smith will take a gap year.
The future is almost here, and it brings something entirely new: distance. The Shutes will be apart. They just don't know by how many miles.
"It's going to be a big life change, but it's not anything we're not ready for," Ireland said. "Ultimately, no matter what the distance, we're all rooting for each other and hoping that we all do great things."
"It'll be a little scary, for sure," Smith said. "But we're all ready to leave the nest now. And I'm very excited to see what my siblings do. Regardless, if they end up here or across the world, I don't care because we're always going to be together."
---
? LEARN MORE: Watch KNBC-TV's report about the Shute triplets.