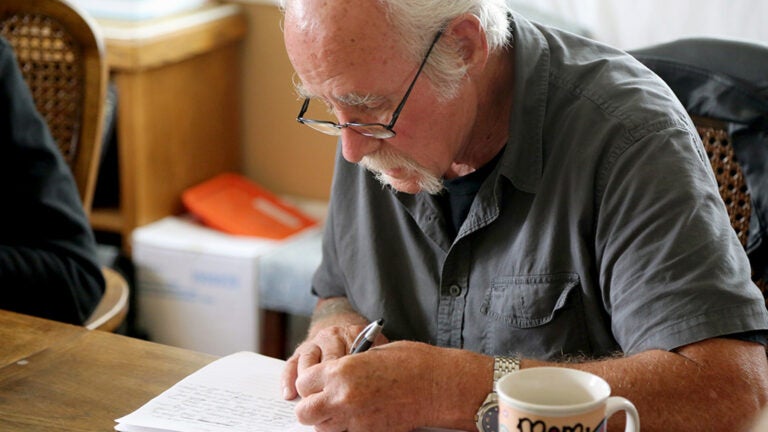 Former prisoners find their voice — with help from writing workshops
Creative writing course is part of a larger effort to help individuals reintegrate into society
First of a two-part report (read Part 2 online).
"The hole. The hole is nothing like the movies or TV make it seem. It's so much less and so much more all at the same time. It is one of the most boring places on earth. You are in a little cell and in isolation with absolutely nothing to do. And 24 hours a day, you can hear the cries, screams, whimpers and cursing of those around you going slowly insane. That is, until the sounds become so familiar they are merely background noise. My only protection was to go inside of myself and deep into my own mind."
On a Saturday evening in October, The Francisco Homes, a social justice nonprofit providing support to former prison inmates, held its annual Night of Appreciation event.
Standing before a room filled with donors and friends of the organization, Paul Harrison carefully read from a page in his hands as writing teacher Ben Pack MPW '12 held the microphone for him.
Harrison's piece is a candid reflection on his experiences in, and now out, of prison — a written work he had been refining over the past six weeks.
"I've never written a thing in my life before," Harrison insisted.
And he never would have, he added, if not for the creative writing workshops he attended at The Francisco Homes. The classes are taught on a volunteer basis by Pack and several faculty members from The Writing Program at the USC Dornsife College of Letters, Arts and Sciences.
For the past decade, Associate Professors Stephanie Bower and John Murray have been working with the Catholic faith-based organization, located just a mile away from the University Park Campus. It offers holistic support, a place to live and a sense of community for formerly incarcerated individuals attempting to reintegrate into society after long prison sentences.
Classes such as "Writing in the Community," co-taught by Bower and Murray, unite students from across USC with community organizations like The Francisco Homes, allowing undergraduates to work directly with community partners to tell the important stories coming out of their organizations.
Each spring, the professors bring in a few men from The Francisco Homes to their classes to speak about their experiences. Bower said this has been "tremendously impactful for students."
"It's always one of the best classes of the semester," Murray agreed. "The men are very generous with our students and have always made such an effort toward them and us."
That, he said, is why he and his fellow faculty members wanted to donate their own time and expertise to do something for the men.
Going out into the community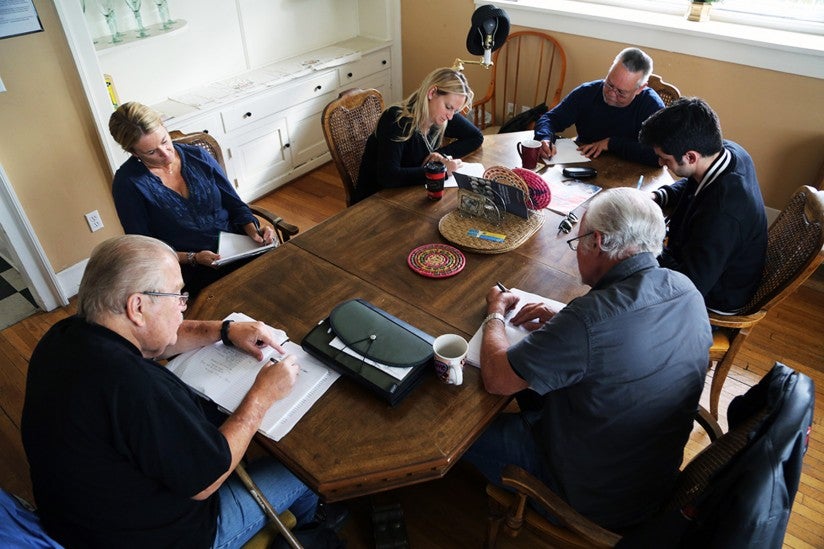 Bower and Murray recently were inspired after hearing about a pop-up writing workshop for underserved populations at a conference on community writing in Denver. They were eager to institute something similar back in Los Angeles.
"It seemed like something we'd like USC to be doing more of — going out into the community and bringing the community in," Bower said.
In March, Bower and Murray joined forces with their colleagues Pack and Emily Artiano, lecturers in the Writing Program, to team-teach weekly creative writing sessions for residents of The Francisco Homes. They recently refined the format into a six-week workshop during which the participants read their pieces, get notes from the instructors and each other, and bring in a revised version the next week.
"The men have become wonderful critics for each other — and in that way it became a genuine writing workshop rather than just us being the teachers," Bower said. "But I think being listened to by USC faculty validates them."
Eventually, the instructors are hoping to create a printed publication to compile the men's written work.
A Night of Appreciation … and then some
Culminating the six-week workshop with a live reading at the Night of Appreciation was, by all accounts, a successful innovation.
"We recognized what the men were really interested in was telling their story for an audience," Bower said. "It meant a great deal to them to be able to imagine that their words could make a difference for other people making decisions in their lives.
"They talk a lot about the process of 'rehumanization,' so telling their stories gives them the ability to see themselves in a different light that's not defined by the prison identity."
Murray agreed.
"These guys all have really unique stories," he said. "And I think it's a population that gets totally demonized in the general population, so to get out the humanity from behind their stories is really interesting."
Several workshop participants read their pieces aloud to an audience that for some included family members and for others was their first time sharing their writing outside of the workshop. David "Smitty" Smith was among those.
Smith, who served "28 years, three months and 13 days" in state prison, began attending the creative writing sessions early on. It was the first time he'd ever attempted to write anything other than a letter, he said, and he has appreciated the insights the workshops have given him on how to transfer some of his feelings into language.
"I've benefitted from the opportunity to release or put down in words things that usually just spin around in my head," he said, "and the opportunity for release and clarity of thought through the written word. The most important is the opportunity to learn and use the lessons to refine a writing process."
Murray reflected on how valuable the act of writing can be.
"I think [working with these men] is a great reminder of what a luxury it is to write, to be able to articulate and process your experience and understand yourself better through writing.
"They have such gratitude for our showing up and that's been sort of a surprise because it's easy to forget what a great privilege it is to learn and to share your life experiences."
Part 2 explores the former prisoners' process of building a new identity.