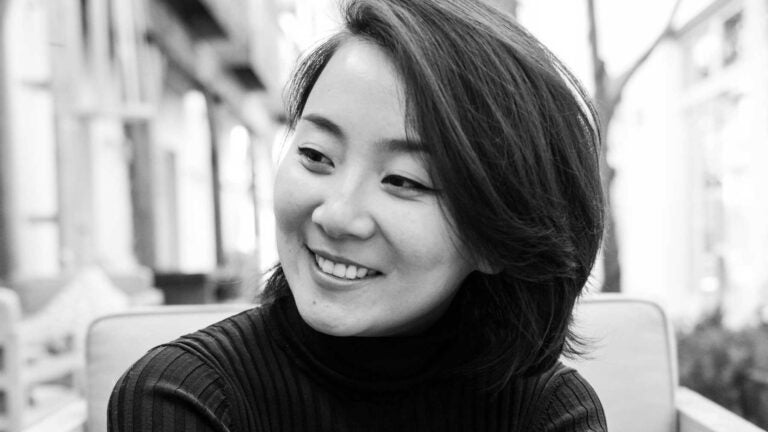 Former video game developer turns bestselling fantasy novelist
Alumna Marie Lu left her academic pursuit of law and medicine to focus on gaming and writing
Lauded by critics as "a hit factory," New York Times best-selling novelist Marie Lu '06 is one of the young adult fiction genre's biggest stars, but her path to success wasn't straightforward.
First, although she loved writing and had written stories since she was a child in China, Lu didn't consider writing to be a viable career option. Instead, she planned on becoming a doctor or lawyer and pursued a degree in political science at the USC Dornsife College of Letters, Arts and Sciences while also taking classes in biological science.
However, as graduation approached, she felt more and more unsure about her ambitions.
"I remember walking around campus feeling down and out of sorts because I knew I didn't really want to go into medicine or law, but I didn't know what else I could do," Lu said.
Then, a notice posted on a campus bulletin board stopped her in her tracks.
"In big, bold letters were the words, 'Do You Like to Play Video Games?'" she recalled. "In smaller letters below, it said, 'Do You Like to Draw?'"
It was a recruitment ad seeking eight interns to create new video game ideas for Disney Interactive Studios. To Lu, a keen gamer and part-time artist, it seemed almost too good to be true.
"It was a very strange, sudden, serendipitous moment. I remember standing there and thinking this was the coolest job I'd ever heard of."
Lu rushed back to her dorm, put together a portfolio and applied.
She was successful and ended up working in the gaming industry for five years as a concept artist, developing new game ideas.
A new, creative impetus
While at college, Lu had tried to get her writing published, but rejections from publishers made her so disheartened she stopped writing for several years.
Going into the video game field made me excited about writing again.

Marie Lu
"Going into the video game field made me excited about writing again," Lu said. "I credit working in gaming for getting me back on my feet with my writing."
She was 26 when she got her first publishing deal for her novel Legend. Set in a dark, futuristic Los Angeles that's partially flooded, this initial foray into Lu's first trilogy follows the story of America's most wanted criminal, a boy from the wrong side of the tracks who meets a brilliant, wealthy girl serving in the military.
"I felt the book represented the L.A. that I understood. It's a beautiful city, but it's also grungy and dirty with a stark divide between rich and poor. That contrast always fascinated me, and I wanted to write about it."
In writing Legend, Lu drew on her first impressions of L.A., formed when visiting the city to tour USC, an experience she describes as "very exciting but incredibly intimidating.
"At the time I was living in a quiet Houston suburb, aptly named Sugarland. Then suddenly we were in L.A., this concrete jungle full of people and new sights and smells and crazy freeways. I remember feeling like an alien in a new land."
USC inspired her writing in other ways, too.
"Although I didn't follow my original career plan, I loved my classes at USC Dornsife, and a lot of what I learned and observed has crept into my books. I don't think I have written a single story where politics didn't play some prominent role in the story."
Lu cites two professors at USC Dornsife whom she found particularly inspiring: the late Mark Kann of political science and history and David Caron of biological sciences.
"I had such a wonderful time working with Dr. Caron in his lab that I ended up writing him as a cameo character in my first series," Lu said.
Star power
Lu's eagerly awaited new novel, The Midnight Star (G.P. Putnam's Sons Books for Young Readers, 2016), was recently published.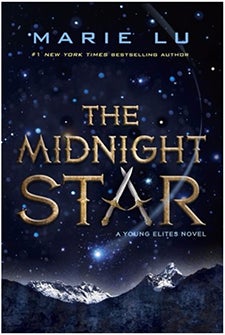 Set in a dystopian fantasy world, the novel is Lu's sixth overall and the third and final installment in her current young adult fantasy series, "The Young Elites."
"The trilogy is a twist on the superpower genre because the novels are written from the perspective of a villain instead of a hero," Lu said, referring to her antihero, Adelina, whom she describes as "essentially the teen girl version of Darth Vader.
"The Midnight Star explores Adelina's downfall into darkness, why she chooses to become a villain and whether — once someone falls — it's possible to find redemption," she said.
Interestingly, Lu didn't start out with a villainous protagonist.
However, her original, clean-cut, Clark Kent-style hero failed to meet the approval of her agent, who advised Lu to ditch the hero and concentrate instead on Adelina.
Lu was immediately intrigued by the idea of writing from the villain's point of view.
"It's not a perspective that gets tackled a lot, even if many of our favorite characters tend to be villains," she said.
The creative process
Lu's advice for would-be writers? Don't be afraid of writing a bad first draft.
"I think a lot of early writers have this perfect vision in their heads. That's how I was when I first started. After 50 pages or so, I'd start getting distracted and tired of the story I was working on and I'd want to jump to some new shiny idea so I never finished anything."
Instead, Lu finds it helps to think of her first draft as "draft zero."
"I tell myself it's just a glorified outline and I'll get to the good stuff later. Pushing back against my inner editor was a hard lesson for me to learn. Even now I intensely dislike writing first drafts."
She also describes herself as "a pantser."
"Unlike plotters who meticulously map out what's going to happen, I write by the seat of my pants, making up stuff as I go along. I'm constantly surprised and terrified as I write. It's panic-inducing, but supremely exciting at the same time."
Lu's greatest satisfaction with her career is the ability to support herself by doing something creative.
"I can't exaggerate how much I love writing and creating stories," she said. "To know that I can entertain people or make them happy even for a few hours with something I have made is really gratifying."