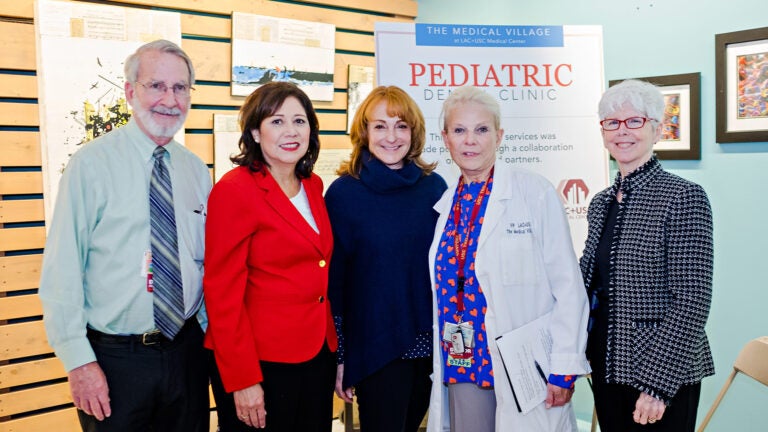 Foster care children now have a place to get dental care
USC school opens a new pediatric clinic at Los Angeles County + USC Medical Center
Overlooked in the past, many foster care children in Los Angeles County have been unable to find dental care.
Teaming up with the Violence Intervention Program and the office of Los Angeles County First District Supervisor Hilda Solis, the Herman Ostrow School of Dentistry of USC has opened the Pediatric Dental Clinic at the Los Angeles County + USC Medical Center this spring.
The idea started with Astrid Heger, who approached Roseann Mulligan in 2011 about this special population of children.
"For the longest time, foster children have had an unmet need for dental care. It is often the first or second most-cited need," Mulligan said. "This lack of care is in part due to the frequent moves from family to family that foster children undergo, which does not allow the discovery and building of a relationship with a nearby dental office."
By locating all health care services at one site — the Village at LAC+USC Medical Center — foster children will now have a place where they can receive dental care, integrated with their medical care, on a regular basis, Mulligan explained.
"The PDC's ability to meet the oral health needs of foster children and especially to provide ongoing preventive care has been lacking for far too long for these at-risk children," she added.
Trying to reach 45,000 children
The PDC is part of an $18.4 million grant received by the Ostrow School of Dentistry in 2012 from First 5 LA to fund the Children's Health and Maintenance Project. The goal: to reach an overall target population of 45,000 children.
The PDC participates in the training of 10 Ostrow School advanced pediatric dental residents, with the hope that the experience will increase the residents' desire to help underserved populations in the future.
Mulligan, who serves as associate dean of community health programs and hospital affairs, has a personal goal to get oral health services to people who have no other access. Whether it's foster children, the developmentally disabled, geriatric patients or homeless vets (to name just a few discrete populations the Ostrow School serves), she believes that oral health care should be available to all.
"I think it's important to your overall systemic well-being as well as your psychological outlook," Mulligan said. "There are many populations where the lack of good oral health has a profound effect on individuals and the quality of their life, potentially their ability to get jobs, their ability to do well in school."