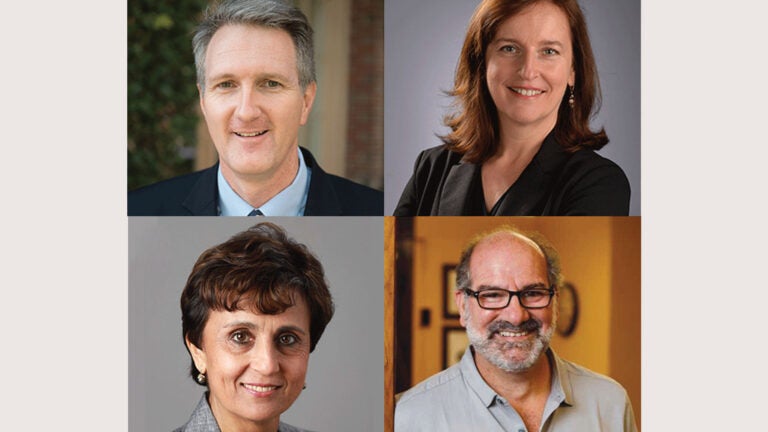 Four USC professors selected as fellows of renowned scientific society AAAS
The USC scientists join 36 other faculty members as fellows of the American Association for the Advancement of Science.
Four USC professors have been selected as fellows of the American Association for the Advancement of Science (AAAS), a top honor bestowed to leading scientists for research excellence and service to education.
The new USC fellows are:
Each year, the Washington, D.C.-based AAAS leadership council elects members whose "efforts on behalf of the advancement of science or its applications are scientifically or socially distinguished." The program was started in 1874 by AAAS, the world's largest general scientific society and publisher of the journal Science.
The four faculty members represent the diversity of the research enterprise at USC. They are experts in dental repair, molecular chemistry, dinosaur evolution and computer science. They share this honor with 36 other USC faculty members who were previously elected to AAAS.
Stephen Bradforth: widely decorated physical chemist
Bradforth is the divisional dean for natural sciences and mathematics at the USC Dornsife College. He's also a fellow of the American Physical Society, among other honors. He's taught at USC for 23 years.
"This [AAAS fellowship] is something you hope in your career will come, but you never know," he said. "To know your work is recognized in the larger scientific community, well, it's a great honor to think I'm amongst that group of top scientists and peers."
As a physical chemist, Bradforth's lab designs experiments to gain a deeper understanding of how the interconnected motions of molecules impact chemical reactions in complex but frequently encountered environments — such as the aqueous milieu of cells — or in functional molecular materials — such as organic light-emitting diodes and more efficient solar energy cells made of organics or quantum dots. His research also applies ultrafast laser techniques to address contemporary scientific challenges that span multiple fields.
The AAAS lauded Bradforth for his work "tracking electronic structure that guides chemical reactivity within complex environments and challenging teaching quality and innovation in the undergraduate STEM fields."
Luis Chiappe: worldwide expert on dinosaur evolution, now AAAS fellow
Chiappe is an adjunct professor at the USC Dornsife College and senior vice president of research and collections at the Natural History Museum of Los Angeles County. He curated the award-winning Jane G. Pisano Dinosaur Hall exhibition at the museum and heads the Dinosaur Institute, a vast collection of fossils of dinosaurs and other prehistoric creatures. He is also a John Simon Guggenheim Fellow, among other honors.
"This feels great," Chiappe said upon learning he'd been selected as an AAAS fellow. "It's a big honor, and it builds the reputation of the Natural History Museum and USC. Together, we've been building a lot of expertise in paleoscience, which makes us very well positioned to understand the history of life on Earth."
As a paleontologist, Chiappe has conducted extensive research on the evolution of dinosaurs, from their reproductive behavior to their evolutionary connection with birds. He is considered to be one of the world's authorities on the subject. He's also a strong advocate for science communication, conveying the relevance of science to the public.
The AAAS lauded Chiappe for "distinguished contributions to the field of paleontology, particularly for the origin and early evolution of birds."
Ewa Deelman: advancing scientific discovery through computer science
Deelman, who has been at USC since 2000, is a USC Viterbi research professor in computer science. She is also research director of the science automation technologies at USC's Information Sciences Institute. She specializes in distributed computing, scientific workflows and computational reproducibility.
"I was shocked to get this news," Deelman said. "It's an awesome recognition."
The honor is especially meaningful, she said, because it acknowledges how computer science is advancing scientific research across many frontiers, from astronomy and bioinformatics to earthquake science, gravitational-wave physics and agroecosystems, among others.
Deelman's research on distributed computing involves how to best support complex, multi-task scientific applications on a variety of computational environments, including campus clusters, high-performance computing platforms and clouds. She and her team designed new algorithms for job scheduling, resource provisioning and data storage optimization in the context of scientific workflows. They also developed software that maps complex application workflows onto distributed resources, used by researchers in other fields.
The AAAS lauded Deelman for "distinguished contributions to the field of computer science, particularly for the design and optimization of scientific workflows in distributed and high-performance environments."
Janet Oldak: groundbreaking research in the dental field and beyond
Oldak is a professor of dentistry at the Ostrow School's Center for Craniofacial Molecular Biology and a professor of biomedical sciences and bioengineering at the USC Viterbi School. She's an expert on tooth enamel formation and structural biology. She's worked in the field for 25 years.
"I've always been very curious. I've never been someone to accept something given to me on a plate. I've always wanted to make my own plate and cook it, so to speak," she said.
She came to USC after looking for a university that valued research and that felt like a good fit. "I needed a place to call home, a comfortable place, a safe place. I found that at USC," she said.
Oldak's research focus is on how proteins and bones form minerals in organisms. Her work has important implications in the dental field and beyond. She has developed hydrogel for regrowing tooth enamel and hopes that, one day, full enamel remineralization will be possible. Synthetic enamel would be an attractive option compared to amalgam or composite for patients looking to repair tooth decay or damage and regain the original strength of their teeth, she said.
The AAAS lauded Oldak for "outstanding contributions to molecular mechanisms in biomineralization, assembly and function of inherently disordered matrix proteins for development of biomimetic peptide-mediated strategies for tooth repair."
The AAAS awarded the distinction of fellow to 443 researchers nationwide this year. Founded in 1848, AAAS includes more than 250 affiliated societies and academies of science, serving 10 million individuals.