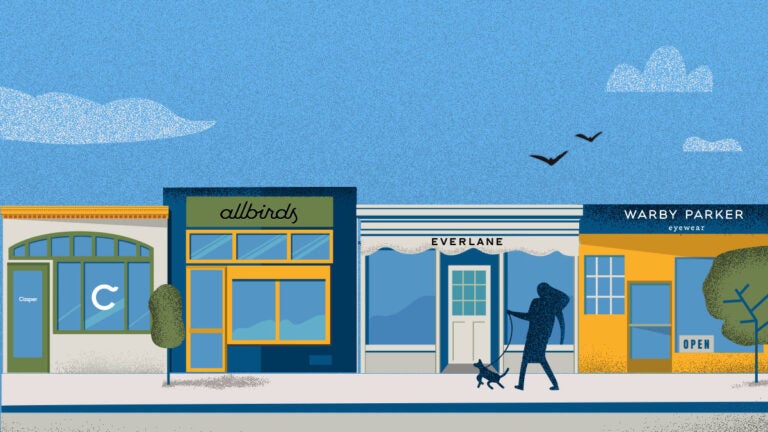 From Away to Everlane, why are direct-to-consumer brands the hot retail trend?
USC experts explain what's behind the sweeping switch from brick-and-mortars to online-only brands
Twenty years ago, buying eyeglasses or a mattress online might have seemed crazy. But with the recent ubiquity of direct-to-consumer brands, it's becoming the norm.
The upside of skipping the brick-and-mortars was getting a higher-value item for a lower cost, with the idea that the company passes on some of its savings to the customer.
Although this isn't new — think back to the Sears catalog and, in recent years, Dell and Bose — the fact that nearly everything we own can be marketed without a physical presence is somewhat revolutionary.
We used to shop via catalog because it was convenient, said USC Professor Elizabeth Currid-Halkett. But this model "today, symbolizes something different."
One of the big reasons we're seeing the growth of companies such as Warby Parker and Casper is due to a certain generation: millennials.
Direct-to-consumer brands: buying the basics
There's Everlane, a clothing retailer that sells quality basics — such as grade-A cashmere sweaters and Italian shoes — at competitive prices. The company shares everything from its sourcing and factory locations to a breakdown of its costs — for example, its Cashmere Crew costs $42 to make and sells for $100, half the price of a competitor.
The company dubs it "radical transparency" — and that's something millennials care about, said Currid-Halkett, a professor at the USC Price School of Public Policy.
If you look at an Everlane catalog, the whole thing is about how the materials are sourced, why they made it.

Elizabeth Currid-Halkett
"If you look at an Everlane catalog, the whole thing is about how the materials are sourced, why they made it," said Currid-Halkett, author of The Sum of Small Things: A Theory of the Aspirational Class. "There's a human story and a human face associated with the things we buy."
Shoppers today want to know the ins and outs of a brand, from the founder's origin story to how the product is made and why it costs what it costs.
Sustainability is important and something publicized by such brands as the athleisure company Girlfriend Collective, which shares videos of how its leggings are made from recycled water bottles and fishnets.
"People don't want to go into an anonymous store and buy an anonymous sweater anymore," she said.
At the end of the day, millennials care about the "story" behind a product possibly more than any generation before, according to Steve Barth, an assistant professor of entrepreneurship at the USC Jimmy Iovine and Andre Young Academy.
Trusting direct-to-consumer brands
To fork over cash for something before you even see it takes trust — especially for items we're so used to eyeing and trying, like mattresses or luggage.
Direct-to-consumer brands have to work twice as hard as traditional retailers to keep consumers happy. This means stellar customer service, such as live chats online with representatives, free returns and lifetime warranties.
It also means living up to their hype.
"They have to earn and keep your trust in an environment where trust is much more easily lost because complaints go viral," Barth said.
And some of these products are capitalizing on not-so-great shopping experiences. Take mattresses.
"People have come to realize that the average mattress store is about as ethical as a used car lot," Barth said. "Trying out these mattresses isn't a guarantee that you're getting the level of quality you want for your money. It's so bad that people feel comfortable buying a mattress on the internet. If you think about that, that's a pretty stunning change."
Before Philip Krium co-founded the mattress firm Casper, he was surfing the web, seeing what mattress giants were doing online. He found that most weren't selling online at all and the ones that did were speaking in a language completely foreign to their audience — using strange jargon like "cooling gel beads," he told Fortune.
At first, Casper stood out for selling a mattress in box, but now several startups have followed suit —differentiating in different ways. Casper, which offers a 100-day trial, has expanded to pillows and dog beds.
Away luggage has a similar story. Its founders saw that millennials were spending more money on experiences than previous generations — which translates to travel — but the luggage industry seemed to ignore them. Now there's Away, marketed as "first-class luggage at a coach price," with its sleek polycarbonate-shelled bags in an array of colors.
Are brick-and-mortars next for direct-to-consumer brands?
As direct-to-consumer brands get more clout, it's possible they'll consider opening brick-and-mortars. Barth said that's when the scalability of these businesses might prove tricky, especially if they're operating on razor-thin margins.
"It's possible to shoot yourself in the foot," he said. "If you positioned your product at a price point that depends so much on the direct-to-consumer model that you can't afford leases, retail employees or additionals stages to your supply chain."
Given the popularity of these brands — and their catering to millennials via social media influencers — it's not uncommon for Barth's students to get jazzed on the direct-to-consumer model. But he cautions them.
"When these sites launch, you don't see all the trial-and-error work that came before," he said.
It's important for students to see the value in prototyping, testing and not only identifying a solution to a problem, but identifying a customer.
"You don't just cut a piece of foam and say, 'I'm going to sell a mattress,' " he said.