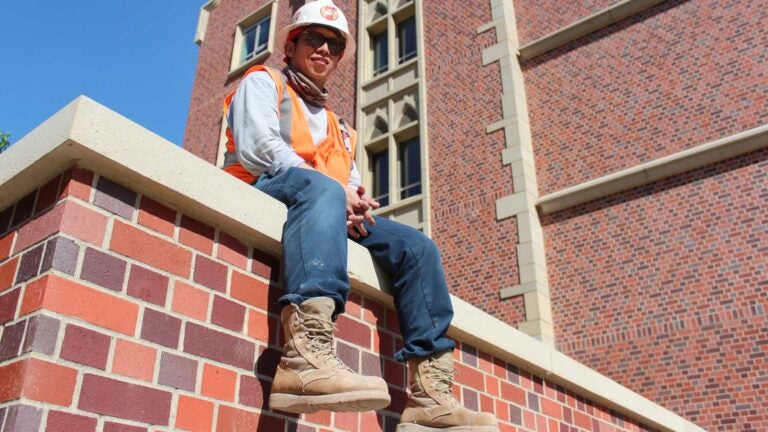 From the boots up: Local workers get help from Trojans
Support from faculty, staff and friends leads to career advancement at USC Village
Like any career or trade, masonry has startup costs. Tools, boots, union initiation fees and dues can total more than $400 — no small sum for a worker like Marco Sanchez who's just getting started. That's where the Good Neighbors Campaign comes in.
"They helped me get going," said Sanchez, a 27-year-old father who walks to work at USC Village. "I used to work at the airport, but I wanted to pursue a career with better pay and benefits."
In order to advance his career, several community partners joined forces to ensure that more community members get an opportunity to work at USC Village.
With support from YouthBuild, a community-based organization, Sanchez met with representatives from Hathaway Dinwiddie, the USC Village construction firm that's made it a priority to hire local workers.
The next stop for Sanchez was the South Los Angeles WorkSource Center, which provides connections and training at no cost.
"Anybody who comes in from the neighborhood, we funnel them into our pipeline and make sure they're ready to go to work," said Angela Samstag, a manager at the center. "They go through different stages from orientation to training. Some, like Marco, have been on the job since last fall."
Boots and dues
The center is using a $25,000 grant from the Good Neighbors Campaign to help dozens of South L.A. jobseekers with the cost of boots, tools and initial union dues.
The campaign is funded entirely by donations from university faculty, staff and friends who have donated more than $20 million since 1994 — money that stays in the community.
We strive to support economic development right here in our own neighborhood.

Carolina Castillo
"We strive to support economic development right here in our own neighborhood," said Carolina Castillo, executive director of development with USC Civic Engagement. "The WorkSource grant is Good Neighbors in action, helping people who live around USC get on the path to a lifelong career."
The result of the collaboration is that hundreds of locals workers were given the opportunity to work at USC Village on construction jobs that can lead to lucrative, long-term employment.
Sanchez has found a career as a mason at USC Village, which opens in the fall.
He was hired by Frank S. Smith Masonry and is now an apprentice with the Cement Masons Union.
"I'm on my way to a better situation," he said. "I sent my little brother over to WorkSource and let them know he's looking for a job. Maybe he'll find a career, too."