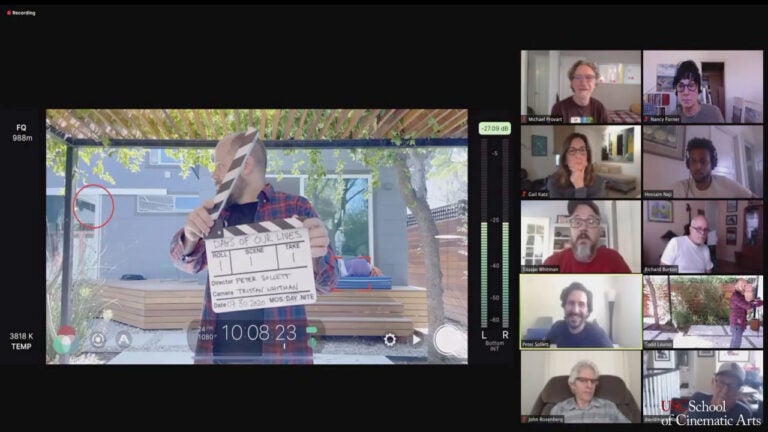 How a Hollywood hitmaker-turned-professor brought virtual filmmaking to USC
Gail Katz has produced smash successes like Air Force One and The Perfect Storm. Now, she's helping students at the USC School of Cinematic Arts embrace a new era of filmmaking.

This story originally published on Nov. 16, 2020
Gail Katz is a professor at the USC School of Cinematic Arts. She also happens to be one of Hollywood's biggest movie producers, with blockbusters to her credit that include In the Line of Fire, The Perfect Storm and Outbreak.
Now, she can add one more title to her filmography: Making the Virtual Production: An SCA Faculty Demonstration.
"I've produced a lot of movies, but nothing like this," Katz said.
It began with a spring meeting of a steering committee made up of school course coordinators and faculty members who head the various academic tracks. They had come together to discuss how to teach their fall cinema students to make television shows, feature films and documentaries while physical distancing.
"The consensus was that any sort of in-person production would be impossible," Katz said. "Then I threw out the idea to do it virtually."
The professor and seasoned producer suggested making a how-to video — one that would help student filmmakers learn how to make movies and TV shows remotely, direct via Zoom and help isolated actors learn a variety of non-acting skills.
"It made sense to me that we could just show it," she said. "Then it would be clear how you can do it."
Katz wrote up a proposal for the instructional video that would require a three-week prep period and a one-day shoot. The school immediately gave it the green light.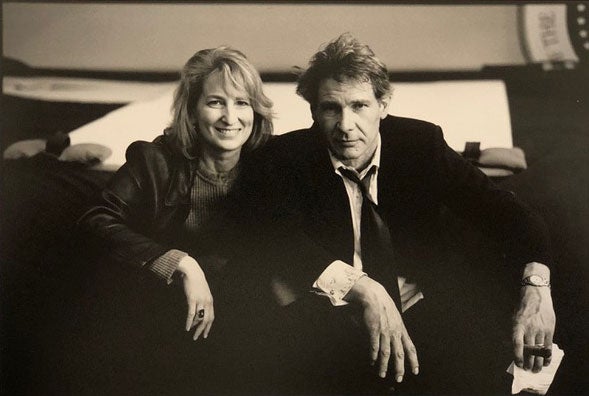 "They agreed that this was a way forward," Katz said. "It was, essentially, a step-by-step tutorial on how to produce television and film virtually."
There was just one problem: It had never been done before. But Katz was up for the challenge, and it was far from her first production: Her previous films have earned $1.3 billion at the box office and nine Academy Award nominations.
"I've made giant films, and this isn't that different," Katz said. "This is just super scaled down."
USC's film faculty and students aim for an efficient virtual how-to
For the video, Katz had one goal in mind: Keep it simple. "I wanted this video to be virtual filmmaking that anyone could understand," she said.
She just needed a production crew to make the video. Luckily, the USC School of Cinematic Arts is made up of faculty members who are also some of the most celebrated filmmakers in the world. The faculty members chosen to work on this video were a cinematic dream team comprised of Academy Award winners and Hollywood hitmakers.
There was also a student who came onboard to assist with the production — graduate student H.S. Naji, who served as the first assistant director on the production.
"This is the most important thing the school needed to do before we started the semester," Naji said. "Gail was the mastermind. I was just happy to help."
Katz and crew were under a tight deadline with the fall semester fast approaching. "I created a schedule right away," she said. "It was extremely detailed with everything built in, since last-minute runs to the set no longer existed. We had to be prepared in advance for anything."
She also tasked the school's department heads to write up a detailed description of each discipline and its specific role.
"I took those write-ups and created companion documents to go along with the virtual how-to video," she said.
For the content of the video, the crew set out to shot two scenes from an existing script, Adaptation, written by Charlie Kaufman.
"While that script is great, the scene itself is irrelevant," Katz said. "It's more how did you make it that matters."
Production crew resolves new virtual challenges
Tristan Whitman, an associate professor of practice at the cinematic arts school, served as cinematographer on the production. He was challenged with making artistic and technical decisions related to the overall look of the video without stepping foot on set.
"Normally, if I was on set, I'd just change up a camera shot or adjust the light a bit, which would take a matter of seconds. But now, I actually had to explain in detail what I was going for and instruct the actor to make the actual changes," he said. "The biggest difference was giving more time to communicate everything."
In distance filmmaking, the actor takes on a much larger role. With detailed direction from various disciplines, the actor is responsible for setting up the virtual communication, camera, lighting and audio and even executing production design, wardrobe and uploading the footage.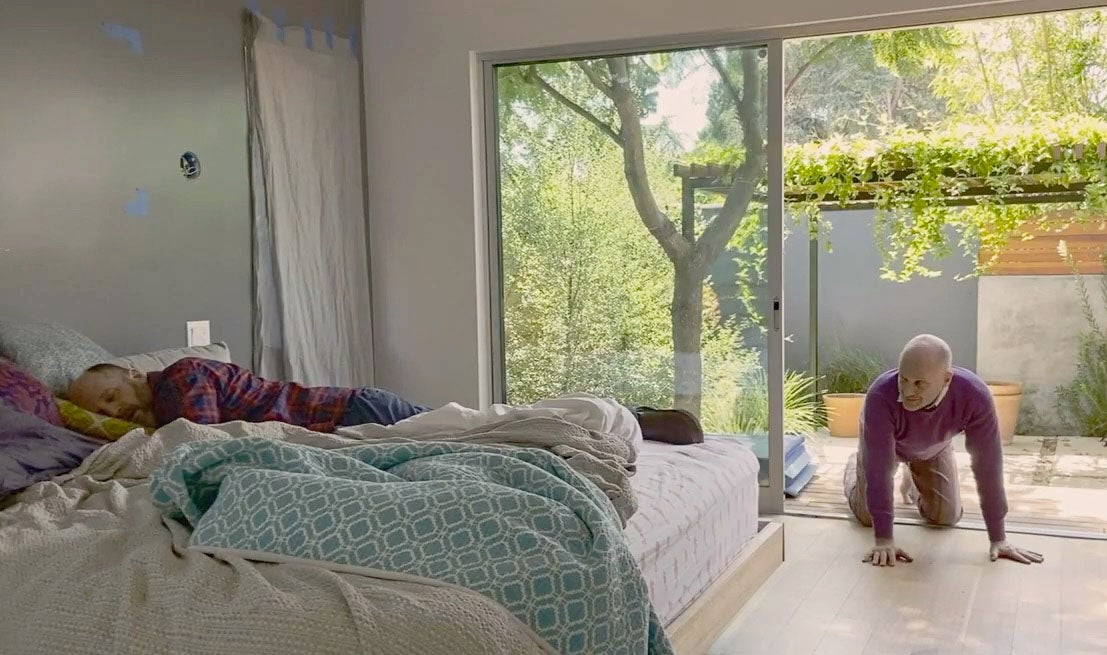 "It was all done virtually through Zoom," Whitman said. "The creative team was present online and the actor was on set doing all of the footwork."
An iPhone was used as the camera, and the shot list for each scene was created and locked in prior to the shoot.
"I took screenshots of each setup," Naji said. "No longer was it a theoretical idea of what the shot looked like because we had everything documented beforehand."
During the virtual shoot, Katz watched the live feed on her computer. The Zoom squares served as a virtual video village — viewing monitors connected to the camera feed.
One caveat for the production was the lack of separate audio channels for communication. However, the first AD found a solution.
"The director needed to use the Zoom audio to communicate with everyone, and we didn't want to interrupt that," Naji said. "The rest of the crew ended up using our cellphones as makeshift walkie-talkies through texting."
Even so, some communication was still tricky for the cinema student and first AD whose job is to keep the talent and crew on time and on schedule.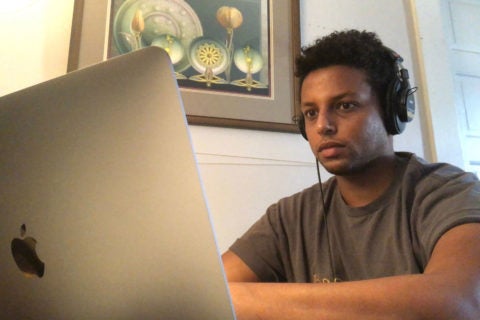 "It was really hard because I'm telling all the faculty members to hurry up and some of them are my teachers," Naji said with a laugh. "I was thinking, 'This won't affect my grade, right?'"
According to Katz, there was no need for him to worry: "I'd hire him in a second. Naji did a tremendous job."
How-to virtual production inspires USC students to be creative remotely
The video was filmed in July and edited in August to make it available for the fall semester. It was an immediate hit with the film school's students upon release.
"The video challenges the students to build on it, to rise to the occasion," Katz said. "They've done that and more."
Whitman says a number of his students have already figured out how to remotely operate an on-set camera from their home computers.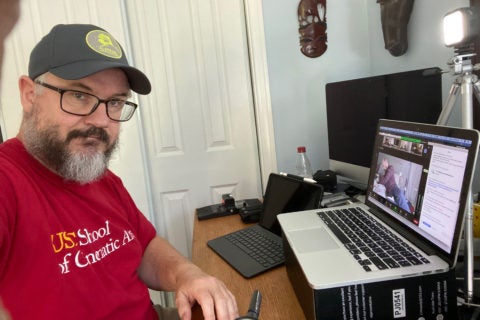 "It's become a resurgence in creativity," he said. "Their creativity is what is going to turn an OK film into a fantastic film, and they've done it."
Whitman believes the video's full potential is limitless, as the students continue to build upon it.
"My thing was let's not get in the way," he said. "Just let them be more creative and more successful."
He also points out that distance filmmaking has provided him with certain advantages as a professor.
"Normally, I can't be on the set of every student production," Whitman said. "Now, with this virtual way of producing, I can watch one student production on my laptop and another on my phone and make suggestions."
Whitman said this how-to video is proof positive that the future of filmmaking at USC is unstoppable.
"The idea we can do this remotely and be creative and tell a story is now a reality," Whitman said. "All the people who said let's just wait until this is over — think of all the stories we would have lost if we hadn't kept pushing forward. I'm so glad we didn't let COVID take over and stop us from being creative."
And what did one of Hollywood's biggest producers think?
"To make it good is a big part of how I operate — it's not enough to get it done, it's to make it excellent," Katz said. "I'm ready to make another one and do it even better."
Making the Virtual Production: An SCA Faculty Demonstration already has the makings of a classic: The people involved with the project say it will remain a useful tool for the school, even when in-person production resumes.